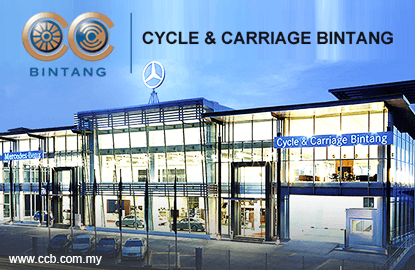 GEORGE TOWN (Feb 23): Cycle & Carriage Bintang Bhd (CCB), which distributes the Mercedes-Benz line of cars, expects to show better performance in the financial year ending Dec 31, 2016 (FY16), as it introduces a new E-Class model towards the end of the year.
The group saw its net profit jump five times to RM52.13 million in FY15, from RM10.33 million in FY14; while revenue grew 71.3% to RM1.58 billion, from RM922.46 million.
"Last year's (financial) results were exceptional. However, we expect headwinds in FY16, but we plan to overcome them by introducing new products," its chief executive officer Datuk Wong Kin Foo told reporters at the opening of the all-new CCB Autohaus here today.
"Yes, Mercedes-Benz is phasing out the E-Class model, but a new one will be introduced towards the end of the year," he said, declining to share more details.
"As with all businesses, there will be ups and downs. Thus, we believe these plans, products and strategies will help us tremendously (in FY16). We will make sure we don't regress, but progress.
"Trading conditions in 2016 are going to be challenging, but I am very confident we will ride this through," he added.
On Jan 22, the Malaysian Automotive Association (MAA) announced sales of Mercedes-Benz rose by 54.7% to 11,034 units in 2015, compared with 7,131 units in 2014. It held the 10th spot out 28 vehicle brands in Malaysia, with 40% of the sales contributed by CCB.
CCB said the improvement in FY15 was due largely to an increase in unit sales and a favourable sales mix weighted towards higher-priced vehicles, particularly hybrid models.
"The group's performance for the full year was much improved, reflecting strong Mercedes-Benz passenger car sales and the return to recognising the annual dividend income from Mercedes-Benz Malaysia," said its chairman Alex Newbigging in a statement on Monday (Feb 22).
CCB shares closed 27 sen or 7.18% down to RM3.49 today, for a market capitalisation of RM353.6 million.