This article first appeared in Enterprise, The Edge Malaysia Weekly, on April 8, 2019 - April 14, 2019.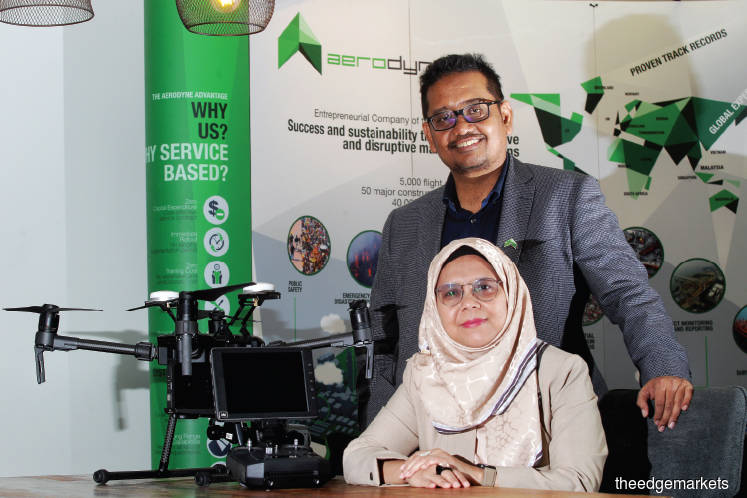 When Kamarul Muhamed decided to ditch his comfortable and well-paying accounting job almost two decades ago because it was too vanilla, he knew he was taking a huge risk. But he had to do it because he wanted to do something thrilling, disruptive and game-changing.
It was definitely a risk worth taking. In 2014, Kamarul established Aerodyne, a drone-as-a-service (DAAS) company, with seed capital of just RM1 million. The business took off at an unprecedented rate and today, it has a presence in more than 20 countries, including Australia, Singapore, Indonesia, the UK and Saudi Arabia.
With hard work and determination, Kamarul has managed to grow the company's order book to more than RM400 million. And he is not stopping there. He wants Aerodyne to be Malaysia's first tech unicorn by 2021 and plans to list the company the following year.
"I know it is a tall order because there are currently no tech unicorns in the country. But we felt very strongly that we could achieve it, given our present growth rate," says Kamarul.
The company recently made the headlines because it was showcasing a prototype of a drone-concept vehicle — Vector — at the Langkawi International
Maritime and Aerospace Exhibition that was mistaken by some individuals for a flying car, giving rise to much hilarity, memes and misplaced wit. Kamarul was quick to point out that Vector was actually a drone-concept vehicle designed for carrying passengers, cargo delivery and surveillance purposes.
When Aerodyne was founded, the drones were not used for their current purpose. Back in the mid-2000s, Kamarul had another company called DKM2, which was a full-fledged production house. The company had an unmanned aerial vehicle (UAV) division, which used drones to capture visuals for documentaries.
"At the time, we were probably one of the pioneer production houses in Malaysia using drones for certain shots. After a long time, we thought about diversifying our business. Back then, our business was fun and profitable but we could not scale," says Kamarul.
"At the same time, we knew that drone technology had matured. So, we decided to shift our focus from visual to data. We turned our UAV division into a separate entity, pumped in seed capital and started Aerodyne."
The first year was slow. The team spent most of their time and resources on R&D. They had the end game — being an enterprise-level solution provider — in mind, but they were still figuring out how to make it work.
Three months in, Malaysia's east coast was hit by a devastating flood. Kamarul and his team got to work almost immediately, using the company's drones to capture information and footage that could be shared with the public, government agencies and mainstream media at no cost. This propelled the company into the limelight. It received acknowledgment from various parties, including the Department of Civil Aviation.
That experience taught the team that data is definitely the way to go. So, Aerodyne started offering its first commercial product — a project management and reporting solution for construction and property development companies called PRISM. Aiming at solving problems in construction such as delays and non-compliance, the business soared.
"We developed PRISM from scratch. From day one, we established that we wanted an analytics-based solution. So, it was all about capturing data. Today, we have handled more than 50 domestic projects with a gross development value of RM80 billion," says Kamarul.
"These projects include Menara Warisan Merdeka and the Refinery and Petrochemical Integrated Development project in Pengerang. Because we have all these long-term contracts, we are enjoying a nice cash flow every month. It is hard to believe that we started with only RM1 million."
Cost-saving solution
Gradually, the Aerodyne team realised they had a bigger role to play — helping enterprises with their digital transformation. They began developing Verticality, an artificial intelligence-equipped asset management solution that could help large enterprises save about 20% of the cost of maintaining their assets.
"Assets such as wind turbines. There are about 400,000 wind turbines globally," says Kamarul.
"Small turbines generate revenue of about US$400 per hour. Typically, operators need to shut them down for up to two days to inspect the blades, which leads to massive loss of opportunity. However, drones only take an hour to do this. With our technology, operators can repair their assets before problems arise, hence saving them a lot of money."
This is a new market focus for Aerodyne, following its 60% acquisition of AtSite, a Danish forerunner in wind turbine blade inspections for the wind turbine generation industry in Europe. Verticality can also be used in other industries such as telecommunications and infrastructure development, says Kamarul.
In Malaysia, Aerodyne's main client is edotco Group Sdn Bhd, an integrated telecommunications infrastructure services company, which owns about 29,000
towers in the region. edotco is harnessing the company's aerial capabilities to boost efficiency in its daily operations. This includes infrastructure site audits, routine preventive maintenance surveys, network assessments and monitoring for revenue assurance.
"Traditionally, it would take more than a day to inspect a tower and another two months to churn out the report. Our drone takes an hour and the report is almost instantaneous," says Kamarul.
The company is also paying more attention to precision farming, that is, using technology to measure and manage variabilities such as yield, soil, pests and weeds across the fields to enhance efficiency and achieve optimum productivity, product quality and economic returns.
"To do this, we use drones with multispectral sensors. The visible spectrum consists of only seven bands of colours. But there are actually hundreds of other bands that we cannot see with the naked eye, including ultraviolet and infrared. These invisible bands are actually very useful in determining the crop's health," says Kamarul.
"Our advanced analysis can even help with disease prevention. For example, we can detect Ganoderma — which is known as cancer for plants — at a very early stage. So, farmers can commence early treatment to optimise their yield."
According to Aerodyne executive director Azita Azizan, the drones can conduct Normalised Difference Vegetation Index analysis, which is able to deduce which fields need more fertiliser and which need less. "We capture all this data and then let one of our agronomists analyse it to come up with actionable suggestions and plans. So, our clients do not have to spend more to employ a data scientist. We take care of everything for them."
Big enterprises such as developers and telecommunications tower owners may not mind paying for such services. But can the same be said about agriculture companies?
Azita says it only takes some convincing as most companies appreciate the savings that come with the solution. For instance, fertilisers are expensive. If fertilisers are distributed optimally, the companies stand to save up to 20% per month, she points out.
Kamarul is currently working out a profit-sharing scheme. "I know how much our clients are making a year. So, I can propose a profit-sharing scheme to help them gain 30% to 50% more profit. It will pay for my service and we will split the returns. Of course, I need to do this with full transparency. So, it is a work in progress," he says.
Most importantly, Aerodyne is able to offer automation — something very valuable in this day and age. "In powerline inspection, for example, we use thermal cameras to look at the temperature of the assets. High temperatures may mean the equipment is failing," says Azita.
"We capture more than 6,000 thermal data points per day. It would take an entire year for one person to process this data. So, companies would need to employ an entire team to do this. Whereas our algorithm automatically processes this data and does predictive analysis. We can deliver the report within a day."
The company hires subject-matter experts such as telecommunications engineers and remote-sensing experts to assist with solutions development, she says. "In fact, about 80% of the company's employees are subject-matter experts."
Further expansion
Aerodyne is always looking to expand into new markets. Kamarul says that at any given time, there is at least one team dispatched to do proofs of concept for potential clients in markets such as Chile and Japan. He himself typically spends only a week in Malaysia each month. Most of the time, he is either attending events or meeting potential clients.
"It is hard to believe that we only started looking at markets beyond Malaysia in March last year. Our first foreign market was Australia. We were surprised by the tremendous response. There are a lot of drone players over there, but our service is faster, cheaper and better," says Kamarul.
He truly believes that the "faster, cheaper and better" mantra is what sets the company apart from other DAAS players. "Recently, we were at a commercial UAV event in London and I met the CEO of a company about to close an asset management tender. He was surprised to learn about our solution and what was supposed to be a 15-minute conversation became a two-hour
discussion. He called his tender committee and asked them to delay the tender awarding process because he wanted to give us a chance," he says.
Aerodyne was ranked No 7 out of the 200 global drone-operating service providers by Drone Industry Insights. And the CEO had already spoken to two of the higher ranked companies, but they were not delivering what he wanted.
Since Aerodyne works with large enterprises, it is not always plain sailing, says Azita. "There is a lot of red tape, people to convince and stuff they need to take care of before they can migrate to our solution. Tenaga
Nasional Bhd, for example, already had a team of contractors manually doing its asset management. Sometimes, companies cannot even confirm that they want to use our services after a year. We just have to be patient."
Aerodyne was self-funded for the first three years. This year, Kamarul realised that the company would need to make a quantum leap to invest more in R&D and expand more aggressively around the world. So, it completed its Series A round of funding with Axiata Digital Innovation Fund last month.
He says Aerodyne could even go for an initial public offering if it wanted to, but he prefers to wait. "We want to get a better valuation before we make that big move."