This article first appeared in Enterprise, The Edge Malaysia Weekly, on March 9, 2020 - March 15, 2020.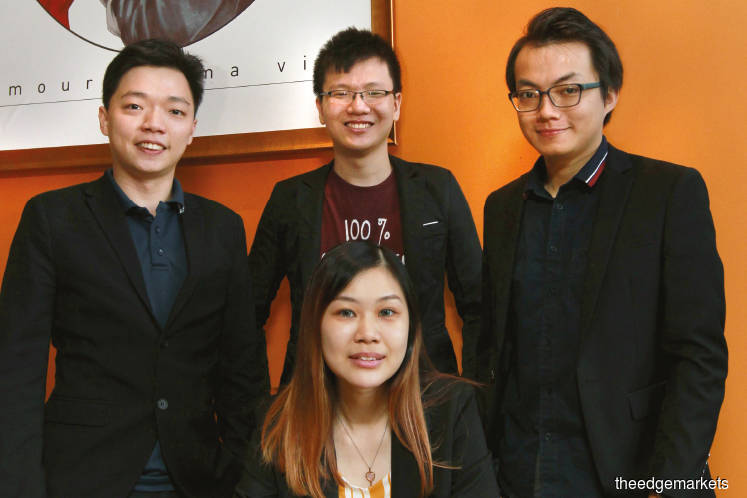 The war on single-use plastic is going full blast all around the world. Early this year, residents in Thailand made international news after a ban on single-use plastic came into effect, with pictures of people using unconventional items such as wheelbarrows and luggage to ferry their groceries home.
Locally, the fight is still going on, with a nationwide plastic straw ban starting this year and a 20 sen charge on plastic bags as part of the government's "Roadmap Towards Zero Single-Use Plastic".
Joining the fight are four PhD students who developed a method to bind dried food, such as beans, using starch and carrageenan. The "packaged" blocks are called PICAS, which stands for "packaging in carrageenan and starch".
"The four of us have always been passionate about the environment and want to help save the planet. In fact, most of our areas of study were on environmental issues," says Dr Ivan Ling Ting Yang, leader of the group, who completed his PhD in engineering and environment at the University of Southampton Malaysia.
The four teammates met at the Malaysia Nanotechnology Olympiad 2018 competition, where they represented their respective universities. During the breaks, they networked and realised that their research areas overlapped and that they shared the same goal. After the event, they maintained their relationships and met up regularly to try and figure out a project that they could work on together.
They searched the internet for international competitions and discovered one by the Institution of Engineering and Technology (IET) called the IET Global Challenge, supported by Greenpeace and Greenseas Trust. The theme of the competition was to help supermarkets in the UK to reduce disposable plastics.
"It is a very specific theme because the idea is not to tackle the whole [environmental] problem at once but one specific problem at a time," says Ling.
The team members started doing research and read case studies on how different corporations used different methods to reduce disposable plastics, such as Carlsberg's initiative of having a six-pack beer attached with glue rather than outer plastic or cardboard packaging.
"Other teams were doing more high-tech inventions, but we wanted to create something easily accessible and commercially viable," says Ling.
They decided to look for inspiration closer to home. At first, they looked at using leaves in packaging. But they soon realised that Thailand was already doing this. They then looked at various solutions in Indonesia and came across tempeh. They quite liked the idea of beans being held together with a binding agent. "That was our lightbulb moment," says Ling.
Two other teammates, Phoon Bao Lee of University of Malaya and Dr Ong Chong Cheen of Universiti Teknologi Petronas, worked to determine the binding materials. "We wanted to find something that could be easily dissolved but could withstand being dropped. So, we experimented with gelatine, alginate, carrageenan and pure starch. These materials are not harmful to humans and the environment," says Phoon.
They experimented with multiple formulas and combinations and they found that the optimum combination was starch with carrageenan as a binding agent. Initially, gelatine stood out, says Phoon.
But their concern was that since gelatine is obtained from animal sources, vegans would have an issue with it. "We did not want the beans to be coated with animal products because this would deter vegans from buying it," she says.
Phoon says they faced issues when using only carrageenan as the binding agent because it turned to jelly in warm water, making it difficult to separate the beans. Then, they looked at using starch alone. But while it bound the dry beans, it broke easily and the starch compound was sensitive to moisture in the air.
"We decided to combine the two elements. We used starch on the inside to bind the beans and form the block. On the outside, we coated the block with a thin layer of carrageenan to keep it airtight. So, all we needed to do to get the beans out was to soak it in warm water of about 80° C, which peeled off the outer jelly layer and dissolved the starch inside. The carrageenan layer is transparent and thin, like the layer of wax on apples," says Phoon.
Ling and Tan Chin Joo of University of Malaya tested the strength and structural integrity of the block. They reinforced the block so it could withstand a freefall drop from a height of 1m, which is about the height of a tabletop. Once they had the right recipe formulated, they drew up a detailed report and proposal for the competition. PICAS blocks made it to the top four finalists out of more than 33 international teams.
In the last leg of the competition, the team had slightly over a month to develop a prototype and submit a technical report, a two-minute video and PowerPoint slides on PICAS blocks. At the time, Ling focused on R&D, specifically on refining the formulation. "PICAS blocks need time to dry and I had to play around with the heat to find a balance between drying the blocks fast and not cooking the beans," he says.
Their hard work paid off. In October last year, this Malaysian team won the international competition.
Reality, a major roadblock
While the team was excited to come out on top in an international competition, they hit a wall when it came to further developing and commercialising their invention.
"Right now, we need to think of it being used on a large scale, which means the formula has to change as well. There are a lot of things to consider when we want to mass-produce this, including how to make the blocks last a long time," says Ling.
They are also looking at patenting their invention, but Ling highlights that the four of them are still studying or have just graduated. So, they lack the money to apply for a patent.
"We are planning to apply for grants in the upcoming cycle because building a prototype is not easy. Even after applying for the patent, we need to maintain it to make sure it works well, which incurs a lot of time and money," he says.
They are also planning to submit a research proposal to the Ministry of Energy, Science, Technology, Environment and Climate Change for support on how to further develop the product or a possible collaboration. The only other alternative left is for them to partner a company or form their own and work independently. However, the latter option will require an outside investor to begin with, at least.
"Right now, what we need is a good partner, regardless whether it is the government, a private company or a public company," says Ling.
He estimates that they would need an initial capital expenditure of RM1 million, of which at least RM100,000 will go to acquiring the necessary equipment to mass produce PICAS blocks. If they manage to sort out the issues related to mass production, their next challenge will be to convince Malaysian retailers to take this up as a packaging option, as well as for consumers to adopt this solution in their everyday lives.
When news of their win broke last year, many articles were posted on social media. Ong says Malaysians were quick to point out that people still needed plastic bags to carry the beans home. "This is the hard part because we need to get people to just pick up the block as it is and put it in their shopping basket.
"Right now, beans and other dried products have to be scooped using a cup, placed in a plastic bag and weighed to get the price. But what we will do is create 100g blocks with a price tag on it. So, if you need 500g of beans, you will need to pick up five blocks."
If all goes according to plan, they will approach premium supermarkets to pilot PICAS blocks, says Ling. "It is usually the affluent who are more environmentally conscious. If it goes well, we will head back to the UK and approach the IET to see if we can partner local retailers such as Sainsbury and Tesco."