This article first appeared in The Edge Malaysia Weekly, on March 29, 2021 - April 04, 2021.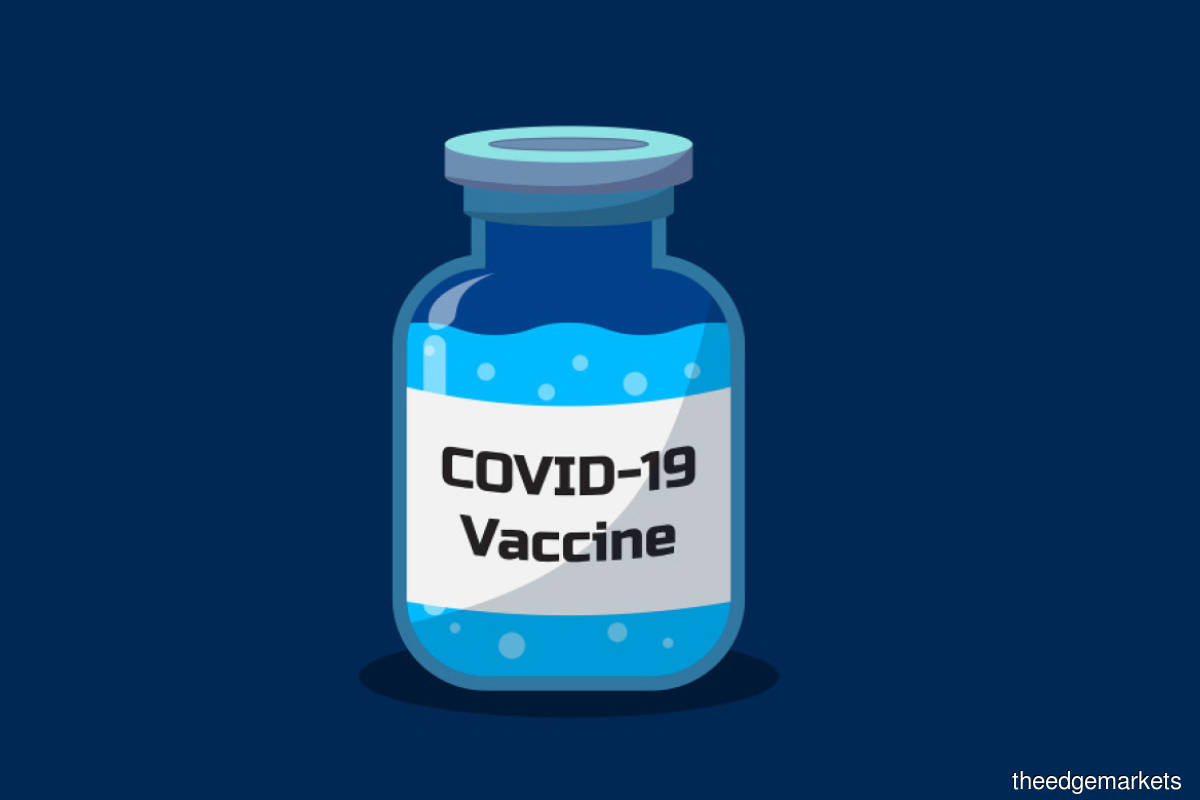 NOW that the government has secured sufficient Covid-19 vaccine shots from five major vaccine developers — Pfizer, Sinovac, CanSino, AstraZeneca and Gamaleya (Sputnik V) — for the whole population, what does this mean for the various private vaccine arrangements? Do they still have the opportunity to distribute their vaccines locally?
So far, only three companies, and all of them listed — Pharmaniaga Bhd (Sinovac), Duopharma Biotech Bhd (Sputnik V) and Solution Group Bhd (CanSino) — have been selected to help the government procure and distribute vaccines.
To date, Malaysia's orders for Covid-19 vaccines have surpassed 108% of the population. By the end of this quarter, the country is expected to receive more than one million Pfizer doses and 200,000 Sinovac doses.
Nonetheless, meeting the herd immunity goal by February 2022 may not be easy, as it hinges on the delivery of the vaccines. There have been growing calls for the government to allow private sector participation in the supply of vaccines, but the point of contention is that it may deprive the poor of their right to have equitable access to the vaccines.
Companies involved in vaccine distribution believe there is a role for them to play as the delivery of vaccines may still be an unknown factor despite the government having secured a substantial amount of vaccine doses.
"It is not about whether the government has procured enough vaccines, it is about how soon these vaccines can be delivered. I believe many will still not get their turn by August or September. I don't see why they don't want to take the jab themselves with the price kept at an affordable level," Yong Tai Bhd CEO Datuk Wira Boo Kuang Loon tells The Edge.
He opines that the government should make full use of the national Covid-19 immunisation programme to help the poor and those in remote areas achieve herd immunity as soon as possible.
Last December, Yong Tai inked a heads of agreement with China-based Shenzhen Kangtai Biological Products Co Ltd for the development and exclusive commercialisation of the latter's inactivated Covid-19 vaccine in Malaysia. Under the deal, Yong Tai will supply 100 million doses of the vaccine over a five-year period.
Yong Tai is targeting to roll out its vaccine in Malaysia in August or September if it can conduct Phase 3 clinical trials here by mid-April. An investment sum of RM15 million to RM20 million has been earmarked for that purpose.
"Then we will see how many vaccines the government can obtain. If they cannot obtain sufficient supply, we can help the country speed up the process," says Boo.
Reuters reported that Shenzhen Kangtai has started work on manufacturing facilities even though its vaccine has not been approved by the Chinese authorities yet.
Even as the Malaysian government has secured sufficient vaccines, Boo says Yong Tai's contract is not limited to the Malaysian market as it can supply to other countries in Southeast Asia and on the Indian subcontinent, where Shenzhen Kangtai does not have a presence.
Similarly, Bintai Kinden Corp Bhd is the sole distributor of a potential vaccine in Southeast Asia, and has the right of first refusal in Australia and New Zealand. "We can put more resources in other countries if Malaysia has enough vaccines. There is not enough vaccine supply in the region," says its managing director Ong Choon Lui.
However, it remains to be seen whether demand from the region will materialise.
Bintai Kinden's vaccine candidate is progressing relatively slowly. Before starting Phase 1 clinical trials by next quarter, Generex Biotechnology Corp is conducting more tests due to the new virus variants, according to Ong. "We would rather play safe than roll out a vaccine that is not safe to use," he stresses.
Recently, Kanger International Bhd announced that it would receive 10,000 vaccine doses developed by China National Pharmaceutical Group Co Ltd (Sinopharm) for trial purposes. The first batch of the vaccine is expected to arrive in May.
It is not known what the arrangement for the vaccines is as distribution through the private sector is currently not allowed. Kanger did not respond to queries from The Edge.
Solution Group, which is supplying 3.5 million doses of CanSino Biologics Inc's vaccine to the government, expects the first delivery of 150,000 shots in April, subject to the National Pharmaceutical Regulatory Agency's clearance.
The second delivery of 350,000 shots is scheduled for May. Both batches are ready-to-use doses to accelerate the progress of vaccination.
Solution Group's fill-and-finish facility in Bukit Jalil, Kuala Lumpur, will cater for the subsequent batches of vaccine doses, with a production capacity of 30 million shots a year. "The more we produce locally, the lower the cost will be," its managing director Barry Lim tells The Edge.
"We are negotiating with other Asean countries as well. So, we will have more volume for the production."
He adds that the contribution from the vaccine venture will be substantial and that the company could return to the black this year from a net loss of RM943,000 in 2020.
Meanwhile, MyEG Services Bhd, which is partnering with China-based Anhui Zhifei Longcom Biopharmaceutical Co Ltd, sees the possible need for repeated vaccinations over the long term as booster jabs may be required periodically to maintain immunity levels, especially against the new virus variants. "This suggests the demand for vaccines will persist beyond the administration of the first vaccination," its spokesman tells The Edge.
MyEG is undertaking the relevant processes required by the Ministry of Health in relation to the clinical trials in Malaysia after Anhui Zhifei's vaccine received China's authorisation for emergency use recently.
While the vaccine distribution segment has drawn interest from a slew of companies, Metronic Global Bhd was quick to drop the vaccine plan late last year as the government was purchasing vaccine doses directly from the developers.
Inoculation catalyst priced in
As the mass inoculation drive catalyst has been priced in, investor interest in local and global vaccine-related stocks has eased in recent months.
After hitting a high of RM2 last December from a mere 10 sen before the vaccine plan was announced, Solution Group's share price had halved to close at RM1.08 last Wednesday.
The share prices of Pharmaniaga and Duopharma Biotech have been on a downward trend, declining 30.8% and 20.4% respectively over the past month to close at RM3.37 and RM2.73 last Wednesday.
Pharmaniaga remained in the red with a net loss of RM6.33 million for 4QFY2020 ended Dec 31, owing to lower demand from its concession business. This prompted Kenanga Research to cut its FY2021 net profit estimate by 20%, with a lower target price of RM2.50 from RM3.15 previously. Maintaining its "underperform" call on the stock, the research house believes that the company's near-term prospects have been overpriced following a spike in its share price since 3Q2020.
CGS-CIMB Research, however, is of the view that Pharmaniaga's share price retracement is overdone, thus upgrading its call to "add" from "hold". But its target price was lowered to RM4.60 from RM5.41, in line with a cut in its FY2021-FY2022 earnings per share forecasts by 13.7% to 16.5%.
Kanger's and Yong Tai's share prices have slumped 74.2% and 40.7% respectively from their peaks last year.
Globally, some vaccine developers have seen heightened volatility in their share price performance. For example, AstraZeneca's shares have skidded 20% from their peak last July, while those of Moderna and Pfizer were down 29.2% and 13.1% respectively from their recent highs.
It is worth noting that Bintai Kinden's vaccine partner Generex, which has not started Phase 1 clinical trials, has seen its share price retreat 62.2% from its peak in May last year.
Among the Chinese vaccine companies, CanSino has seen the greatest fluctuation in its share price, declining 39% over the past month. Nevertheless, it is still more than double the price a year ago.
Anhui Zhifei's parent company Chongqing Zhifei Biological Products Co Ltd has seen its share price surge 158% over the past year, while the shares of Shenzhen Kangtai and Sinopharm have risen 20.1% and 3.4% respectively.