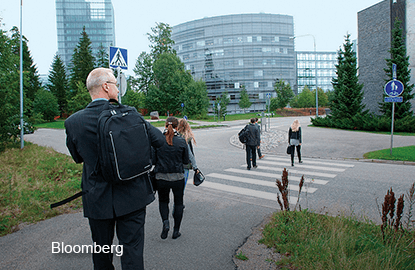 HELSINKI: Microsoft Corp's move to close the site where Nokia assembled its last mobile phone in Finland leaves it with a skeletal crew in the country, spelling the end of an era for what was once the world's dominant handset manufacturer.
Just 900 jobs will be left in Finland after the US software giant slashes another 2,300 workers from the country, a fraction of the 24,000 that Nokia employed in 2000, when it reigned supreme in the global market for mobile devices. Microsoft will discontinue operations in Salo and focus its phone engineering and programme management in Espoo and Tampere.
"In practice, this means the end of the mobile-phone operations of the old Nokia in Finland," Prime Minister Juha Sipila told a press conference in Helsinki after Microsoft announced the reductions, part of a drive to eliminate as many as 7,800 jobs and write down about US$7.6 billion (RM28.8 billion) from the handset business that it acquired just over a year ago.
Nokia's rapid decline from a powerhouse of innovation and design to a failing business scrambling to stem a loss of market share has sent shock waves through the Nordic country's economy. At its peak in 2000, Nokia generated about 4% of Finland's gross domestic product, and its reversal of fortunes hit the country hard as thousands of jobs were lost.
In its heyday, Nokia's market value reached US$320 billion, and its earnings reports were closely watched by investors. When Apple Inc revolutionised the industry with its iPhone, Nokia failed to respond and stuck instead with its outdated Symbian software. The company switched to a Windows operating system under Stephen Elop, who had come from Microsoft, before it was outright purchased by the Redmond, Washington-based software company.
Still, Finns can take solace in the fact that the Nokia name lives on. After the mobile-phone subsidiary was sold, the remaining business retained the name and entered rehabilitation with a focus on telecommunications equipment. As a sign of its regained prowess, Nokia agreed in April to buy French networking-equipment rival Alcatel-Lucent SA in a €15.6 billion deal. Nokia employed about 60,000 people at the end of last year.
"We must remember that a company named Nokia is doing well and developing at the moment," Sipila said. — Bloomberg
This article first appeared in The Edge Financial Daily, on July 10, 2015.