This article first appeared in The Edge Malaysia Weekly, on May 6, 2019 - May 12, 2019.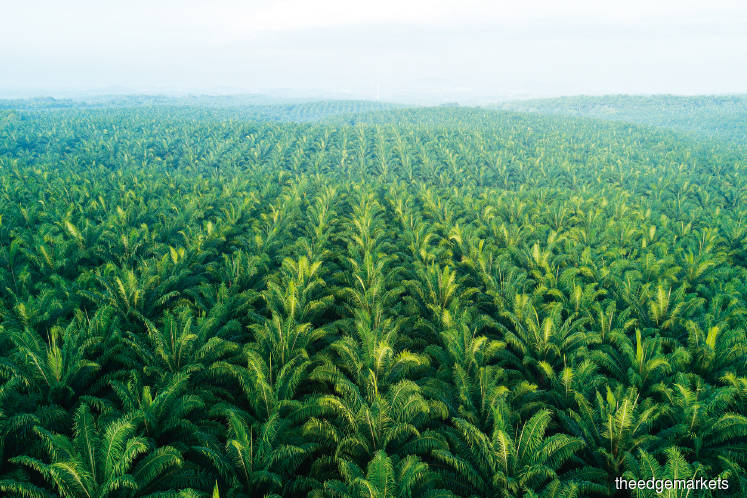 Deforestation for oil palm cultivation, mining, agriculture and others is still taking place, says Wielaard.
WHILE the proposal by Teresa Kok, Malaysia's minister of primary industries, to cap oil palm plantations in Malaysia at 6.5 million hectares by 2023 grabbed headlines in March, some environmentalists were uncomfortable with the target. This is because with a total oil palm planted area of 5.85 million hectares as at Dec 31, 2018, there is still room to expand by another 650,000ha.
"I believe this figure itself will not give stakeholders an assurance that deforestation will be curbed. We have not yet done the math, but it is well possible that the cap is near the limits of total land available for plantations. And when this is planted, there is not much suitable area left for plantations anyway," says Niels Wielaard, director of Satelligence, a Dutch company that provides satellite data analytics services.
Nevertheless, he commends the minister for urging the Malaysian palm oil sector to make plantation boundary maps public for greater transparency. (Plantation companies in Malaysia have said in the past that maps are considered state secrets and classified under the Official Secrets Act 1972.)
"That has the potential to have more impact than the cap figure as it should be clear what land cover is present before these 650,000ha are converted into plantations," he explains.
Wielaard believes the best thing to do in order to keep to the 6.5 million hectares is to make plantation boundary maps public for greater transparency.
Satelligence works with palm oil companies, traders, consumer goods brands, non-governmental organisations, government agencies and other stakeholders to help them make better agri-commodity sourcing and investment decisions ­using satellite data-driven insights. Wielaard's team has been working with advanced radar and optical satellite monitoring techno­logy in Malaysia and other countries over the last 20 years to provide clients with priori­tised deforestation alerts for early warnings to plan timely interventions and ground engagement.
Logically, unless the land had already been logged earlier, the 6.5 million-hectare target would mean that there could be more clearing of Malaysia's forest cover. Wielaard says this is inevitable, but adds that most, if not all, of the lowland and swamp forest ­areas outside protected areas — most suitable for oil palm — have already been logged and degraded.
Nevertheless, logged-over forest should not be regarded as areas of "low value". ­Despite heavy logging practices, the remaining forests represent unique ecosystems and have a strong regenerative capacity. They should be protected from further degradation and conversion to plantations, mining or other use.
Despite the scrutiny on deforestation, ­especially on oil palm plantations, by foreign media and environmental groups,  Wielaard says it is still happening in Malaysia.
"Deforestation for oil palm cultivation, mining, agriculture and others is still taking place," he says.
International buyers along the palm oil supply chain — specifically those ­sourcing for Roundtable on Sustainable Palm Oil-­certified palm oil — make use of data provided by firms such as Satelligence to check on their suppliers.
"Where there is non-compliance, we suspend them, but we give them the opportunity to make it right," says a global agribusiness executive who declines to be named.
For Wielaard, the main challenge for palm oil suppliers is to be open about their progress towards zero-deforestation commitments.
"Companies that have nothing to hide have no reason to be secretive. There is a strong trend in commodity production to use satellite technologies for demonstrating compliance. With ever-more detailed, timely and publicly available satellite data, the people of Malaysia and, in fact, the whole world, can see what [has happened] to Malaysia's forest since the 1970s up to a few hours ago, anyway," he says.
Wielaard points out that concession data should be made public, and better satellite monitoring can help with enforcement.
"For transparency to work, concession data should be made public. Secondly, better satellite monitoring can help with enforcement. This is badly needed because public deforestation monitoring systems currently focus on loss of any 'tree cover', including plantations, rather than loss of natural forest only. This means that deforestation figures are distorted because replanting of old plantations is confused with deforestation. This does not help the debate between Malaysia and the European ­Union," he explains.
In areas such as Sabah, Satelligence's new satellite data shows that more than 80% of the vegetation clearing detected is in fact due to replanting of plantations, not deforestation of natural forest.
"So, independent, unbiased information can help," Wielaard says.
In reality, however, there is limited conversation among stakeholders on land use planning and use of open data, including satellite images.
"Civil society is presenting its geospatial information to ask the government how it is implementing its rules and regulations, notably in Penang, and recently questioning development in the hill slopes of Ipoh. Questions also arise in Kedah on disturbance near water catchments and in the Mulu area," says geo-economist Khor Yuleng.
Geospatial data refers to information with a geographical and locational component.
Palm oil industry veteran M R Chandran agrees that civil society plays a role in monitoring deforestation, saying that many well-funded civil society groups in Sabah are active in conserving high-conservation-value forest land.
However, he is pessimistic about monitoring on the ground. "As long as state governments continue to allocate forested land for logging and subsequent planting with agricultural crops, there is very little the federal government can do. It is a question of enforcement by state agencies, which are responsible for monitoring by way of satellite and drones, and putting a stop to wanton destruction."
This reason for a divergence in objectives between state and federal governments comes down to ringgit and sen. With power centralised at the federal government, states are dependent on it to pay their expenses.
Back in 2016, then Bukit Mertajam member of parliament Steven Sim pointed out that only 2.4% of federal revenue went back to the 11 states, Sabah and Sarawak, resulting in unfair distribution by the Barisan Nasional government then, compared with the revenue it collected from them. As land is a state matter, the "unfair distribution" resulted in opposition states ramping up land-related activities to increase revenue.
It is worth noting that the Pakatan Harapan government has, in its election manifesto, pledged to decentralise administrative and fiscal powers to the states.
Claims of land clearing in Hulu Setiu forest reserve
Just within a 50km radius from the Setiu Wetlands in Terengganu — the largest wetlands in the east coast of Peninsular Malaysia — deforestation is said to have taken place at a permanent forest reserve (PFR).
Sources claim that fresh fruit bunches from young palm trees of a new private estate – which was identified as developed from recently deforested areas and possibly encroaching on the Hulu Setiu PFR, based on satellite and on-the-ground investigations – are being supplied to a nearby mill owned by FGV Holdings Bhd.
According to the sources, the sign at the estate indicates that it is owned by Rimba Aktif Plantation Sdn Bhd.
The owners of Rimba Aktif Plantation, according to company searches done, are Rimba Aktif Sdn Bhd, with a 66.67% stake, and Datuk Rahadian Mahmud Mohammad Khalil (33.33%), who is also group managing director of Magna Prima Bhd.
Rimba Aktif's shareholders are Datuk Chua Tiong Moon and Tan Sri Chai Kin Kong, who own 50% equity interest each in the company. Chai is the founder of property developer Aset Kayamas Group and had allegedly paid former federal territories minister Datuk Seri Tengku Adnan Tengku Mansor RM2 million, for which the latter had been charged on Dec 12 last year.
The mill in question is FGV's Sungai Chalok facility in Setiu, which is Roundtable on Sustainable Palm Oil (RSPO)-certified.
Last November, members of the RSPO voted overwhelmingly for a total ban on deforestation and this has been incorporated into the organisation's principles and criteria.
FGV is a member of RSPO and supplies certified palm oil to global players like Procter & Gamble.
When contacted, P&G's global palm sustainability programme leader Girish Deshpande says it has reached out to FGV and was informed that it has not sourced from the area in question.
"At P&G, we take all allegations of this nature very seriously. P&G is committed to responsible sourcing of oil palm-derived materials and ensuring that it does not contribute to deforestation," he says, adding that the company will continue its active dialogue with FGV, as with any of its suppliers, to make certain that they have robust systems in place to ensure responsible sourcing.
"As members of RSPO, we support its standards to drive responsible oil palm practices across the industry. In addition, we have established a robust approach to ensure responsible sourcing of oil palm-derived materials, which includes supplier management, improving the lives of smallholders and industry influence," Girish says.
FGV did not respond to enquiries from The Edge on the matter while Rimba Aktif Plantation could not be contacted for comments.