This article first appeared in The Edge Malaysia Weekly, on January 14, 2019 - January 20, 2019.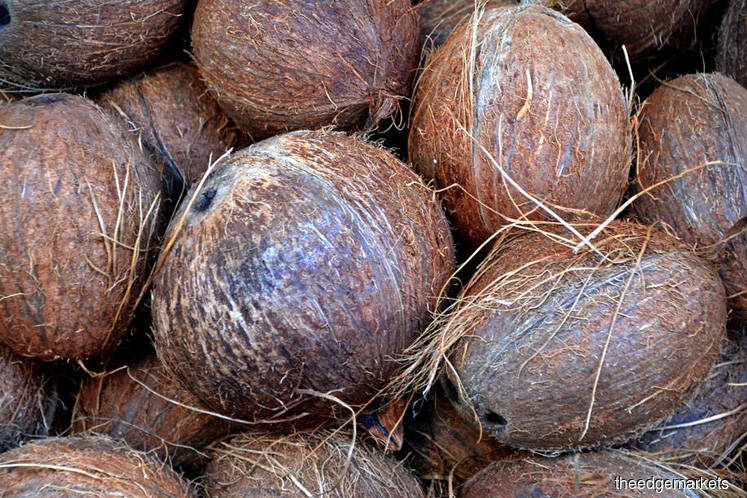 AMID a coconut supply glut that is choking local farmers, calls for import restrictions are getting louder. But doing so is tricky as it could invite repercussions, the Ministry of Agriculture and Agro-based Industry says.
Recent news reports have quoted local coconut suppliers as saying that they are finding it difficult to clear their stockpiles. Many believe this is due to rising imports from Thailand and Indonesia, which are cheaper than locally grown coconuts.
Asked if import restrictions are being considered, the MoA says it is proceeding cautiously.
"In today's open market, we need to take extra care in imposing any measures that could affect the market as a whole," Minister Datuk Salahuddin Ayub tells The Edge in an email response. "We are also bound by the World Trade Organisation and international trade regulations that may jeopardise our local industry and market in the long run, should we take any action that is against the regulations."
Data shows that coconut imports have risen sharply in the past several years, according to estimates by geo-economist Khor Yu-Leng. In 2016, total coconut imports from Indonesia alone amounted to 130 million kg, which rose 38.46% to 180 million kg in 2017. And last year, total imports of 187 million kg from January to September surpassed the 2017 total.
Data for October 2018 onwards was not yet available at the time of writing. Each coconut weighs about 1kg.
"Coconut import data from October will no doubt be closely watched. The question is: What will Malaysia's policy on coconut imports be, in view of complaints from local coconut traders and farmers?" Khor writes on her website.
Coconuts can be imported only by approved permit (AP) holders. At the time of writing, it was unclear how many APs had been issued by the MoA, relative to the domestic market consumption.
Technically, imported coconuts are meant only for wholesale buyers and are not to be sold for fresh use on the open market. However, it could be that rising imports had curbed demand for locally produced coconuts, which in turn led to increased supply on the open market and lower prices. It is worth noting that local coconuts are more expensive than imports.
According to the Consumers Association of Penang (CAP), local coconuts are usually priced at RM1.20 to RM1.50 each while imported Indonesian coconuts can cost as little as 80 sen to RM1.
"It puts local growers and sellers in a Catch 22 situation — they cannot match the price of Indonesian coconuts and, given a choice, consumers would go for the cheaper coconut," says CAP president SM Mohamed Idris in a letter to The Edge.
Call to regulate imports
An underlying issue is that despite producing better quality coconuts, local producers do not have the scale to compete on price against imported coconuts. Production costs are lower for vastly larger producers in other countries.
The current price gap creates the risk that smaller coconut producers may be forced out of business in a self-perpetuating cycle that would further increase Malaysia's dependence on coconut imports.
"As long as [imported coconuts are cheaper] local growers will face stiff price competition ... If they continue to run at a loss, they may give up the cultivation of coconuts and switch to other crops," says Mohamed Idris, adding that, in the long run, it may affect national food security. CAP suggests that the government take measures to regulate imports and encourage more coconut cultivation to reduce import dependency.
Historical data from CAP shows that the overall hectarage for coconut cultivation had declined from 151,004ha in 2001 to 83,250.1ha as at 2017. Over the same timeframe, output increased from 475.6 million kg of coconuts per annum to 517.6 million kg.
But to meet local demand, Malaysia still needed to import an additional 110 million kg, CAP says. To give perspective, Indonesia's coconut plantations spanned 3.6 million hectares as at 2016, producing a surplus of 181,200kg for export.
Also potentially driving down prices for imports is cooling demand in some lucrative markets. For example, the Wall Street Journal reported this month that coconut oil prices had dropped by over half in the past year, while coconut imports by the US in the 12 months up to September last year had declined 4%.
Datuk Carl Bek-Nielsen, chief executive director of United Plantations Bhd, agrees that the government should intervene by controlling imports. While primarily a palm oil planter, United Plantations also cultivates coconuts.
"It [the imports] should be controlled and not exploited by the few at the expense of the many poor farmers and other Malaysian producers. Now, the greed of the few factories is setting the agenda at the expense of the thousands of poor Malaysian farmers, most of whom are already finding it difficult to make a living," says Bek-Nielsen.
Import regulation 'effective'
However, the agriculture minister says investigations have found that the issue of excess coconut supply in the market is "isolated".
"We took note that the issue had occurred on the marketing side and not so much the production side, that is on the plantations or farms," Salahuddin said.
That said, he stresses that MoA departments and agencies, including the Federal Agricultural Marketing Authority (FAMA) and the Farmer's Organisation Authority (LPP), will work together to stabilise the coco­nut market.
"FAMA has already established a committee to monitor prices and will buy the coconuts at special prices at the farm level ... to stabilise the market," the minister says in his email. In addition, he stresses that the existing import-control mechanism, via the issuance of APs, "has so far functioned effectively".
Citing data from the Department of Malaysian Quarantine Inspection Services, the minister says the import volume is still within the approved limit of the APs.
"The approved import quantum considers the current needs of the country [and is] monitored from time to time," says Salahuddin.
That said, he acknowledges that there is room for improvement and says MoA is looking at strengthening procedures and tightening up inspections at national entry points.
"At the same time, we need to strategise our local coconut production to ensure we produce [what] the market really needs," he says.
Save by subscribing to us for your print and/or digital copy.
P/S: The Edge is also available on Apple's AppStore and Androids' Google Play.