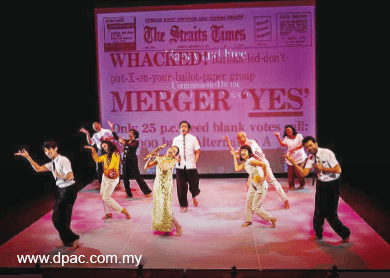 THE bilateral text and performance exchange that underpins a new genre-defying production entitled Another Country represents an on-going conversation between audiences and artists from Singapore and Malaysia. A continuation of a project that began more than a decade ago by the late great Krishen Jit, Another Country poetically celebrates the many things that connect both our nations, and that remind us that our abrupt divorce 50 years ago have actually reinforced our collective dreams for a better home.
The texts and stories were chosen and curated by playwrights from their respective countries — playwright and academician Leow Puay Tin worked on the material from Malaysia while Singaporean playwright Alfian Sa'at picked through his nation's literature. While Malaysian director Jo Kukathas directed a cast of five in bringing it to life, director Ivan Heng (also the show's artistic director) worked with some of Singapore's best actors. 
The result is breathtaking, emotional and poignant­ — Another Country explores how we are different yet very much the same, putting into context some of our most celebrated stories, literature and texts that are alternately sung, read and acted out. 
In its showcase in Kuala Lumpur (the production goes to Singapore from June 25 to July 11) Another Country commences with the Malaysian team's presentation of Singaporean texts. It begins with an excerpt from the Malay Annals (Sejarah Melayu) about the founding of Singapore — actors (Anne James, Ghafir Akbar, Alfred Loh, Sharifah Amani and Iedil Putra) in minimal yet descriptive costumes describe the swordfish attack, the banana trunk stems and the founding of Temasek. A screen with details run in the background, detailing each portion of the script along with translations where necessary. 
The Malaysian-directed Singaporean segment is lengthy and heavy but makes a rather interesting history lesson — it is the kind you wished you had in school, and would have likely have garnered much higher marks than conventional teaching methods for sure. 
Outspoken by nature, Alfian's chosen text was arranged methodically and sequentially and covered pertinent issues like the authenticity of hawker operators, exemptions on performing national service and even social commentary by Kassim Ahmad. An excerpt from Han Suyin's book And the Rain My Drink was beautifully performed by James, truly an actress incapable of a bad day on stage.
The show is technically challenging for the cast, who go from story to story and character to character with remarkable ease, shedding each costume — metaphorical and otherwise — quickly and effortlessly. 
The Singaporean segment, presented after a short intermission, has the benefit of a warmed-up audience that are in better frame of mind to deal with the understandably heavy content of Another Country. A hefty 2 ½ hour show, this is not easy theatre by any means — although presented in an easy enough format, the content is deeply thought-provoking and intense. 
Heng and his team of actors (Sharda Harrison, Gani Karim, Janice Koh, Siti Khalijah Zainal and Lim Yu-Beng) give themselves one hour to perform as many stories as they can, the sequence of which is decided upon by the audience members each night. Heng, founder of Singaporean theatre company W!ILD RICE, saw fit to opt for a more bawdy and fun presentation style. A reminder, perhaps, that Malaysians can really be quite good at laughing at ourselves. But when tackling serious texts like Tunku Abdul Rahman's thoughts just before the May 13 riots, the tone was very different — sombre, and foreboding.
Because of the nature of Leow's curated text, the second half of the show was lighter and easier to absorb. The acting was flawless and beyond reproach — energetic, expressive and emotional, it was an absolute delight to watch. 
Both teams of actors were equally respectful of each other's countries and histories, and that showed very clearly in the way the various stories were acted out. The texts were also curated intelligently and with a sensitive touch, highlighting some of the most beautiful and lyrical literature that exists between our two nations. 
It seems like the cast and crew of Another Country want us to love Malaysia and Singapore like they do — passionately and unconditionally, warts and all. At a time when it is easier to spew hate than affection, this sort of reminder of what is great about both our countries is a welcome balm of camaraderie, mutual respect and affection. 
---
Another Country runs until June 14 (8.30pm, 3pm) at Damansara Performing Arts Centre, Empire Damansara, Jalan PJU 8/8, Damansara Perdana, Petaling Jaya. Tickets are RM80, RM70, RM60, RM50 and RM35, to purchase visit www.dpac.com.my
This article first appeared in The Edge Financial Daily, on June 9, 2015.