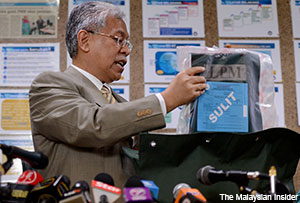 (September 12): Police and the Malaysian Communications and Multimedia Commission have identified several individuals responsible for the leak of the UPSR examination papers.
Education Minister II Datuk Seri Idris Jusoh told a press conference today that both police and MCMC had identified several "hot spots" where the leaks occurred.
"I have been informed that the investigating team has identified several individuals who are believed to be responsible for the leak of the examination papers," he said.
"These irresponsible individuals betrayed national secrets for their own gain and self-interests. The harshest punishment should be meted out to them."
Idris told reporters at the Education Ministry in Putrajaya today that almost a million parents had been affected by the rescheduling of the UPSR examinations.
A total of 473,175 Year 6 pupils nationwide were supposed sat for their UPSR examinations rom September 9 until 11.
But, the Science paper which they were supposed to have taken on September 11 was postponed to September 30 after the questions were circulated online.
Yesterday, the Education Ministry announced that the English paper had also been compromised and would have to be retaken.
This sparked outrage from parents whose children had sat for the paper on September 10, with calls for heads to roll.
Idris said the ministry took full responsibility for the leakage of the examination papers, hence the public apology he had made on September 11.
"Yes, of course we will take responsibility for this incident. That is why even Education Minister Tan Sri Muhyiddin Yassin has issued an apology."
According to the ministry, the leaked English papers only affected national school pupils but not those from vernacular schools.
"The decision to postpone sitting of the Science and English papers to September 30 was due to logistical, technical and security issues," Idris said.
Idris was angry and disappointed at the irresponsible acts of "traitors" who had affected so many children and parents.
"These traitors have no sincerity or integrity, this entire exercise of postponement and resitting is completely unnecessary."
He said the ministry was taking the necessary steps to ensure that the UPSR papers for September 30 were secure.
Idris refused to divulge exactly how the Science and English UPSR papers were leaked, but he did not discount sabotage.
"We are taking all the necessary precautions to ensure that the September 30 examinations are not leaked, we are looking to plug any loopholes."
Idris acknowledged that social media had been abuzz with criticism of the ministry by parents angered that their children had to resit the two papers.
"Besides preparing for the September 30 UPSR examinations, our main objective is to cooperate with the enforcement agencies and ensure the culprits are arrested."
Also present at today's press conference were deputy director-general of Education Datuk Misrah Ibrahim and Examinations Syndicate director Dr Na'imah Ishak.