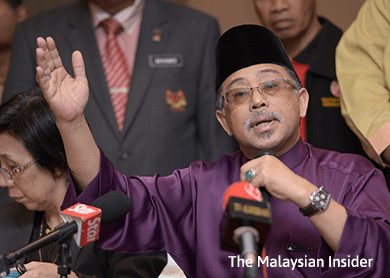 (June 25): The umbrella group of civil service unions has thrown its weight behind their colleagues, who were criticised for enforcing a dress code, that saw women being told to wear sarongs to enter government buildings in recent weeks.
Cuepacs, which represents 140 unions, also praised the staff of these offices who had used their own money to buy sarongs for visitors who were improperly dressed.
Cuepacs would also be sending out a certificate of appreciation to a Rela (People's Volunteer Corps) member who was at the centre of the dress code controversy at the Sungai Buloh hospital, its president Datuk Azih Muda said today.
This followed a similar letter of appreciation that was sent to a Road Transport Department (RTD) guard who had given a sarong to a visitor dressed in a skirt that violated the dress code.
Azih said the dress code at all government offices and buildings has always been in place and civil servants were just doing their jobs by enforcing the code.
"The aim of the dress code is get people to dress modestly, it is applicable to everyone. You cannot just go to someone's house dressed however you want," Azih told reporters.
"But no one is to blame in these incidents. The personnel are not wrong for following the rules and the client is also not wrong as they may have forgotten about the dress code.
"The people who are wrong are those who are posting comments and sensationalising something that should not be sensationalised in the first place."
The RTD guard had caused a storm on social media for ordering a woman who had gone to the department's Gombak office to wear a sarong. The women had worn a skirt which was above her knees.
On June 16, another woman was told to cover her legs before she was allowed into the Sungai Buloh hospital. She was not given a sarong to wear but wrapped herself in a blanket from the hospital.
About a week later, two women were barred from entering the Selangor government headquarters in Shah Alam for wearing skirts that ended above their knees.
The RTD and hospital have issued apologies to the women involved in the three incidents, after they attracted public scorn including from former ministers.
Cuepacs urged those visiting government institutions to abide by the dress code to prevent future incidents.
"If everyone abides by the rules and there is mutual respect, there won't be any issue," Azih said. – The Malaysian Insider