This article first appeared in The Edge Financial Daily, on March 24, 2020.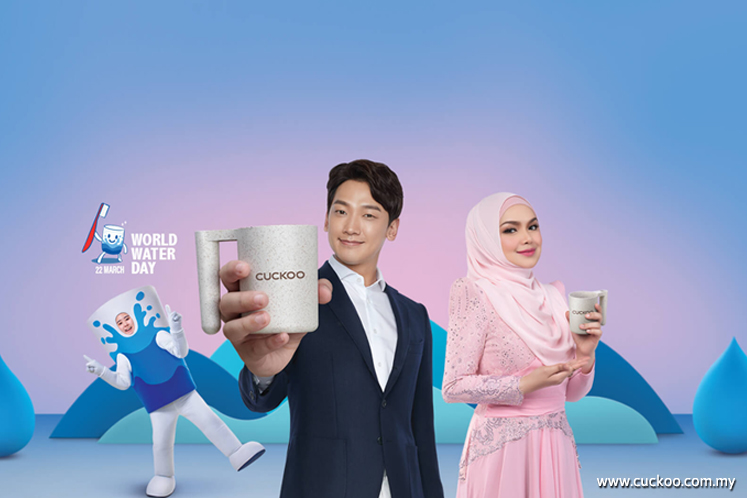 KUALA LUMPUR: South Korea's home appliance brand Cuckoo is bringing back its "Just 1 Cup" water-saving campaign for the third time to celebrate World Water Day, held on March 22 annually.
"Following two successful years, we are pleased to bring back our water-saving campaign for the third time this year. As a healthy home creator, we believe it is also important to educate and encourage Malaysians to show greater appreciation for water and practise better water management habits at home, especially when access to quality water can be scarce to some.
"Through the campaign, we hope to inspire Malaysians to start saving water from something as simple as brushing our teeth with just one cup," said Cuckoo founder and chief executive officer Hoe Kian Choon.
This year's edition also calls on the public to pledge online for better water conservation habits and water management practices. The public are invited to show support and commitment by pledging online through the campaign's microsite www.cuckoo.com.my/worldwaterday2020. Cuckoo said the public are also encouraged to share the World Water Day video produced for the campaign online, with the campaign hashtags #JIMATSAMASAMA, #WWD2020, and #Just1Cup, inviting others to be part of the movement for better water conservation habits.
"This year's campaign is special, especially with the support of our brand ambassadors, [Korean pop artiste] Rain and Datuk Seri Siti Nurhaliza. We hope to continue instilling good water-saving habits beyond standards in each household through such initiatives and more. Let us begin to #JIMATSAMASAMA from today," Hoe said. The campaign is inspired by studies indicating every Malaysian wastes 18.92 litres of water when  brushing his or her teeth with the tap running. 
Meanwhile, Malaysia's daily water consumption is 210 litres, 27% higher than 165 litres per capita per day recommended by the World Health Organization.