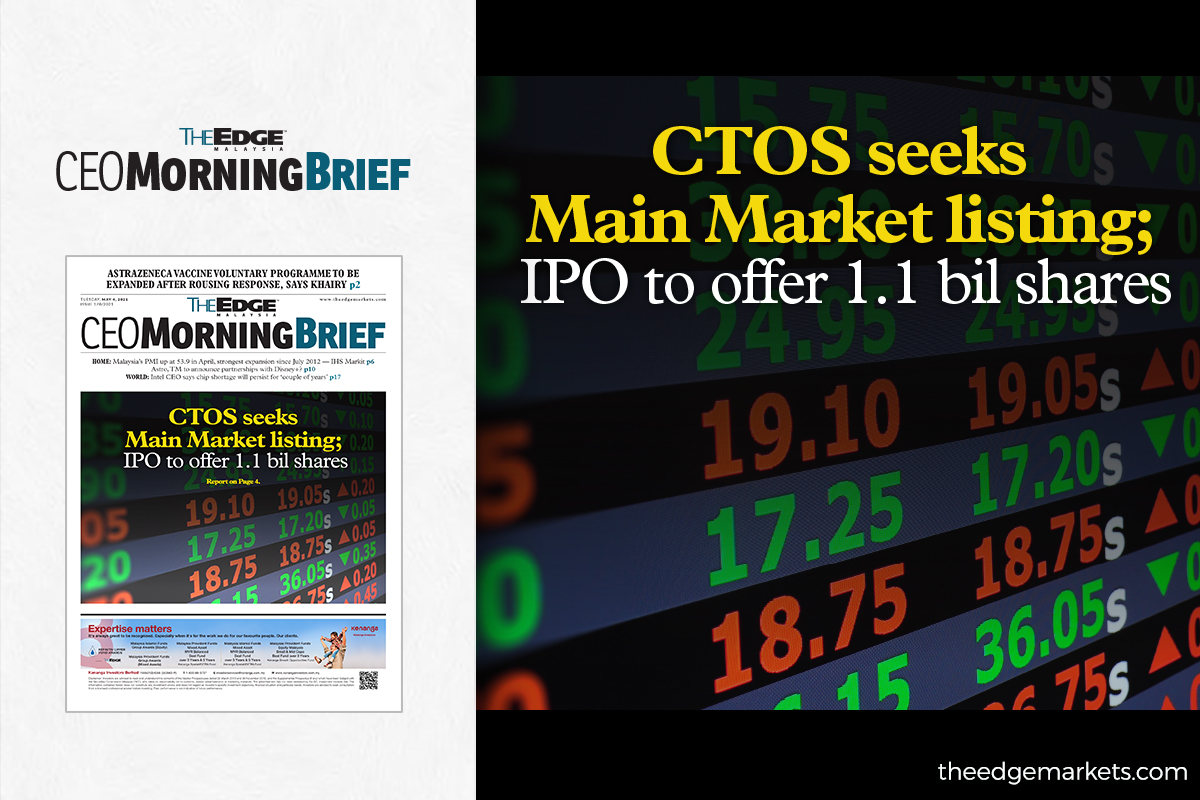 Of the 1.1 billion shares to be offered to the investing public, 900 million will come from existing shareholders, while the remaining 200 million will be made available via the issuance of new shares.
KUALA LUMPUR (May 4): Strike the iron when it is hot. Private equity firm Creador is listing its credit reporting agency CTOS Digital Sdn Bhd on the Main Market of Bursa Malaysia.
This will be the second initial public offering (IPO) exercise that the private equity firm is involved in, in less than a year. Together with the founders, Creador floated Mr DIY Group (M) Bhd, which was valued at RM10 billion, on Bursa Malaysia in October last year. The IPO was the largest on the local bourse since 2017.
The listing of CTOS, which earned a net profit of RM37.98 million in the financial year ended Dec 31, 2020 (FY20), will involve an offer of up to 1.1 billion shares at a price to be revealed later, according to its draft IPO prospectus posted on the Securities Commission Malaysia website.
Of the 1.1 billion shares to be offered to the investing public, 900 million will come from existing shareholders, while the remaining 200 million will be made available via the issuance of new shares. Of the 900 million shares up for sale, Creador's unit Inodes will offer 720 million shares, while 81 million shares will come from each of the co-founders Chung Tze Keong and Chung Tze Wen, and 18 million shares from June Ng. In short, about 65.5% of the IPO proceeds will go into the promoter Inodes' pockets. Creador owns 82.6% in Inodes, while the remainder stakes are held by Siguler Gulf BRIC and Siguler Guff FM — managed by Siguler Guff Advisers LCC — and MIT Investments.
The draft prospectus exposure confirms a mid-March report by The Edge Malaysia that the company had submitted documents for its listing on Bursa Malaysia instead of the Nasdaq in the US, after contemplating to list in either of these markets.
In August last year, The Edge, quoting sources, reported that CTOS was looking at a potential valuation of over RM2 billion from the IPO.
According to CTOS' draft prospectus, the company's share capital will balloon to 2.2 billion shares upon completion of the IPO.
Should CTOS be valued at RM2 billion, based on an enlarged issued share capital of 2.2 billion shares, the IPO price will be roughly 90 sen and it will raise about RM1 billion.
The investing fraternity will be watching closely if Creador will again be able to fetch high premium valuation for CTOS' IPO. Mr DIY's IPO was valued at a trailing price-earnings ratio of more than 30 times.
Of the 1.1 billion shares, up to 936 million shares will be offered to Malaysian and foreign institutional — as well as selected — investors. The remaining 164 million shares will be made available to retail investors.
For the retail portion, 44 million shares will be offered to the Malaysian public, while 120 million shares will be offered to its directors, employees and those who have contributed to the success of the company. The issue price of its IPO, together with the opening and closing dates of the IPO, has yet to be fixed.
The IPO could see Creador's stake trimmed to 36%, assuming the overallotment option — which allows underwriters to issue more shares than originally planned — is fully exercised.
CTOS intends to use its IPO proceeds to pare down debts. As at March 31, 2021, the company's total borrowings stood at RM163.5 million.
CTOS is also seeking to acquire assets that can synergise with its digital solution business, to expand its digital solution offerings. It has identified a target business in the Asia-Pacific region, according to the prospectus, but discussions to acquire the business are still at the preliminary stage.
CTOS currently provides credit information on companies and consumers, together with digital analytics solutions for use by banks and businesses. It also provides credit information and analysis to consumers.
As at end-March, CTOS had about 1.3 million users with a registered CTOS 10 account, which allows one to access and purchase their CTOS Consumer Scores and credit information. "Our databases contain profiles of approximately 15 million consumers and approximately eight million companies and businesses," said the group.
CTOS' annual net profit slipped 2.64% to RM37.98 million in FY20 from RM39 million in FY19, though revenue rose 8.79% to RM140.50 million from RM129.14 million. In FY18, CTOS posted a net profit of RM29.66 million on a revenue of RM110.47 million.
Maybank Investment Bank Bhd and RHB Investment Bank Bhd are the joint principal advisers for the group's IPO.
To receive CEO Morning Brief please click here.