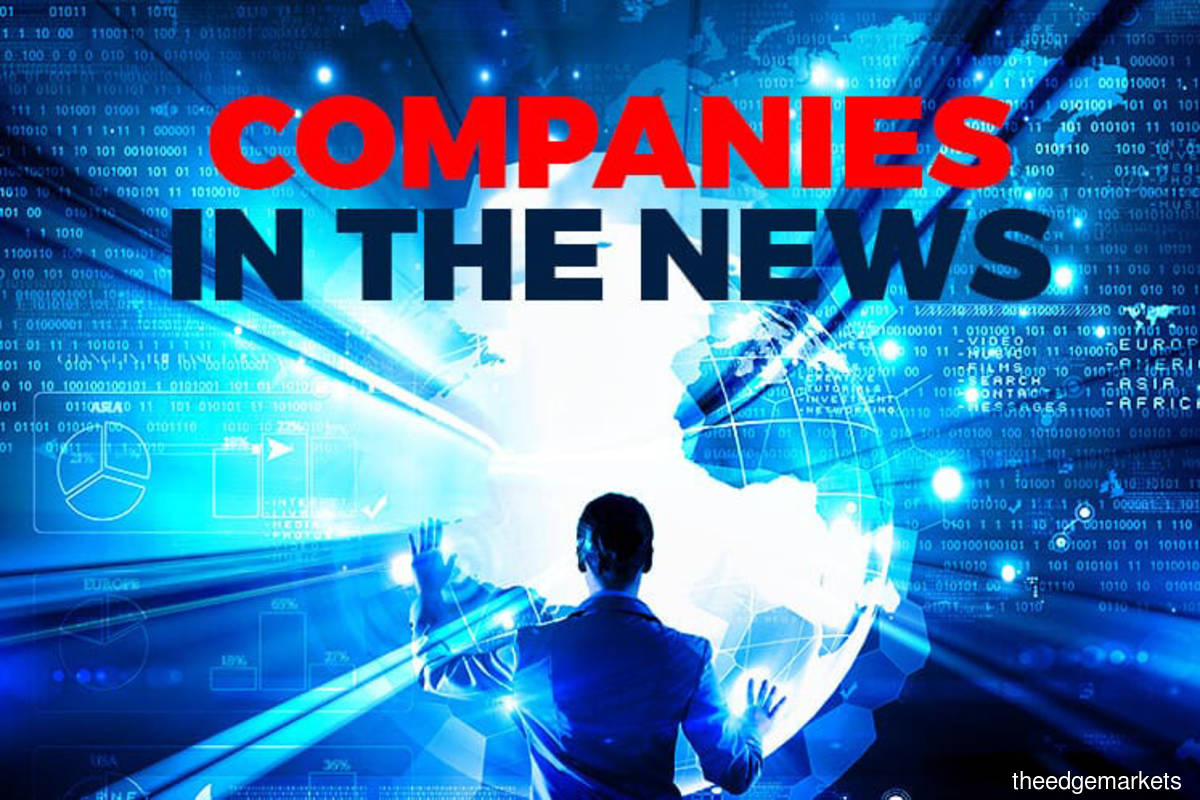 KUALA LUMPUR (Oct 1): Based on corporate announcements and news flow on Friday, companies in focus on Monday (Oct 4) may include CTOS Digital Bhd, Media Prima Bhd, KPJ Healthcare Bhd, TH Plantations Bhd, Serba Dinamik Holdings Bhd, T7 Global Bhd, Malayan Banking Bhd (Maybank), Eversendai Corp Bhd, Hong Seng Consolidated Bhd, Lysaght Galvanised Steel Bhd, Velesto Energy Bhd, Perdana Petroleum Bhd and Landmarks Bhd.
CTOS Digital Bhd said Bank Negara Malaysia (BNM) has temporarily suspended the Central Credit Reference Information System (CCRIS) services to credit reporting agencies. The group said its wholly-owned subsidiary CTOS Data Systems Sdn Bhd had received a letter/directive from the central bank regarding the temporary suspension of access, effective Oct 1.
Media Prima Bhd on Friday redesignated its group executive director Mohd Rafiq Mat Razali as group managing director (GMD) of the media company. The GMD position fell vacant following the resignation of Datuk Iskandar Mizal Mahmood in May this year, after just over a year on the job. Rafiq is Media Prima's third CEO in two years. Prior to Iskandar Mizal, Datuk Kamal Khalid had served as GMD of Media Prima between Aug 2017 and March 2020.
US private equity firm TPG Capital and Malaysian state-owned investment company Johor Corp are considering a plan to take KPJ Healthcare Bhd private, according to people with knowledge of the matter. The San Francisco-based firm and the investment arm of the Johor state government are in talks with banks to finance the potential deal involving Malaysia's largest private-hospital operator, said the people.
TH Plantations Bhd, the plantation arm of Lembaga Tabung Haji, has appointed Mohamed Zainurin Mohamed Zain as its chief executive officer (CEO) effective immediately. He replaces Muzmi Mohamed, whose contract ended on Thursday (Sept 30). Mohamed Zainurin, 54, was formerly financial controller at New Britain Palm Oil Ltd, a subsidiary of Sime Darby Plantation Bhd, based in Papua New Guinea. With more than 30 years of management experience in various corporate sectors, he previously served as senior vice-president of agrifood unit at Khazanah Nasional Bhd and held several senior positions in the sovereign fund's subsidiaries and joint ventures.
Serba Dinamik Holdings Bhd is implementing an internal restructuring exercise which entails the appointment of Dr Mohamed Ackiel Mohamed as deputy CEO with effect from Friday. The company said the restructuring exercise also includes the appointment of a few key management personnel as heads of regions where the global integrated oil and gas (O&G) service provider has a strong presence.
T7 Global Bhd said the memorandum of understanding (MoU) it entered into with Japanese's Mitsui E&S Shipbuilding Co Ltd, under which the groups planned to collaborate and explore opportunities for the supply of ships in Vietnam, has been mutually terminated. It entered the MoU via its wholly-owned subsidiary, T7 Marine Sdn Bhd.
Kumpulan Wang Amanah Persaraan (Diperbadankan) (KWAP) has ceased to be a substantial shareholder of Malayan Banking Bhd (Maybank) after the retirement fund disposed a total of one million shares in the open market on Wednesday (Sept 29), its Bursa Malaysia filing showed on Friday. Following the disposal, KWAP has 541.11 million shares or 4.63% direct interest in Maybank. It also has 44.03 million shares or 0.38% indirect interest in the banking group.
Eversendai Corp Bhd executive director Narishnath Nathan has been redesignated as deputy group managing director of the group, effective immediately. He is the son of Eversendai's founder, executive chairman and group managing director Tan Sri AK Nathan Elumalay.
Hong Seng Consolidated Bhd announced on Friday that it will be acquiring a 51% stake in Covid-19 antibody testing kit distributor RZAC Immunesafe Sdn Bhd for RM20 million. Hong Seng said its wholly-owned subsidiary HS Bio Sdn Bhd has entered into a shares sale agreement with Datuk Seri Shahril Mokhtar, Datuk Wan Khalik Wan Muhammad and RZAC Business Sdn Bhd to undertake the proposed acquisition.
Lysaght Galvanised Steel Bhd said it has received a notice in writing from Ernst & Young PLT (EY) of the latter's decision to resign effective Sept 29. The galvanized steel product manufacturer said EY's resignation is on a voluntary basis.
Offshore drilling services provider Velesto Energy Bhd has bagged a US$12.4 million contract from Petronas Carigali Sdn Bhd to provide jack-up drilling rig services to the latter. Velesto Energy said its indirect wholly-owned subsidiary Velesto Drilling Sdn Bhd has received a letter of award from Petronas Carigali for the provision of the services of a jack-up rig, namely Naga 2.
Perdana Petroleum Bhd has appointed Jamalludin Obeng as its new managing director (MD). He is currently vice-president of the Malaysian Oil & Gas Services council. Jamalludin replaces Tengku Datuk Yusof Tengku Ahmad Shahruddin, who cited the appointment of the new MD by Perdana Petroleum as the reason for his departure.
Landmarks Bhd is selling its entire stakes in five of its subsidiaries to Singapore's Blumont Group Ltd for a combined S$63.4 million (RM195.1 million), which would be fully satisfied via the issuance of new shares in Blumont. Landmarks said these companies are involved in operations and/or own lands located in Chill Cove – a 52-hectare waterfront resort city located within Treasure Bay Bintan on the Indonesian island of Bintan, developed by Landmarks and its subsidiaries. Chill Cove is an attraction park comprising a 5-star hotel, an activity hub, a desert-inspired glamping concept resort and a marine park.