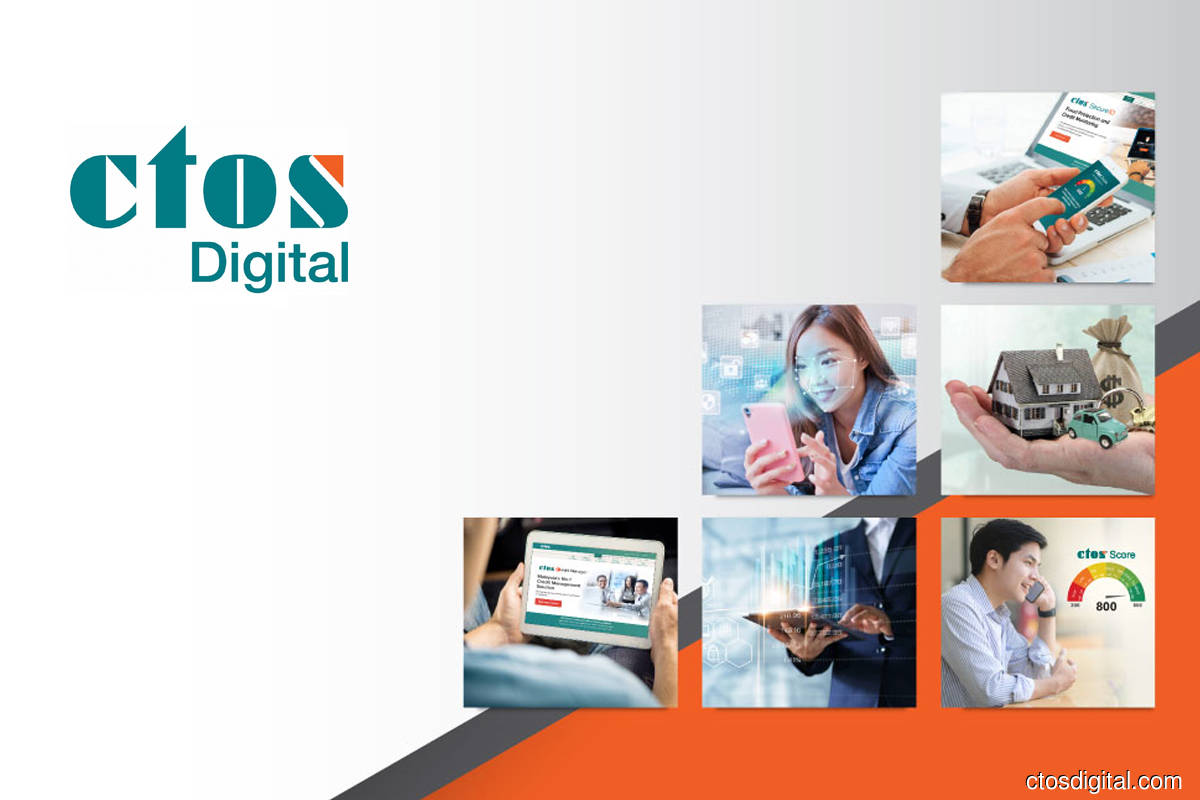 KUALA LUMPUR (Oct 15): CTOS Digital Bhd saw its net profit for the third quarter ended Sept 30, 2021 (3QFY21) rise by 9.32% to RM11.67 million against RM10.68 million in the same period last year (3QFY20), underpinned by higher revenue from its Malaysian and international segments. 
In a Bursa Malaysia filing on Friday, the group said its quarterly revenue surged by 13.36% to RM38.57 million, from RM34.02 million in 3QFY20.
Earnings per share (EPS) however remained at 0.5 sen.
Meanwhile, the group also has declared a second interim dividend of 0.32 sen per share to its shareholders, to be paid on Dec 10, 2021. 
For the nine months ended Sept 30, 2021, the group's net profit grew by 18.64% to RM31.20 million from RM26.30 million reported in the same period last year, while revenue increased by 15.82% to RM114.37 million against RM98.75 million previously. 
EPS rose to 1.5 sen from 1.3 sen as a result.
On a quarterly basis (QoQ), the group's net profit, however, fell slightly by 1.43% from RM11.84 million registered in the immediate preceding quarter (2QFY21), while revenue rose by 1.90% from RM37.85 million in 2QFY21. EPS dipped from 0.6 sen.
Commenting on the group's financial performance, CTOS Digital Group CEO Dennis Martin said its key accounts and commercial segments remained resilient with commendable growth, despite multiple lockdowns throughout the year.
"We look to extend this growth trajectory by extending our ongoing financial literacy programmes to increase customer adoption of relevant products.
"With the reopening of various economic sectors in 4Q21, we anticipate a rebound in customer take-up for our solutions, similar to previous post-restriction periods.
"We will continue to deliver digital solutions to our extensive key accounts customer base, and foresee favourable trends in new account activations and positive upliftment of product usage in the commercial space, as we equip customers with the awareness plus necessary tools to make informed decisions," he said in a statement. 
Moving forward, the group expects its subsidiaries and business segments to rebound in the last quarter of 2021 and highlighted that it will continue to deliver on its digital solutions such as eKYC to its extensive key account customer base.
"The commercial segment should see growth through new account activations, providing SMEs the tools that will help them to make informed decisions on granting credit or credit terms to their customers, as well as helping them reinforce good payment behaviour to enhance their cash collection rates as part of their own business recovery strategies.
"Our associate companies are expected to continue to perform according to expectations and the group will still look for opportunities within the Asia Pacific region, as well as within Malaysia for investment," it said. 
On the recent temporary suspension of access to CCRIS data by Bank Negara Malaysia (BNM), the impact is likely to be only for October and immaterial to its group's revenue.
"The temporary suspension was a proactive, precautionary and necessary step against potential cyber threats to the credit reporting agency (CRA) industry.
"Once BNM has had the opportunity to review this report, we are hopeful the access will be restored," it shared. 
Shares in CTOS Digital closed six sen or 3% higher to RM2.06 on Friday, giving it a market capitalisation of RM4.53 billion.