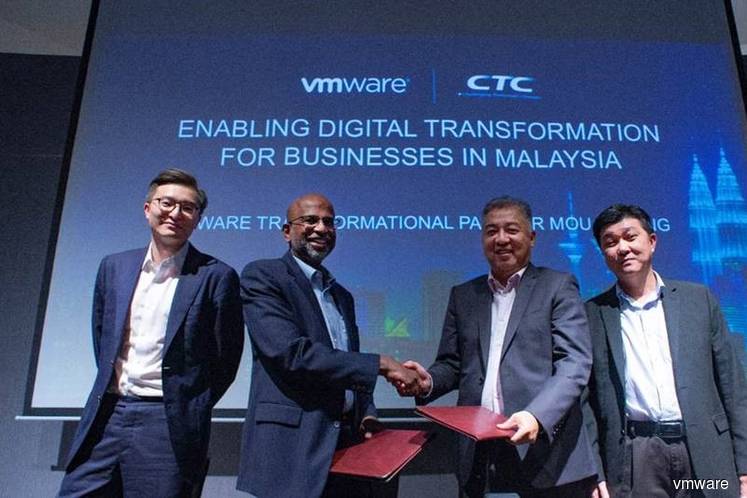 (From left): VMware director of channels for Southeast Asia and Korea Fan Qu, VMware country manager for Malaysia Devan Parinpanayagam, CTC Malaysia managing director Dennis Koh and CTC Malaysia business director Khor Kim Leng. Photo by VMware
KUALA LUMPUR (Jan 16): IT solution provider CTC Global Sdn Bhd (CTC Malaysia) has inked a partnership with enterprise software innovator VMware Inc to drive cloud adoption and help Malaysian enterprises in their digital transformation journeys.
As VMware's first transformation partner in Malaysia, CTC Malaysia can offer cloud services through an "as-a-service" business model to enterprises seeking flexibility, agility and streamlining of workflows.
In a statement Jan 15, VMware said the partnership is aligned with Malaysia's rapidly growing appetite for cloud adoption — the country was recently ranked 8th on Asia Cloud Computing Association's Cloud Readiness Index 2018 — ahead of its Southeast Asian neighbours including the Philippines, Thailand, Indonesia and Vietnam.
Furthermore, International Data Corp has predicted that local enterprise spending in Malaysia on cloud services and cloud-enabled hardware, software and services will hit US$621 million (RM2.56 billion) by 2021.
Through this partnership, VMware and CTC Malaysia aim to pave the way for more enterprises to embark on digital transformation, hone their competitive edge, and remain relevant in today's digital economy.
With VMware's first class cloud solutions, CTC Malaysia will enable businesses with a unified, fully automated self-service platform that is easily configurable and flexible.
The provision of infrastructure-as-a-service (IaaS), disaster-recovery-as-a-service (DRaaS), cloud migration solutions and data backup solutions in VMware NSX will enable a more secure environment for businesses to be agile, elastic and responsive.
CTC Malaysia managing director Dennis Koh said the company is making cloud adoption easier for enterprises with its local cloud services called CUVIC Cloud.
"CUVIC Cloud is owned and operated by CTC Malaysia, and fully developed based on VMware Validated Design.
"As a VMware partner, CTC Malaysia will be able to work closely with VMware to further enhance and strengthen our CUVIC Cloud Services capabilities and skillsets so that we can help enterprises succeed in their transformation journeys," said Koh.
Meanwhile, VMware country manager for Malaysia Devan Parinpanayagam said technology is rapidly taking the front seat in boardroom agendas as enterprises start to recognise that software and cloud services are essential to thrive in Malaysia's digital economy.
"CTC Malaysia's leading expertise in the IT industry and our first class services are a potent formula for success, and we look forward to equipping Malaysian enterprises with the right tools to unlock new business opportunities and amplify growth," he said.