This article first appeared in The Edge Malaysia Weekly, on September 16, 2019 - September 22, 2019.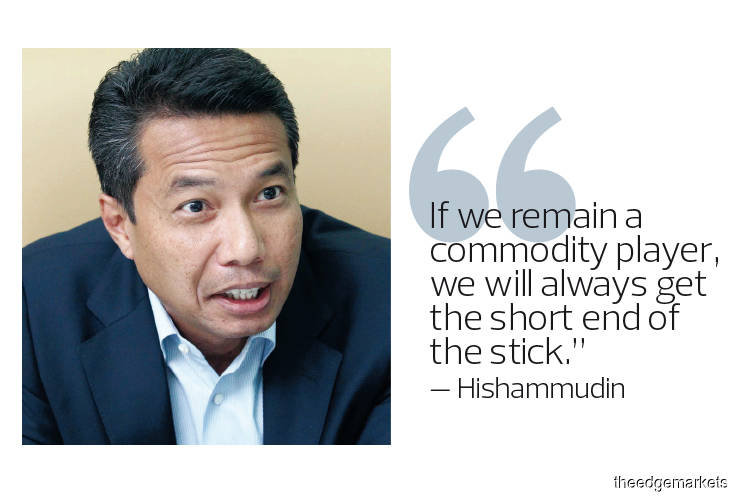 Photo by Kenny Yap/The Edge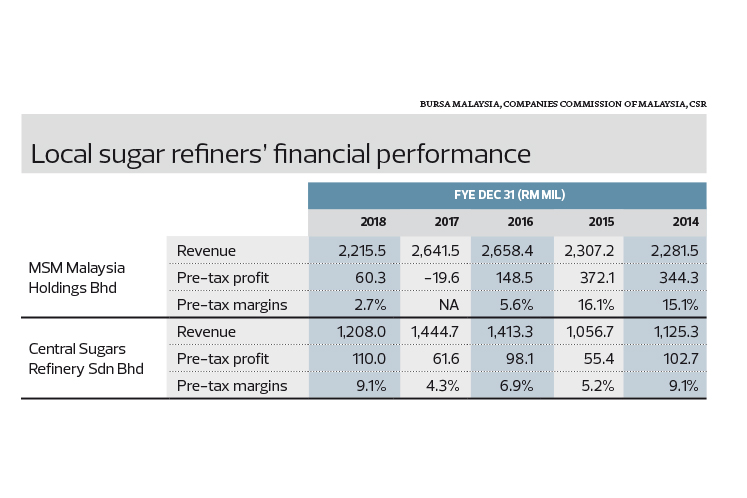 IN an environment of thinning margins owing to falling average selling prices and stiffening competition in the local market, Central Sugars Refinery Sdn Bhd (CSR) has found a surprising sweet spot.
As it prepares for an initial public offering (IPO) exercise next year, Tradewinds (M) Bhd-owned CSR has been taking measures to reduce its refining costs, boosting its margins in the process.
CSR managing director and CEO Hishammudin Hasan tells The Edge in a recent interview that it is now looking to diversify into the fast-moving consumer goods (FMCG) segment with an eye to export its products to the rest of the world.
"When I came into the company in April last year, my mandate was to ensure that this company is sustainable and is able to flourish. For the past year, we have been talking about how we want to make it sustainable. Now, in order to make it flourish, we will move into the FMCG space," he says.
"If we remain a commodity player, we will always get the short end of the stick. [FMCG] has a better business model, in the sense that it is a RM103 billion market in Malaysia, and it is growing at 5% a year."
Hishammudin confirms the group is looking to acquire a company that will allow it to enter the FMGC segment although it has yet to decide on the range of products.
"We are targeting an acquisition by next year. Our current customers need not worry as we will be complementing them. We will be growing the FMCG space together," he says, adding CSR is looking at small-to-medium companies with revenue of RM80 million to RM100 million a year just to "wet its feet" in the industry.
"We have spoken to bankers about the acquisition. We know which banker we are going to work with," he adds, without divulging further details.
"This is a long-term play. It is to ensure our company will flourish. As a commodity player, we will forever be subjected to the cyclical [nature of the business]."
The foray into FMCG may also yield better margins for CSR. As a snapshot, sugar refiners in Malaysia at present see pre-tax margins in the single digits while some listed FMCG players — which purchase raw sugar from CSR — enjoy margins in the high teens.
For now, CSR is still a commodity player, supplying refined sugar to the retail segment as well as manufacturers, which is further broken down into the small-and-medium industries (SMIs) and large industries.
Revenue from industry — SMIs and large industries — contributes 60% to 70% of its business while the retail segment, which is price-controlled by the government, accounts for the remainder.
In the financial year ended Dec 31, 2018 (FY2018), Hishammudin says group profit before tax (PBT) shot up 78.6% year on year to RM110 million from RM61.56 million in FY2017, despite a drop in revenue to RM1.21 billion, after staying relatively flat at RM1.44 billion in the preceding two financial years.
As an illustration of its potential IPO size, CSR's RM110 million pre-tax profit may imply that the size of its market valuation could be over RM1 billion based on 10 times price-earnings ratio (PER).
Its competitor and Malaysia's only other sugar refiner, MSM Malaysia Holdings Bhd, closed at RM1.13 last Thursday, giving it a market capitalisation of RM794.37 million. That implies a market valuation of 22.3 times PER based on MSM's RM35.6 million annual net profit in 2018.
'Mindset change'
When Hishammudin joined CSR as CEO in April 2018, he says his first task was to restructure the company to make it more efficient. He joined the board as managing director in early 2019.
In the past year and a half, he has assembled a management team consisting mostly of FMCG veterans who, he says, "approach things in a more systematic manner".
"My first year was about changing the mindset, getting the people ready for the overhaul. We've had a major change last year where we reorganised ourselves and tightened things up.
"I'm trying to move the company into an FMCG mindset where everything needs to be moving faster, quicker and (be) more robust," he says. "From a cost perspective, we have also identified where we can squeeze."
Part of Hishammudin's strategy to contain costs is prudent purchasing of raw sugar via sugar trading companies on the NY#11 as well as a tightened cost management system. The savings mitigate upward pressures from higher gas, labour, and electricity costs.
Overall, CSR has successfully reduced refining costs by 20% year on year in FY2018, he says. "There is still much to do and we are aggressive in this area (refining cost)."
In 2018, the total workforce at its Shah Alam and Padang Terap plants was about 1,000, of which 430 were foreign workers. However, in the past seven months, CSR has sent 40% of its foreign workers home as it increased automation.
It has earmarked RM30 million in capital expenditure (capex) this year for its 55-year-old Shah Alam plant and RM22 million for the Padang Terap plant. Hishammudin has big plans for the Padang Terap plant, which he says has not been profitable.
"Padang Terap will be producing our 'Better Brown' sugar and that will also be used for our export front. We are eyeing Singapore and the Middle East. Right now exports are negligible, but we have more aggressive plans moving forward."
To meet export needs, CSR is retrofitting the sugar refining plant in Padang Terap with the aim of turning the facility into a regional base for the production of its low GI brown sugar. As of now, the plant produces some 10,000 tonnes of white sugar per month. The upgrades, which are expected to be completed by the fourth quarter of this year, will then enable the plant to increase its production by 20% to 30%.
By January 2020, the plant's production capacity will increase to about 15,000 tonnes of white sugar a month and 9,000 tonnes of Better Brown sugar, taking total production capacity to 24,000 tonnes monthly.  Following that, CSR plans to roll out its export plans.
Hishammudin hopes the plant will break even by next year. The Kedah refinery is owned by Gula Padang Terap Sdn Bhd, which became a wholly-owned subsidiary of CSR in June. Gula Padang Terap was previously under Tradewinds (M) Bhd, which is CSR's parent company.
Hishammudin targets 20% to 30% of its volume, or 40,000 tonnes a year, to be exported by the end of next year to Singapore and the Middle East.
"We will export for both the retail and industry segment. But we will be focusing on retail first. By the fourth quarter of this year, we will have a presence in Singapore.
"The (Singapore) market may not be big, but it is significant. They are ready for healthier products, so we only want to export healthier sugar. Also, our product is priced at a much more customer friendly level."