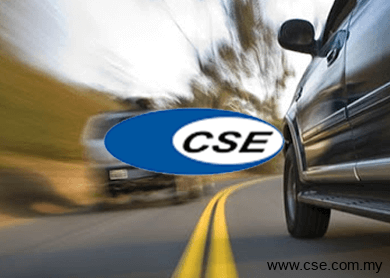 THE detariffication of motor insurance premiums will boost the business of not just insurance providers but also CSE Group, as its automotive telematics systems will be a feature in the new motor insurance landscape.
Malaysia is expected to start the detariffication next year, which will see motor insurance products being tailored to suit the different requirements and characteristics of car owners. Some of these characteristics need to be measured by dedicated systems, which CSE is able to provide.
In an exclusive interview with The Edge last Monday, CSE group commercial director Colin Hookham says, at the moment, its telematics systems, which are marketed under the Cobra brand, are used for vehicle tracking and fleet management.
The telematics systems can be tuned to suit the requirement of the insurance companies to complement their new insurance products once the detariffication kicks in. The insurance telematics will be able to measure the speed of a vehicle, its mileage and the driving style of its drivers.
"With the insurance detariffication, insurance telematics will provide a huge potential for the insurers and businesses. In Europe, the use of telematics in insurance is already extremely developed," says Hookham.
In Europe, Italy is the most developed in terms of adoption of telematics in the insurance industry, where 5% of all motor insurance policies are written based on a telematics usage-based insurance (UBI) module, says Hookham.
The growth rates is substantial from month to month, he adds.
However, Hookham says a market like Malaysia, where the motor insurance industry is moving from tariff-based to detariffication, is probably going to adopt the technology at a much higher rate. "People are more likely to adopt the technology over here because there are some big advantages for the customers in terms of application and other technology uses the system will have. We believe, within the first three years of detariffication, we will see an adoption rate of between 20% and 30%."
Efforts to contact several general insurance providers for comments were unfruitful, while Abdul Rahman Talib, chief executive of Pacific & Orient Insurance Co Bhd, declined to comment as several issues regarding the detariffication remain outstanding.
Generally, the detariffication of motor insurance will allow customers to lower their insurance premium through UBI policies. The telematics system will measure the parameters from the customers to determine the insurance premium.
For a "pay-as-you-drive" policy, the telematics system logs data such as mileage, the timing of the car, whether it is used for short distances or long journeys, the roads used and so on, says Hookham.
Meanwhile, a "pay-how-you-drive" policy will see the insurance premium being adjusted to the driver's style of driving. Generally, a more aggressive driver is more likely to get into an accident and file a claim.
CSE, which was established in 1985, started off supplying vehicle security systems to car manufacturers. It later expanded into vehicle reversing safety systems and also location-based services such as fleet management.
The group supplies its vehicle safety systems to all the major car manufacturers in Malaysia. Over the last 15 years, CSE has been developing and producing telematics systems, including Cobra Connex and Cobra Link.
Cobra Connex is a vehicle-tracking system that offers automatic theft alerts and stolen vehicle recovery services. Cobra Link is a fleet management system that provides real-time vehicle monitoring for fleet operators. It reports real-time data such as location, mileage, stop-start data and driver behaviour.
"At the moment, this product (Cobra Connex) is available as a new option for brands such as Honda and Subaru. During the years that we have had these products in the market, they have been very successful. We have a very high recovery rate and the technology is proven.
"Cobra Link is used extensively by many customers with a fleet of vehicles to manage. They need to know where the cars are, what they are doing. Basically, any company that has a fleet of vehicles to manage needs telematics," says Hookham.
CSE, together with its technological partner Cobra Automotive, which was taken over by Vodafone Automotive in June last year, has facilities in Italy, Malaysia and China. At the moment, its facility in Glenmarie, Shah Alam, produces only vehicle alarm systems and reversing sensors.
However, as the local market for telematics grows, the manufacturing facility in Italy will be transferred here, says Hookham. With the motor insurance detariffication, CSE targets to start manufacturing the telematics systems locally by the end of this year, he adds.
At the moment, 70% to 75% of CSE's annual revenue comes from the electronics systems, including vehicle safety and reversing sensors, while the remainder is from telematics, says Hookham. However, the revenue share from telematics is expected to increase going forward, he adds.
According to information provided by Companies Commission of Malaysia (SSM), CSE Automotive Technologies Sdn Bhd recorded a net profit of RM17.7 million for the financial year ended Dec 31, 2013, on the back of RM155.15 million in revenue.
The group had RM140.38 million in current assets, while current liabilities stood at RM24 million.
However, there are concerns that with the introduction of UBI, car owners will have to pay a higher premium due to the cost of installing the telematics system. Insurance companies will source the system from providers such as CSE to complement their insurance products.
While declining to reveal the cost of the systems, Hookham says it will not be a barrier to car owners switching to UBI from the current insurance policy. The principle of introducing detariffication of motor insurance premiums is that customers must enjoy a cost advantage over the current form, he says.
"This is something that we are discussing with the insurance industry players at the moment. For example, in Europe, we have more than six million devices installed using our technology. So, it is very popular in Europe, and growing.
"But as it is, insurance premiums in Europe are very high compared with those in Malaysia. The device cost is covered by insurance [in Europe]. We are discussing with the insurance companies here on how they can adopt this in Malaysia," says Hookham.
This article first appeared in The Edge Malaysia Weekly, on April 27 - May 3, 2015.