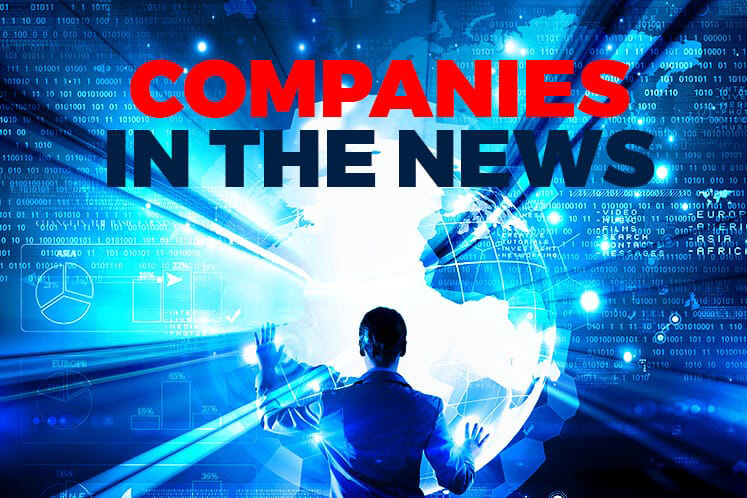 KUALA LUMPUR (Feb 12): Based on corporate announcements and news flow today, companies that may be in focus on Tuesday (Feb 13) may include: CSC Steel Holdings Bd, Malaysia Airports Holdings Bhd, Hektar REIT, Kuala Lumpur Kepong Bhd, Batu Kawan Bhd, Tomei Consolidated Bhd, Hexza Corp Bhd, Ranhill Holdings Bhd and MBM Resources Bhd.
CSC Steel Holdings Bhd's net profit more than doubled to RM14.82 million in the fourth quarter ended Dec 31, 2017 (4QFY17) from RM6.19 million a year ago, as it enjoyed higher sale margins for all its steel products.
Quarterly revenue grew 28% year-on-year (y-o-y) to RM367.2 million from RM286.9 million, due to the significant rise in the selling price of its steel products, and a marginal increase in sales volume.
The group proposed to pay a final dividend of five sen per share for FY17.
For the full FY17, the group's net profit fell 13% to RM59.8 million from RM68.7 million in FY16 despite revenue growing 28% y-o-y to RM1.32 billion from RM1.04 billion.
 
The number of passengers passing through the 39 airports Malaysia Airports Holdings Bhd (MAHB) manages in the country rose by 1.5% to 8.07 million in January 2018 from 7.95 million last year — a new record for the month.
MAHB said international traffic rose 9% y-o-y to 4.43 million passengers, while domestic traffic fell 6.4% y-o-y to 3.64 million passengers.
The Kuala Lumpur International Airport in Sepang handled 5.07 million passengers in January 2018, 4.8% higher, from 4.84 million passengers recorded a year ago.
Systemwide including its Istanbul operations in Turkey, MAHB handled 10.76 million passengers, an increase of 6.5%, in January 2018 compared with 10.1 million in January 2017.
Istanbul Sabiha Gokcen International Airport's passenger traffic grew 25.3% y-o-y in January 2018 as it saw international and domestic traffic increase y-o-y by 21.7% and 27% respectively.
Hektar Real Investment Trust's (Hektar REIT) net property income rose 12% year-on-year to RM20.91 million in the fourth quarter ended Dec 31, 2017 (4QFY17) from RM18.73 million, largely due to the REIT having acquired the 1Segamat Shopping Centre in September last year.
Revenue for 4QFY17 grew 7% y-o-y to RM33.44 million from RM31.17 million. Net income for the quarter was almost flat at RM12.08 million versus RM12.01 million previously.
It declared a final income distribution of 3.3 sen per unit, to be paid on March 15, up 22% from the 2.7 sen in 4QFY16.
For the full FY17, however, Hektar REIT's NPI retreated a marginal 1% to RM73.74 million from RM74.34 million. Revenue, however, rose about 1% to RM125.54 million from RM124.57 million. Net income for FY17 declined 24% to RM32.7 million from RM43.16 million.
 
Kuala Lumpur Kepong Bhd (KLK)'s net profit fell 11% to RM320.63 million in its first financial quarter ended Dec 31, 2017 (1QFY18) from RM360.68 million a year ago, as both its plantation and property segments registered weaker earnings.
Its quarterly revenue declined 6% to RM5.19 billion from RM5.5 billion.
Batu Kawan Bhd's first quarter net profit fell 9.94% to RM177.89 million or 44.21 sen per share, from RM197.54 million or 48.77 sen per share a year earlier, on lower contribution from the plantation and property development segments.
Quarterly revenue slipped 5.12% to RM5.34 billion from RM5.63 billion a year ago.
Higher retail sales helped Tomei Consolidated Bhd deliver a net profit of RM4.4 million or 3.18 sen per share for the fourth quarter ended Dec 31, 2017 (4QFY17), up 18 folds from RM226,000 or 0.16 sen per share a year ago.
Quarterly revenue rose 17.46% to RM150.11 million, from RM127.8 million previously "mainly due to year-end festivities".
For the full FY17, Tomei's net profit rose to RM16.2 million from RM4.69 million in FY16, largely attributed to higher revenue. Full-year revenue rose 36% to RM617.02 million from RM472.21 million due mainly to increase in demand, said Tomei.
The jeweller has recommended a one sen dividend per share. It paid no dividend for FY16.
Hexza Corp Bhd's net profit shrank 84.03% to RM1.51 million or 0.8 sen per share for the second quarter ended Dec 31, 2017 (2QFY18), from RM9.48 million or 4.7 sen per share a year earlier, dragged by its resins and investment segments.
Quarterly revenue slipped 2.3% to RM26.24 million from RM26.86 million.
Hexza attributed the lower contribution from the resins segment to the lower sales volume and margin compression, as the rise in average raw material costs outpaced the increase in average selling price for resin products.
For the cumulative six-month period (6MFY18), Hexza posted a net loss of RM23.77 million compared to a net profit of RM24.29 million in 6MFY17. While its revenue slipped 16.16% to RM51.28 million from RM61.16 million in 6MFY17.
Two years after announcing the proposal, Ranhill Holdings Bhd has received a conditional letter of award (CLOA) from the Energy Commission (EC) to build a 300-megawatt (MW) combined cycle gas turbine power plant in Sandakan, Sabah.
The CLOA was issued to the consortium including SM Hydro Energy Sdn Bhd, which is a wholly-owned subsidiary of Ranhill Capital Sdn Bhd, which in turn is wholly-owned by Ranhill.
Ranhill said SM Hydro Energy is currently evaluating the terms and conditions of the CLOA and Ranhill will make the necessary announcement to Bursa as and when the decision to accept the award is made by SM Hydro Energy.
Car distributor MBM Resources Bhd plans to raise its shareholding in wheels producer Oriental Metal Industries Sdn Bhd (OMI) to 100% by buying up the remaining 22% stake for RM1.75 million.
This would facilitate the decision-making process, and open up opportunities and flexibility by OMI in choosing and initiating new working relationships with other parties.