This article first appeared in The Edge Financial Daily, on September 20, 2017.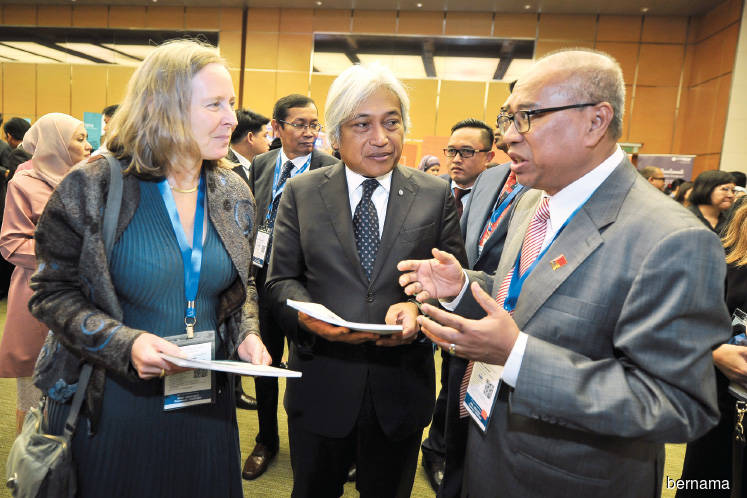 KUALA LUMPUR: Bank Negara Malaysia (BNM) will issue the necessary guidelines on cryptocurrencies by the end of the year, said the central bank's governor Tan Sri Muhammad Ibrahim.
Speaking to the media on the sidelines of the Global Symposium on Development Financial Institutions, Muhammad said BNM seeks to provide "clear guidelines" to those seeking to participate in the digital currency.
"We hope that by year end, BNM will be able to come out with some guidelines on cryptocurrency, particularly those related to anti-money laundering and terrorist financing," he said.
Muhammad's comment on cryptocurrency came after the Securities Commission Malaysia issued a warning to the public of risks in cryptocurrency-based investments or crowdfunding schemes, such as initial coin offerings (ICO) — a term closely resembling initial public offering (IPO).
Cryptocurrencies, known for the secure transactions driven by the underlying blockchain or encrypted digital ledger technology, is seeing a huge pickup in investor demand this year. The price of bitcoin, the world's largest cryptocurrency, has quadrupled to hit over US$4,400 (RM18,422) last month, from just under US$1,000 in January this year.
The increased number of cryptocurrencies and a rise in investment schemes involving them have sparked different reactions across the board. China — which accounted for 23% of global bitcoin trade — has already banned ICOs in the country.
JPMorgan Chase & Co chief executive officer (CEO) Jamie Dimon reportedly called bitcoin a "fraud" that is "worse than tulip bulbs", referring to the first recorded economic bubble in the world, caused by speculative trading of tulip bulbs in the Netherlands.
"I'd fire them in a second. For two reasons — it's against our rules and they're stupid. And both are dangerous," Dimon was quoted by the media as saying when asked about bitcoin.
Meanwhile, Russia reportedly intends to regulate cryptocurrencies instead of outlawing them, while the Bank of International Settlements (BIS) said on Sunday that central banks worldwide will have to soon consider issuing their own digital currencies amid growing participation and benefits to gain from the blockchain technology.
On a separate matter, Muhammad said that more effort is required to allow for critical assessment of the impact of Malaysian development financial institutions (DFIs).
This includes an improved corporate governance, as well as a performance measurement system that includes value-based intermediation activities on top of volume of financing provided to targeted sectors, Muhammad said.
The critical appraisal of the outcome of DFI activities is much needed "to sharpen the development focus, redirect and amplify" the impact of financing activities by institutions, he added. "It will also provide the impetus for them to focus on other interventions that can increase their impact."
"We intend to work with the leadership [of Malaysian DFIs] and other stakeholders in the government in the coming months, to address a more focused delivery of mandates.
"We need to measure outcomes that matter and measure mandates that are relevant. This needs to be driven [with] a clear vision and strong leadership, and uncompromising governance," Muhammad said.
Malaysia is home to 11 DFIs, which are principally involved in the sectors of infrastructure, agriculture, exports and small and medium enterprises. Challenges faced by these DFIs and many others worldwide include a level of involvement by politicians in the organisation, financial sustainability of its business model and digital disruption.