This article first appeared in Personal Wealth, The Edge Malaysia Weekly, on October 16, 2017 - October 22, 2017.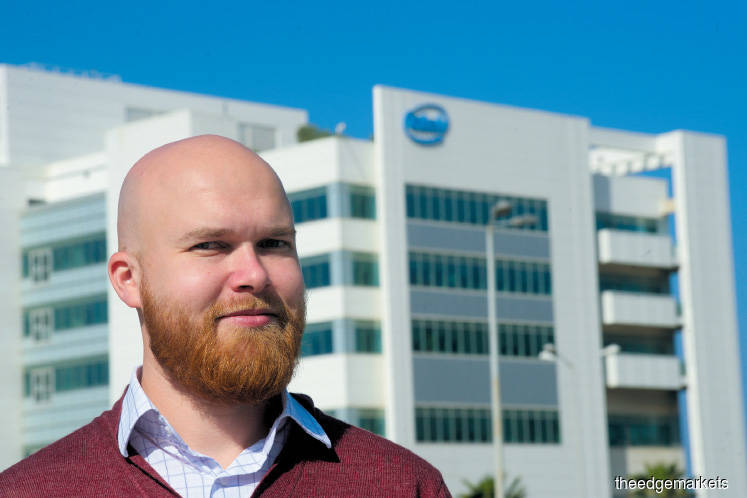 In many countries, cryptocurrencies such as bitcoin are not considered real money or legal tender. This complicates matters when it comes to tax procedures as there are many grey areas in the legislation that governs digital currencies. As a result, the tax treatment of cryptocurrencies either lacks clarity or tends to be laborious.
"Usually, people who know the market prefer to buy cryptocurrencies directly from an exchange. But their tax advisers tell them that there are problems," says Anton Iospa, head of marketing at Malta-based investment company Exante.
"Tax service providers are very cautious about cryptocurrencies. They do not know how to account for this asset on balance sheets."
In some countries, the returns from cryptocurrency investments are taxed like those of any other asset. The US Internal Revenue Service, for example, treats the gains from the sale of virtual currencies as a capital asset, subject to either short-term or long-term capital gains tax rates if the asset is held longer than 12 months.
In Malaysia, cryptocurrency transactions are currently tax-free as digital currencies are not considered assets or legal tender by the authorities. However, Bank Negara Malaysia recently announced that guidelines will be introduced by year end if it decides to recognise cryptocurrencies.
To allow high-net-worth and corporate investors to invest in cryptocurrencies without any hassles, Exante has launched several cryptocurrency funds and a dedicated altcoin index, says Iospa. "When we saw this need five years ago, we introduced the world's first bitcoin fund, which has the structure of a regular hedge fund, with the price of the shares synchronised with the price of bitcoin.
"Since it is a classic asset, it is nothing new for accountants — they know exactly what to do with it. It is legally compliant with the security of assets guaranteed, so the reception was astounding."
Exante's bitcoin fund works like an exchange-traded fund, but the objective is to purchase and store bitcoins. Each unit of the fund is equivalent to one bitcoin and the fund is backed by bitcoin wallets on cryptocurrency exchanges.
Exante purchases bitcoins with every share investors buy into. Today, the company has thousands of bitcoins under management and has conducted more than US$300 million worth of transactions through the fund.
The fund charges an annual management fee of 1.75% and a transaction fee of 0.5%. As at May, the fund had recorded a return of 10,262% since its inception in 2012.
Following the success of the bitcoin fund, Exante launched more cryptocurrency funds, including Ethereum, Litecoin, Monero, Zcash and Ripple funds. "We discovered that there was a demand for other promising cryptocurrencies besides bitcoin. In fact, a lot of people have said the technologies behind these digital currencies are better than the one used by bitcoin as they are more advanced and practical. So, we felt that it was timely of us to introduce the funds," says Iospa.
Exante is a licensed financial services company that works with a wide range of products and services for retail, sophisticated and institutional investors. It provides access to online trading in over 50 markets worldwide, allowing clients to invest in more than 50,000 financial instruments.
As a European Union-regulated investment company, Exante has to comply with the Markets in Financial Instruments Directive (MiFID) — which governs the provision of investment services and financial instruments by banks and investment firms — and the requirements of traditional stock exchanges and alternative trading venues.
Exante is required to report its transactions to the Malta Financial Services Authority, which monitors the Maltese investment industry's compliance with the MiFID. The company is also a member of the Malta Stock Exchange.
World's first altcoin index
While Exante was monitoring the cryptocurrency market, it realised that there was growing demand from clients who wanted to profit from the bullish altcoin markets. Altcoins are digital currencies other than bitcoin.
However, these investors do not have the time or the technological means to analyse each cryptocurrency. To solve this problem, the company launched the Exante Altcoin Index (XAI), which reflects the dynamics of six altcoins — Ethereum, Ethereum Classic, Ripple, Monero, Litecoin and Zcash.
Iospa says these digital currencies currently make up more than 30% of the entire cryptocurrency market and are consistently getting stronger. The index has grown 40 times since the beginning of the year, he points out.
"We did not include bitcoin in the index for the simple reason that it has less room to grow in a short-term period. However, the other cryptocurrencies are very dynamic. We want our investors to join in and feel the thrill, which is why we introduced the index and the XAI.Fund, which tracks the index," says Iospa.
There are currently more than 900 cryptocurrencies globally, but Exante will not be adding other altcoins to the index this year, says Iospa. "We are not considering adding other altcoins because their market volume is very low. The XAI.Fund's [investment universe] already covers 95% of the altcoin market, so we do not see the need to add any more. However, if there are altcoins that grow to a volume that beats those that are already in the fund, we will consider them in the future."
He adds that investing in the fund is a much safer alternative to investing in the altcoins directly on exchanges as Exante is a licensed financial institution. "When you invest via exchanges, you do not know who they are, what they look like or what their credibility is. There is no guarantee that Poloniex, Kraken or other exchanges won't go bust one day.
"In the unfortunate event that this happens, you will never get your money back. If you are investing with your play money, which may be several hundred dollars, you may not think much about it. But if you are investing more than US$50,000 in cryptocurrencies, security is a huge concern.
"By comparison, like a traditional financial broker, we are licensed. So, if something happens [to the fund], you will always be able to get your money back."
The minimum initial amount to open an account with Exante as an individual client is €10,000 while a share in the XAI.Fund costs about €600. Trading of the fund's shares can be done through a personal manager at a commission rate of 0.5% of the transaction amount. The company plans to make share trading possible on its platform in the near future.
Iospa acknowledges that cryptocurrencies are experiencing a bubble and it will burst someday. However, he is optimistic that the bubble is still growing.
"The growth of altcoins is fascinating, but who knows when it will blow up. It may take a long time. A lot of the high-tech companies are bubbles, but they have been growing well for more than a decade now," says Iospa.
"Of course, it is a very risky market. It is for people with a very high risk tolerance to spend their play money. If they are already dedicating 10% to 25% of their assets as play money, cryptocurrencies are something they should get into and the XAI.Fund is one of the legal ways to do so."