This article first appeared in Personal Wealth, The Edge Malaysia Weekly, on April 6, 2020 - April 12, 2020.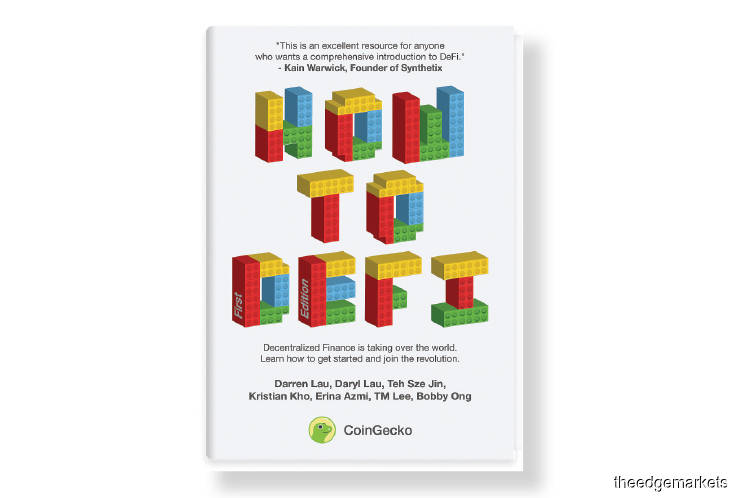 Decentralised Finance (DeFi) — a blockchain-enabled ecosystem that, among others, allows users to borrow, lend, trade and make transactions in digital currencies without the need to go through regulatory authorities — has continued to grow despite the current downward trend in the cryptocurrency market. 
Bobby Ong, co-founder of CoinGecko (a cryptocurrency ranking and analysis website), says this can be seen in the total value of cryptocurrencies locked in the global DeFi market, which had grown to US$1.2 billion as at February from US$275 million at the beginning of last year. The total value locked (TVL) is considered an indicator of the DeFi ecosystem's growth. 
TVL is a term commonly used by the cryptocurrency community to refer to the total value of cryptocurrencies locked up in smart contracts as collateral for DeFi services that are to be provided. For instance, a secured loan product requires a borrower to deposit (or lock up) a certain amount of, say, ether in a smart contract as collateral in order to borrow stablecoins such as Tether (USDT). These stablecoins can then be converted into cash at a cryptocurrency exchange.
"The TVL has seen a growth of 15 times in the past two years ago, according to DeFi Pulse — a website that provides analytics and rankings of DeFi applications. The suppressed price movements of the cryptocurrency market do not seem to be slowing the DeFi movement. Developers are still excited to explore the potential of DeFi as it has not reached its full potential," says Ong. 
Maker, a smart-contract platform that runs on the Ethereum blockchain, is the largest DeFi application so far, he says. "What the platform does is allow cryptocurrency users to lock in ether or several other coins [in smart contracts] and receive a decentralised stablecoin called DAI. The value of DAI is pegged to the US dollar. This stablecoin allows users to have a stable asset without the need to go through a centralised authority." 
Compound, another DeFi application built on the Ethereum blockchain, is probably the second most popular use case after Maker, says Ong. Users can borrow or lend cryptocurrencies via this platform.
"Cryptocurrency users like the platform because it allows them to earn a potentially higher interest rate than the fixed deposit rate. However, they are taking a smart contract risk, which means there is a risk of their smart contracts being hacked and funds stolen [by hackers]," he says.  
The growing DeFi ecosystem is the reason CoinGecko launched its "Earn" section on March 25. It allows cryptocurrency users to track lending and borrowing rates offered by various centralised and decentralised platforms.
"We are noticing more interest-bearing products offered by decentralised and centralised applications in the market and we wanted to let our users easily compare these products. We have named it "Earn" because it is a way for users to compare rates offered by different applications to earn or grow their cryptocurrency holdings," says Ong.  
The "Earn" section also displays security audit records (a systemic evaluation of the security of the DeFi application), risk scores and the TVL of each application, among others. "There is also a calculator to help users figure out the estimated returns in each of these DeFi platforms," he says.
CoinGecko introduced "the world's first DeFi book", titled How to DeFi, in tandem with the launch of its "Earn" section. It was written by a team of seven, including Ong and CoinGecko co-founder T M Lee. 
The book offers a comprehensive guide to various DeFi applications, mainly for beginners who are interested in learning more about the fast-growing ecosystem. The ebook can be downloaded for free via CoinGecko's website until April 30. After that, it will be available for purchase at US$14.99 on its website as well as Amazon.com. Physical copies of the book will be made available in the future. 
Their main intention of publishing the book is to educate the general public on DeFi, says Ong. "It is a steep learning curve for many trying to understand DeFi. It took us some time to understand all the different applications.
"Even after you understand these, using the applications may not be easy. So, we created step-by-step guides to help users get started easily without the need to read the many blog posts all over the internet.
"We worked hard to compile information and we tried our best to simplify the explanations on DeFi to make it easier for the layman to read and follow. This was our main challenge. We had to fact-check many things to ensure that what we had written was accurate. It took us about two months to finish the book." 
For now, DeFi applications are still not user-friendly, says Ong. However, the movement will gain more traction when the user experience is improved. "It is still very hard for the general public to use these applications. The user experience needs to be enhanced so that more users are willing to use these applications," he points out.