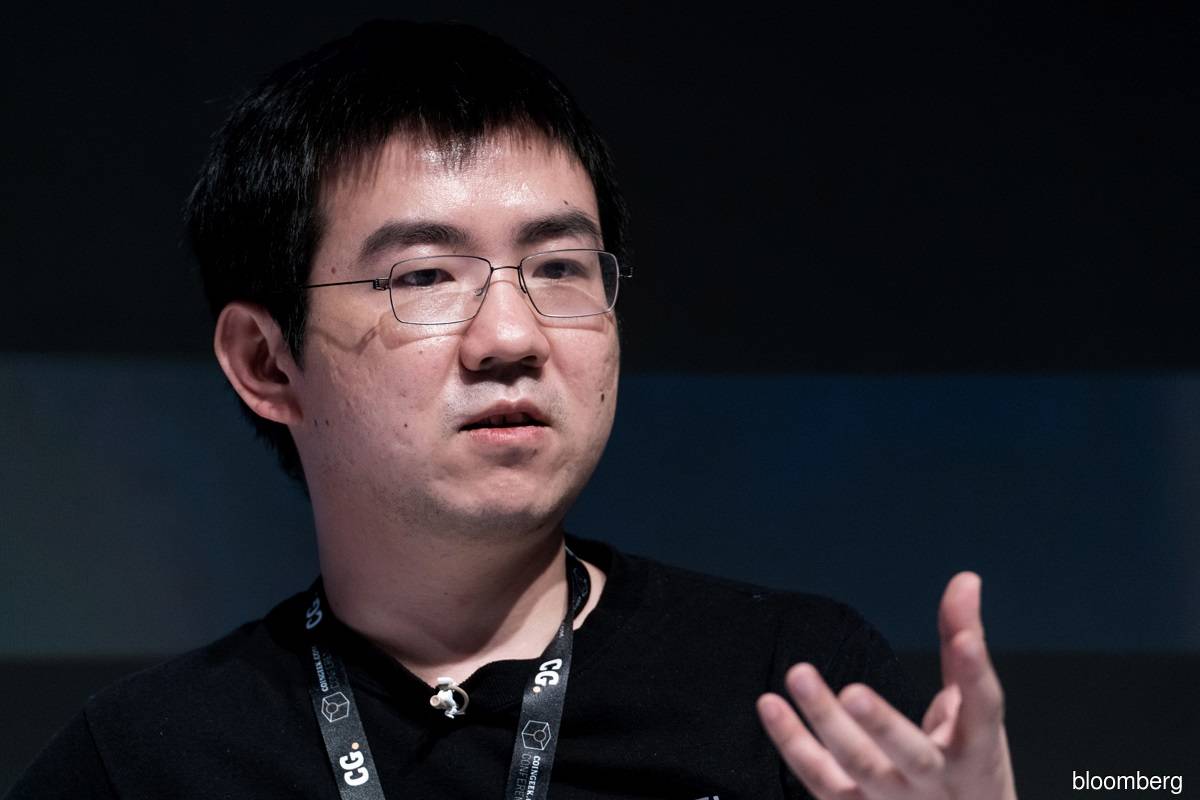 NEW YORK (Sept 27): Chinese crypto billionaire Jihan Wu is setting up a US$250 million (RM1.15 billion) fund to buy distressed assets from bitcoin miners, as the industry reels from this year's steep drop in digital-asset prices.
Wu's Bitdeer Technologies Holding Co plans to invest US$50 million as part of a junior tranche, meaning the firm's investment will be first at risk if the fund loses money. It aims to raise another US$200 million from outside investors such as family offices, venture capital firms, alternative investment funds, and other mining companies, a representative from Bitdeer told Bloomberg News.
Bitcoin miners are under pressure as depressed token prices, high energy costs, and fierce competition all take a toll, driving a closely watched gauge of mining-industry revenue to a two-year low. Compute North, a major data-centre provider for crypto mining, filed for bankruptcy last week, while the three largest US publicly traded bitcoin miners suffered combined losses of more than US$1 billion in the second quarter alone.
"There are opportunities in every cycle," Matt Kong, chief executive officer of Bitdeer, said. "If you can time the market and enter at the bottom, come out at the top, then you will make money. It works especially well for mining."
With the industry in a slump, highly leveraged miners are selling assets such as mining rigs at a steep discount to better-capitalised peers. Prices for certain types of mining machines have dropped more than 50%. In one recent example, bitcoin miner CleanSpark Inc acquired a Georgia mining facility as well as thousands of rigs from another miner, Mawson Infrastructure Group Inc.
"We can buy the cheaper machines and run them in our existing facilities with stable and cost-effective power power purchase agreements," Bitdeer's Kong said. "You'll have the cash flow."    
Wu co-founded the largest bitcoin mining-machine manufacturer Bitmain Technologies Ltd, which generated as much as US$5.6 billion in revenue last year. He exited the Beijing-based company in January 2021, and now controls Bitmain's bitcoin-mining spin-off Bitdeer and crypto-finance venture firm Matrixport, which has more than US$10 billion of client assets under management and custody.
Singapore-based Bitdeer has emerged as a major bitcoin miner, with facilities across the US and Norway. Last November, the firm filed with the US Securities and Exchange Commission to go public through a US$4 billion "blank-cheque" special-purpose acquisition company agreement, which was originally set to be completed on June 14. The deal has since been pushed back, with Bitdeer filing this month for a second extension that would delay the closing until Dec 14.