This article first appeared in The Edge Financial Daily, on August 3, 2017.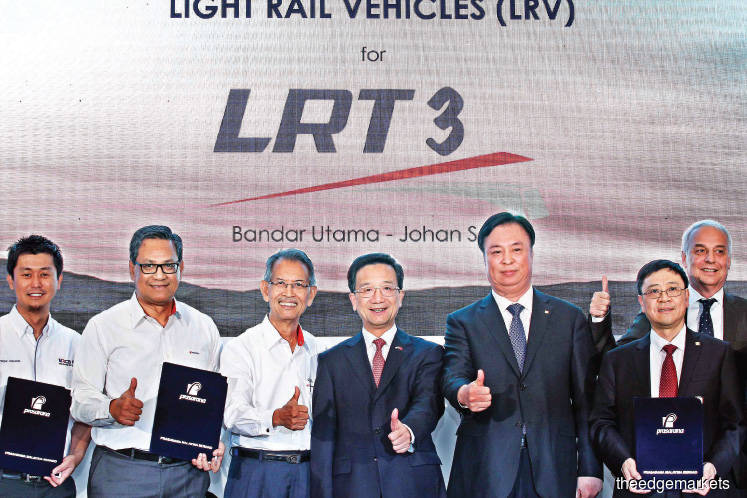 KUALA LUMPUR: Prasarana Malaysia Bhd has awarded a work package worth RM1.56 billion under the Klang Valley's third light rail transit (LRT3) project to a consortium comprising China's CRRC Zhuzhou Locomotive Co Ltd, Siemens Ltd China, and Tegap Dinamik Sdn Bhd.
The consortium was the only one that submitted a bid for the light rail vehicle (LRV) package — considered one of the largest systems work packages under the LRT3 project — by the Nov 23 deadline last year, from among five groups that were pre-qualified in May.
Three more packages for the LRT3 project worth about RM2.5 billion and only available for Malaysian companies will be awarded by end-August, according to Prasarana chief executive officer (CEO) Datuk Seri Azmi Abdul Aziz, at the signing ceremony for the package awarded to the CRRC-led consortium yesterday.
Prasarana is the asset owner and operator of Malaysia's public transport system, which includes LRT and monorail networks that make up the major portion of Prasarana's revenue.
Under the work package awarded yesterday, the CRRC-led consortium will be responsible for the design, manufacture, supply, delivery, installation, testing and commissioning of 42 six-car LRVs for the LRT3 project.
"The LRT3 project is officially underway and this award shows that our construction is gaining momentum," said Prasarana chairman Tan Sri Ismail Adam, who was also present at the ceremony.
"With the three companies' proven track record, experience and quality of delivery, I am confident that the work will be completed within the time and cost," said Ismail.
Ismail said he expects some transfer of technology would happen for Tegap Dinamik, a local partner, which would be beneficial for both Malaysia and China.
CRRC Corp Ltd chairman Liu Hualong said the collaboration on the project will enhance and strengthen the friendship between the two countries.
CRRC Zhuzhou Locomotive is a subsidiary of rolling stock manufacturer CRRC Corp, which is controlled by China's state-owned enterprise CRRC Group.
"The formation of this consortium will provide the necessary experience and skill sets to ensure the smooth delivery of the works involved. We are looking forward to provide Malaysian commuters with the delivery of superior LRVs that will ensure reliable performance and topmost quality," Liu said.
The Chinese players are confident about completing the work in the next two years as soon as work commences following the signing ceremony yesterday.
According to Liu, China's One Belt, One Road initiative has pushed for infrastructure development such as rail transit projects.
Capable of carrying 1,271 passengers per LRV, LRT3's LRVs are Malaysia's first six-car driverless trains.