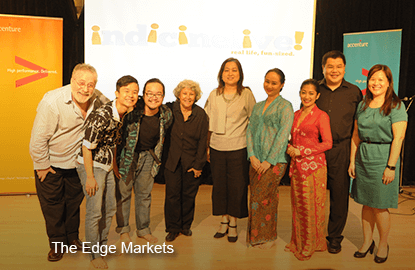 PERFORMING arts audiences will now have a greater say — and the opportunity to help — in what goes on stage at the Kuala Lumpur Performing Arts Centre (klpac) with the launch of a new crowdfunding platform called FunD'ARTS.
In the first-of-its-kind platform dedicated to the performing arts in Malaysia, klpac partnered with global management consulting firm Accenture to create FunD'ARTS as a way forward for the arts centre in sustaining its home-grown productions.
Klpac co-founder and executive producer Datuk Faridah Merican said: "[It] essentially matches art projects with donors. It is a win-win situation — the audience gets to have a say in what they would like to see on stage, and we get to stage it."
"It also enables us to finish in the black as opposed to finishing up in the red," added co-founder and artistic director Joe Hasham, referring to the money-losing situations that tend to plague the local arts scene.
Faridah credits the Accenture Malaysia team for broaching the idea of crowdfunding. "We keep hitting the same brick wall. The industry is booming, but sadly, funding is not." The team at the klpac had wanted to create that platform, but lacked the expertise. "Now, we have another funding lifeline," she said.
Having worked with the team for the last two years in pushing the klpac to be a high performing organisation, Accenture has helped in strengthening its financial core, build sustainability and grow the klpac's marketing capabilities. Country managing director Janet Yap said the newest digital initiative essentially creates a new funding model that will enable the klpac to reach a wider audience and garner direct support.
Prior to the official launch this week, the klpac tested out FunD'ARTS with Lelaki 2.5 Out of the Closet with Strings Attached. The cabaret-style concert successfully launched for RM15,575 via 82 pledges in one month, exceeding the RM10,000 goal by 55%.
"In the performing arts, this goes a very, very long way," said Joe of the fund raised. "What it enabled us to do was to at least pay the performers, and we took Lelaki 2.5 to Penang [to perform]." The total cost of the production was said to be over RM20,000.
In conjunction with the launch, the klpac also announced its new crowdfunding project, INDICINELIVE! IV. It will mark the return of the largely popular sold-out sketch comedy revue show. "It ran for three years, then off for about two to three years. Now, we've decided to bring it back," announced Joe.
Modelled after the Saturday Night Live series, the fifth-season revival (Aug 13 to 23) will be directed by Kelvin Wong, the klpac's director-in-residence, and will feature some of the most well-loved skits and song parodies from past seasons as well as new material.
On deciding what goes for crowdfunding, Joe said that the team gathers and considers what appeals to the public. "For something like INDICINELIVE! IV and Lelaki 2.5, they are fun shows that the audience really enjoys," said Joe. He highlighted that the productions that go for crowdfunding also tend to cost more to produce. However, FunD'ARTS will only be one platform for generating funds, as the targeted sum is only a modest one to ensure that the show can go ahead. "It really doesn't cover much, but it certainly helps. It also gives the public [a sense] of ownership, and that's great," explained Joe.
He also assured supporters of the arts that the klpac will try to not overburden them, only aiming to crowdfund for two to three productions a year. "We don't want them to think, 'here we go, they are asking for money again'," he said with a smile.
Crowdfunding for INDICINELIVE! IV will go on from now until July 31, with a target goal of RM10,000. Pledges can be made in five different sums, ranging from RM25 to RM500, with different rewards for each pledge, including VIP seating, exclusive merchandises, special shout-outs or even hugs.
To find out more, visit www.klpac.org/pledge.
This article first appeared in The Edge Financial Daily, on July 02, 2015.