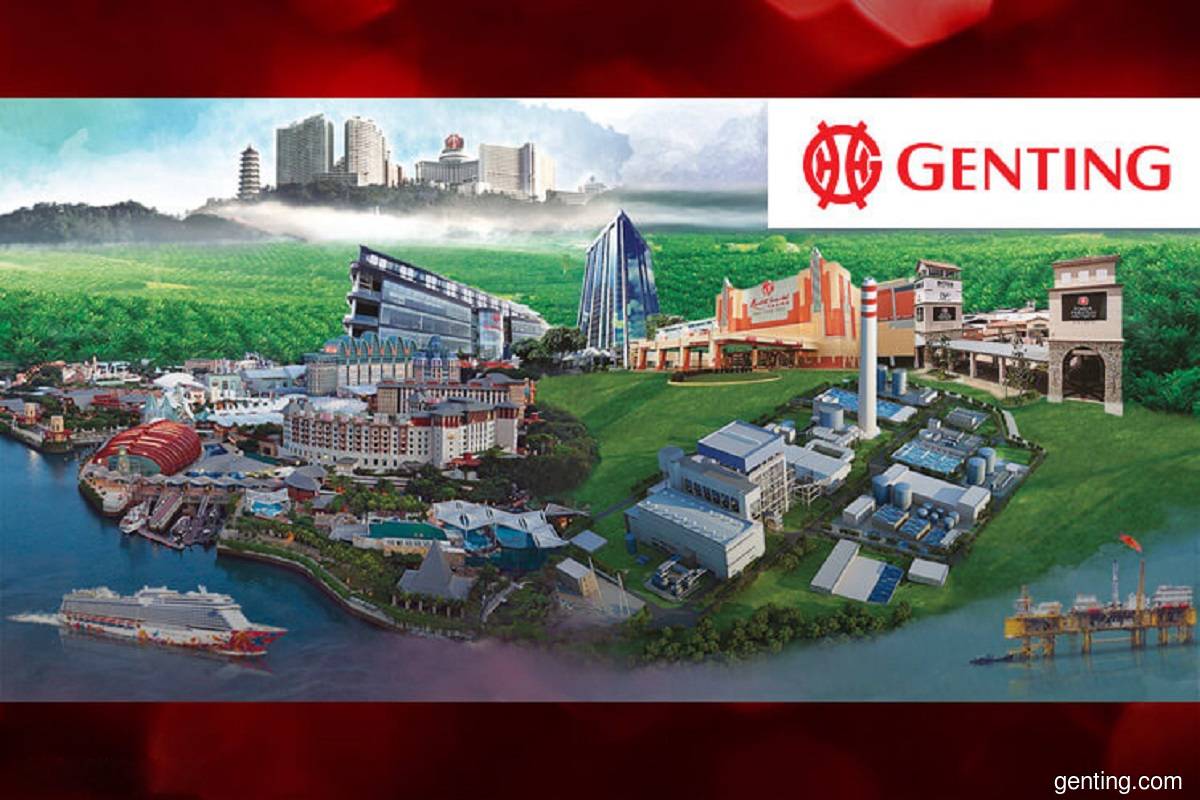 KUALA LUMPUR (Aug 20): News on Genting Hong Kong Ltd (Gent HK) opting to suspend payments to all creditors to preserve cash is expected to trigger a knee-jerk reaction to the share prices of its sister companies — Genting Bhd and Genting Malaysia Bhd (GENTM) on Bursa Malaysia, although the duo do not hold any equity stake in the Hong Kong-listed cruise operator.
The only link between Gent HK and the two Bursa-listed companies is that they have a common controlling shareholder — Tan Sri Lim Kok Thay. Lim holds a 75.55% stake in Gent HK, and 44.8% in Genting Bhd, which controls 49.45% in GENTM and 52.66% in Genting Singapore Ltd (GENTS).
Lim is the chairman and chief executive office of Genting Bhd, GENTM and Gent HK. He is also the executive chairman of GENTS.
"Yes, there could be spillover effect because some people might be mistaken that Genting or GENTM has a stake in GENT HK. Also, some local banks are among the creditors," said a chief investment officer.
According to Bloomberg data, Malayan Banking Bhd and RHB Bank Bhd have loan exposure of US$350 million and US$100 million respectively to GENT HK.
"Generally, when the controlling shareholders of a company are financially stressed, the minority shareholders may get concerned about the next step that the major shareholder could possibly do to get out of the financial woes," he added.
Nonetheless, fund managers and analysts highlighted that it is important to note that there is very unlikely to be any cross default in other companies in the Genting group.
"From our channel checks, there is no evidence of cross default in other companies of the Genting group," said a foreign fund manager.
The head of research of a Singapore-based stockbroking firm concurred that the cash-strapped problem in GENT HK will not trigger cross default in the Genting group.
That said, some quarters commented that there are risks that the credit rating of the Genting group's members might be affected by the news. 
GENT HK's share price tumbled on Thursday after the announcement. It plummeted 37% to an all-time low of 30 HK cents. GENS' share price dropped two cent to 69 cents in Singapore.
GENTM closed at RM2.30 on Wednesday; it slid to a low of RM1.83 in March. Its parent Genting finished at RM3.80; it fell to RM2.91 in March.
To recap, GENT HK announced to the Hong Kong Stock Exchange on Wednesday night that it would temporarily suspend all payments to its financial creditors in order to preserve as much liquidity as possible. Meanwhile, it would engage with creditors to restructure its debts.
"The company's remaining available cash will be reserved to maintain critical services for the group's operations," said Gent HK in the announcement. "While the company will endeavor to negotiate a holistic debt restructuring solution for the current financial indebtedness of the group and continue to engage with interested parties identified by the funding advisors."
GENT HK's 2019 annual report showed that the cruise operator's long-term borrowings amounted to US$2.523 billion compared with its cash balance of US$595.12 million as on Dec 31, 2019.
The announcement on suspension of debt repayments came about two weeks after a profit warning flagged by Gent HK on Aug 3 revealing that its losses for the six month ended June 30 would be "significantly higher" than the corresponding period in 2019.
The main reason for the deeper losses was the suspension of operations across its cruise business, namely Dream Cruises, Crystal Cruises and Star Cruises, shipbuilding in Germany, plus Resorts World Manila and Zouk, Singapore, caused by the COVID-19 pandemic.
GENT HK posted a narrower net loss of US$158.59 million in the last financial year ended Dec 31, 2019 (FY19), compared with US$213.3 million in FY18. Its operating losses came in at US$96.18 million against US$141.47 million the year before. Annual revenue, however, dropped to US$1.56 billion from US$1.6 billion in FY18.
The cruise operator has been bleeding since FY16.
This is the second company under Lim's belt that have suffered severe financial stress in one year. In August last year, Empire Resorts, Inc was facing a liquidity problem so severe, it prompted the New York-based casino operator to consider filing for voluntary Chapter 11 bankruptcy. GENM emerged as a white knight bought a 46% from Lim and injected fresh capital in it. The equity stake was sold to GENTM for US$128 million cash.
Read also:
Malaysian tycoon behind tumbling cruise firm Genting Hong Kong puts fortune on the line
Cruise ship operator Genting Hong Kong suspends payments to creditors