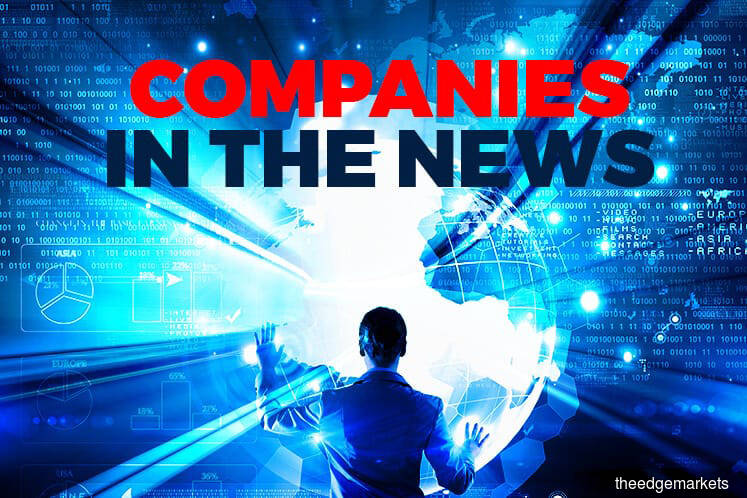 KUALA LUMPUR (Dec 16): Based on corporate announcements and newsflow today, companies in focus tomorrow (Dec 17) could include Crest Builder Holdings Bhd, Titijaya Land Bhd, Brahim's Holdings Bhd, Eco World Development Group Bhd, T7 Global Bhd, Eduspec Holdings Bhd and Comfort Gloves Bhd.
Crest Builder Holdings Bhd has bagged a RM316 million contract from Inter Sky Development Sdn Bhd, a member of the JL99 Group, to build the 99 Residence development in Taman Wahyu here.
The contract period set out in the letter of award is 35 months from July 1, 2020 to May 31, 2023.
Crest Builder said the contract is expected to contribute positively to the group's earnings and net tangible assets for the financial year ending Dec 31, 2020 (FY20) and onwards.
Titijaya Land Bhd has teamed up with Japan's Tokyu Land Corp to jointly build and promote the RM1.5 billion Riveria City development in Brickfields, Kuala Lumpur, to Malaysian and foreign markets.
Titijaya said it had on Dec 13, signed a shareholders' agreement with Tokyu Land's overseas subsidiary Tokyu Land Asia Pte Ltd (TLA), and Riveria City Sdn Bhd (RCSB) — a subsidiary of Titijaya, to regulate the affairs of RCSB and the respective rights of Titijaya and TLA as shareholders of RCSB, and to jointly participate in the development.
Under the partnership, TLA will invest RM80 million in RCSB, of which RM40 million is for equity participation, while another RM40 million will be utilised for project financing.
Brahim's Holdings Bhd, whose shares plunged after it announced PricewaterhouseCoopers PLT (PwC) had voluntarily resigned as its external auditor with immediate effect, said PwC's departure is due in part to its board of directors' view that a change of auditors would be good for corporate governance.
"PwC has been the auditor for Brahim's SATS Food Services Sdn Bhd (BSFS) for more than 15 years. BSFS contributes more than 90% of the group's revenue. As part of ongoing good corporate governance initiative, the boards of Brahim's and BSFS are of the view that it would be timely to effect a change of auditors.
"A change of auditors would also enable the company to benefit from fresh perspectives and views of another professional audit firm, and thus enhance the value of the audit of the group. On Nov 21, BSFS, in its board meeting, agreed for [a] change of auditors, subject to the relevant formalities," Brahim's said.
River Retreat Sdn Bhd (RRSB), a company indirectly owned by Khazanah Nasional Bhd and Tan Sri Lim Kang Hoo's Iskandar Waterfront Holdings Sdn Bhd, is selling a piece of land in Iskandar Puteri, Johor, to Eco World Development Group Bhd for RM304.92 million.
EcoWorld said it has to pay a RM20 million nomination fee to Permodalan Darul Ta'zim Sdn Bhd (PDT), the investment arm of the Johor state government, for the latter's agreement to nominate Melia Spring to purchase the land, an acquisition EcoWorld said will be financed via internal funds.
Besides that, EcoWorld also has to pay PDT 20% of Melia Spring's net profit from each phase of the proposed development.
Oil and gas service provider T7 Global Bhd has clinched contracts for manpower jobs from Mubadala Petroleum's entity, MDC Oil & Gas (SK320) Ltd, and an engineered product job from Shell's entity, Sarawak Shell Bhd/Sabah Shell Petroleum Co Ltd.
T7 Global said Fircroft Tanjung Sdn Bhd, a subsidiary of its unit Tanjung Offshore Services Sdn Bhd, received two letters of awards from MDC.
The first award, dated Oct 17, is for the provision of third-party manpower services in support of MDC's technical, production operations and its 'Health, Safety, Security and Environment' requirements.
The second award, dated Nov 4, is for the provision of third-party manpower services, in support of MDC's drilling and exploration requirements.
Eduspec Holdings Bhd has entered into a collaboration agreement with Matlamat Wawasan Sdn Bhd (MWSB) for the implementation of science, technology, engineering and mathematics (STEM) programmes with computer science for primary schools, and with robotics for secondary schools, under the Ministry of Education (MoE).
Eduspec said MWSB is principally engaged in the provision of electronic equipment, and other education-related solutions and services.
"In order to ensure the smooth and effective collaboration in the implementation of the programs under [the] MoE, both parties agree to collaborate and organise the STEM programs for schools in such manner and upon such terms as MWSB may in its absolute decision, deem fit," it said.
Comfort Gloves Bhd saw its net profit grow 4.9% to RM7.41 million in its third financial quarter ended Oct 31, 2019 (3QFY20) from RM7.07 million a year ago, on higher sales revenue.
This resulted in a higher earnings per share of 1.3 sen for 3QFY20, compared with 1.26 sen for 3QFY19.
Revenue for the quarter rose 5.9% to RM134.5 million, from RM126.95 million a year ago.
The improved quarterly performance lifted the group's net profit for the cumulative nine months ended Oct 31, 2019 (9MFY20) up by 23.9% to RM22.94 million from RM18.51 million a year ago, while revenue increased 8.4% to RM372.09 million from RM343.34 million in 9MFY19.