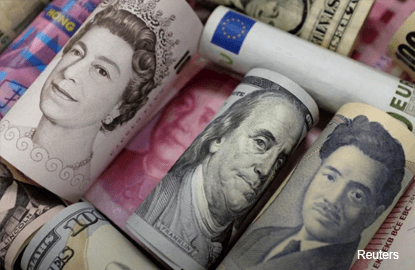 (March 3): Buy the pound. Don't short the yen. Take profits on the ruble.
These are some of the views of Credit Suisse Group AG's senior adviser, Robert Parker, who spoke in a phone interview from London this week. He joined the bank in 1982 and was previously vice chairman of its asset-management business.
Parker said the biggest moves in currencies are mostly over as elections in Europe and a likely retreat in global stock markets will make investors cautious about putting money into riskier investments.
"A lot of the very major moves have now taken place," he said. "Foreign-exchange market volatility, which has declined, is probably going to stay fairly low." He suggested investors need to be cautious on risk over the next three months.
The investment adviser's comments come as a gauge of swings in global foreign-exchange markets fell this week and remains close to a three-month low. The euphoria surrounding US President Donald Trump's promised pro-growth agenda has run its course, and there's scope for disappointment from his policies, Parker said.
Here is a selection of his views on various currencies:
Yen
* "At these sort of levels, despite the interest-rate differentials, I certainly wouldn't want to short the yen. A small long position makes sense"
* The yen is set to strengthen should global equity markets decline, as Japan's current-account surplus will attract investors seeking havens from market turmoil
* There is a greater probability of the yen strengthening toward 110 versus the dollar than weakening past 115, even as the Federal Reserve raises interest rates
Euro]
* "In the next three months, I would want to long the dollar against the euro"
* The euro will probably trade between parity with the dollar and US$1.10 for at least the next six months, amid anxieties surrounding Greece's debt talks as well as elections in France, the Netherlands and potentially Italy this year, with populist leaders running on anti-euro platforms
Sterling
* "The pound is now more sensitive to good news on the upside and less sensitive to bad news on the downside. Going long the pound at these levels is a fairly safe bet"
* Sterling is set to recover to US$1.30 by the end of September after tumbling to a 31-year low in 2016 following the Brexit vote
Emerging Markets
* Mexico's peso should stabilize at around 19 per dollar after sinking to record lows on Trump's election victory
* The rally in Brazil's real and Russia's ruble looks "over-extended" and it's time to take some profit
* China's policy makers will probably keep the yuan stable in the next three months to avoid the nation being labelled a currency manipulator by the Trump administration, even though the currency is set to weaken in the longer term
* Most of the other big moves in Asia are "probably behind us"