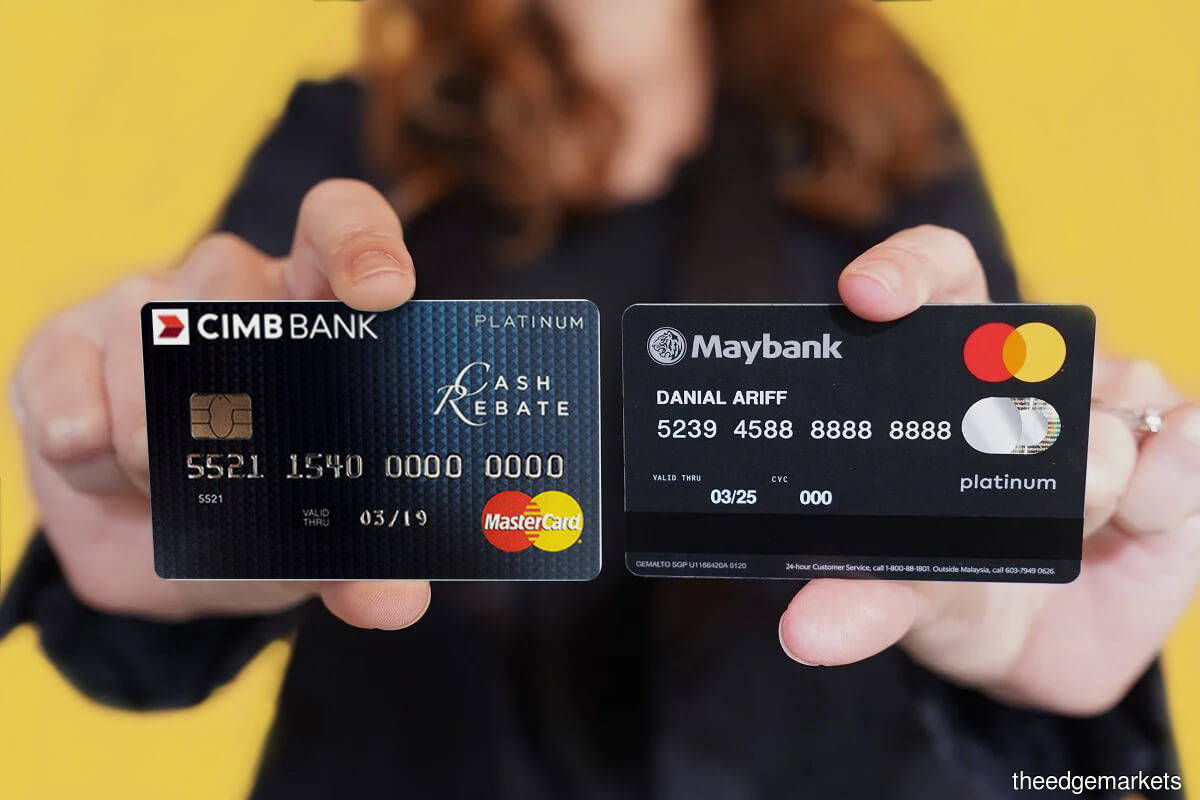 KUALA LUMPUR (Sept 30): The amount spent by Malaysians domestically via credit card nearly doubled to RM10.205 billion in July this year, from RM5.3 billion three months earlier in April.
Compared with the RM10.26 billion recorded in July last year, it appears that the level of credit card spending has returned to almost the same level seen before Covid-19. In contrast, local cardholders spent RM9.4 billion in July 2018, and RM8.5 billion in July 2017.
What are people spending on?
According to CIMB Group Holdings Bhd, their credit cardholders are spending on daily essentials such as groceries, dining and on e-commerce platforms.
Malayan Banking Bhd (Maybank), meanwhile, said credit card spending has picked up since April this year and rebounded to pre-MCO or pre-Movement Control Order levels for some categories of purchases.
"The lifestyle category is one of the key benefactors of cardholders' increased spending, most notably in the automotive segment. The jump in spending for cars is most likely due to customers taking advantage of the SST (sales and services tax) exemptions for all automobiles purchased and registered this year, an initiative under Penjana to boost economic activities," it shared with The Edge in a written reply.

"With more people choosing to stay at home and working from home becoming a reality, cardholders are also spending more on home improvements, with a noticeable increase in furniture purchase, as well as interior decoration and renovation-related expenses. We also observed a slight uptick in Ezypay instalments for larger ticket items, as this helps consumers with their budget planning," it added.
Since the start of the Recovery MCO, Maybank has noticed a steady increase in travel-related expenses, especially for hotel stays, as cardholders spend on local holidays in lieu of overseas travel.
"The local travels have also boosted related spending such as on petrol as well as on food and beverages, as consumers start dining out more often," it said, adding that the increase in credit card transactions is also in part due to government agencies encouraging cashless payments.
In tandem with the increased credit card spending, cardholders' outstanding balances have also shown an upward trend, though the rate of increase is much less — an increase of 5% from RM32.8 billion as at end-April to RM34.4 billion as at end-July. This latest figure is still lower than the RM37.07 billion that was recorded as at end-July last year.
Also, not all of the outstanding balances of RM34.4 billion are overdue payments. Of that sum, RM1.44 billion is overdue for less than three months, RM195.6 million is overdue between three to six months, while RM3.8 million is overdue for more than six months.
As credit card balances do not fall under the loan moratorium that is ending today (Sept 30), it is not directly impacted by the ending of the programme. Having said that, with the blanket loan moratorium coming to an end, borrowers might have less of a cash buffer, which might impact their future spending, as well as credit card repayments.
So is this a concern for banks? Are they expecting credit card outstanding balances to rise, moving forward?
Maybank said it does not have major concerns, as it believes the increase in outstanding balances from April-July 2020 is "a sign of spending normalising and it reflects the pent-up demand among consumers after MCO".
"At the same time, we have been supporting our cardholders who require assistance by converting outstanding balances to term loans, whether automatically or requested by customers, in order to relieve them during this difficult period. And this assistance will remain available to them until the end of the year. Nonetheless, we will continue to monitor our cardholders' spending and repayment trends, in line with our risk management controls," it added.
CIMB, meanwhile, expects the trend of spending to continue, even post-moratorium. "However, we are monitoring closely to see if there is a reduction in the quantum of spend during this period (post-moratorium). But even if this is the case, we expect it to normalise by year end," it added.