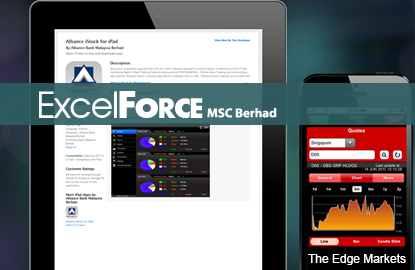 KUALA LUMPUR (May 19): Brahmal Vasudevan, the founder and chief executive officer of private equity firm Creador, has emerged as a substantial shareholder in computer application solutions provider Excel Force MSC Bhd.
According to a filing to the exchange today, Brahmal had acquired a block of 11.5 million Excel Force shares on May 13, and a further 550,800 shares on May 16, bringing his total shareholdings in the company to 14 million shares, or a 6.7% stake.
Excel Force has been in the news of late due to few notable changes to its shareholdings structure.
Asia Internet Holdings Sdn Bhd, the single largest shareholder of My E.G. Services Bhd (MyEG), emerged as a substantial shareholder of Excel Force last month with the purchase of 38 million shares or an 18% stake.
The shares were purchased from Excel Force executive director Sun Chin-Chuan, through off-market trades. Sun is the spouse of the company's executive chairman and managing director Wang Kuen-Chung.
Businessman Datuk Jayakumar Panneer Selvam had also emerged as substantial shareholder of the company in February when he upped his stake in the company to 10.42 million shares, or a 5.04% stake.
He now controls 14.76 million shares, or a 7.14% stake in the company.
Jayakumar, 49, is the chief executive officer of PDX.com Sdn Bhd, which is involved in several electronic government projects.
Excel Force was issued an unusual market activity query by Bursa Malaysia on May 9 due to a sudden surge in its share price.
Its share price hit an all-time high of RM1.80 on May 13. Today, it settled at RM1.72, up four sen or 2.4%, for a market capitalisation of RM355.64 million. Over the past 12 months, the shares have risen 160%.