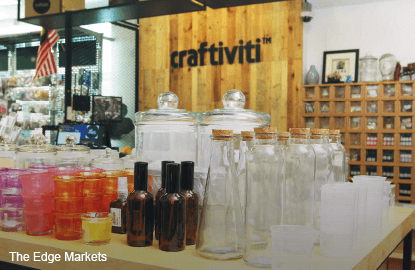 This article first appeared in The Edge Financial Daily, on March 31, 2016.
WHAT could possibly entice a high-flying copywriter in the field of advertising to leave the industry and venture into unknown waters on her own? The love of the arts, of course. Leong Wei Yein, along with her partner Eugene Tham, who was then working in the marketing industry, founded events company Caesar Paper Stone over five years ago after deciding to leave the corporate world. It was a "now or never" moment for the couple, who were at the pinnacle of their carefree lives — with no children or major responsibilities to hold them back. Tham sold his car, and they would drive around in Leong's little yellow Perodua Kelisa, making pitches to clients, trying to get their new venture up and running.
"It was very tough at the beginning. We used up our life savings, we borrowed money from friends — we paid them all back, but it was a win-win situation. We told them, 'look, if you put your money in a fixed deposit, you'll get 4%. If we take out a personal loan, we'll pay 8%, so how about we pay you 6% interest?' So they became our first investors," Tham said.
After a few years, they decided to diversify and branch into the craft business as well, founding Craftiviti, which is truly Leong's passion. Coming from a family of artists — her mother is an artist and her father owns a long-established craft company — Leong grew up surrounded by the arts, and spent the better part of her time growing up dabbling in crafts. But even then, things were tough going at first.
"The most challenging problem we faced was that nobody could find us! We are located on the first floor, and we don't have a signboard because it'll cost about RM20,000 just to put signage up. We decided, for that amount of money, we'd rather pump it into an online presence and let people know about us that way," said Tham.
Craftiviti now has a very strong e-commerce presence, with a comprehensive website listing most of the craft materials that they offer. Craft enthusiasts can now shop online from the comfort of their homes, place orders and have the items delivered right to their doorstep by GDEX. Most of these orders are delivered in perfect condition — 90% of the time, in fact — and in the odd event of breakages and the like, customers are quickly reimbursed or compensated with a new shipment. Craftiviti ships all over Malaysia, including Sabah and Sarawak, and prices start from RM10 for Peninsular Malaysia and RM14 for Sabah and Sarawak.
One of the main things that Leong and Tham pride themselves on is the amount of time and effort that they spend on explaining things to every customer. They are very hands-on with all the inquiries received — the entire team is dedicated to responding to emails and calls to help customers understand their products.
"A lot of clients don't understand the potential of certain products. For example, they have a problem that they want to solve but don't know how, and they'll ask us. We always make it a point to reply with many ideas, links and research on how they can get it done," Leong said.
The team tries to make the buying experience as personal as possible for the customer, but at the same time, totally transparent. Craftiviti keeps the chemical data sheet for all the products, so they know exactly what is in everything they sell. For example, they import beeswax both from the United States and from China, but only the beeswax from the US come with certificates. Therefore, they disclose this information to clients and allow them to make their own decisions based on cost, affordability and other considerations.
Craftiviti offers supplies for various types of crafting activities, such as materials for acrylic painting, block printing, DIY candles, DIY carving, ceramics, clay, batik, DIY skincare, jewellery making, soap making, glass staining, and stencilling. Customers from all walks of life visit the store — some are architects looking to build miniature models of buildings, some are cosplay enthusiasts, and others are just looking for materials to fix their furniture or create decorative items for their home.
"A lot of people in [Sabah and Sarawak] want to make their own stuff, but have no avenue to do it, so our online presence has allowed us to reach them. We have also found that putting more effort into our online platform is helping us expand," said Leong.
"It helps that the product range that we have consist of things that don't require a person to touch and feel to decide on. If I'm a crafter, I'd already know what I want, so anyone that walks in here doesn't walk out empty-handed. That's why we're not in a mall, and it's also why having an online store helps us as well. There's no real need for many physical shops, and we can keep our prices competitive," Tham said.
---
Visit Craftiviti at www.craftiviti.com or the store located at Unit D-1-46, 1st Block Dahlia, 10 Boulevard, Sprint Highway, PJU6A, Petaling Jaya. For inquiries, call (03) 7499 5553.