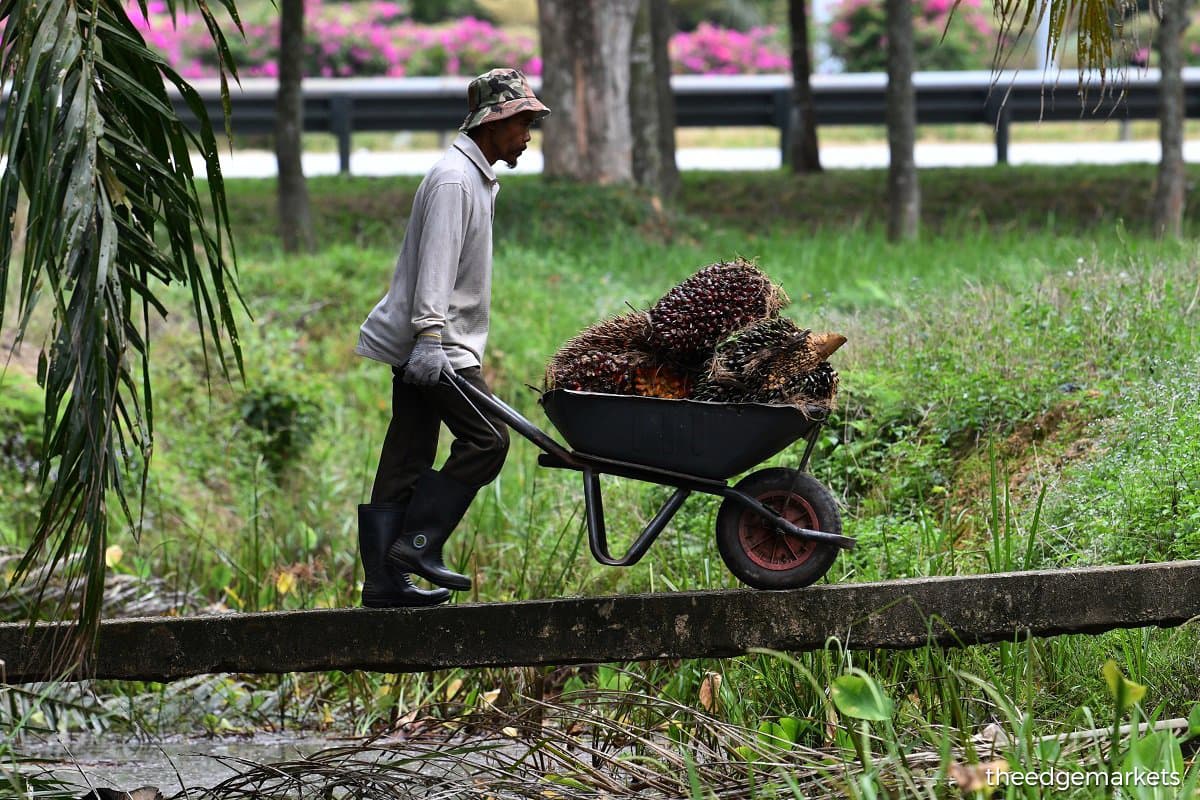 KUALA LUMPUR (May 19): Malaysian crude palm oil (CPO) prices may have peaked as production is seen picking up in Malaysia while demand is expected to be soft in the short term and as Indonesia's ban on palm oil exports is anticipated to be short-lived, according to Public Investment Bank Bhd on Thursday (May 19).
"A correction for CPO price is imminent. Edible oil prices, which have been soaring since February [2022] due to geopolitical tensions and the recent ban on palm oil exports by Indonesia, could correct by up to 20% if there is no further setback," Public Investment analyst Chong Hoe Leong wrote in a Thursday note.
Chong thinks the CPO prices have peaked and expects to see correction in the next three to six months. 
According to Chong, CPO price will remain strong in the first half of 2022. Thereafter, Chong said CPO prices could potentially fall to as low as RM4,000 a tonne towards year-end as he expects to see a pick-up in production when the foreign workers start returning to Malaysia amid high production season coupled with cooling demand from major vegetable oil consuming countries.
The downside risk of palm oil prices, he added, also due to the likelihood of lifting Indonesia's palm oil export ban will be negative news for the CPO price movements.
Nonetheless, Chong said the research house has previously underestimated the extent of the global vegetable oil supply shortage, which resulted in a rally across the commodities. As such, Chong has revised his 2022 CPO price forecast higher from RM4,300 a tonne to RM5,000 a tonne but maintains his 2023's forecast of RM3,800 a tonne.
Chong has downgraded his call on the plantation sector to "neutral" from "overweight" amid CPO price having reached its peak.
"In view of the potential downside risk, we cut our TPs (target prices) across the plantation companies under our coverage by revising down our price-earnings ratio (PER) multiple based on -1 standard deviation.
"We also downgrade Kuala Lumpur Kepong Bhd (TP: RM26.62), TSH Resources Bhd  (TP: RM1.48) and Ta Ann Holdings Bhd (TP: RM5.16) as valuations look unattractive based on our new TPs," he added.
In contrast, Hong Leong Investment Bank (HLIB) research analyst Chye Wen Fei has maintained an "overweight" stance on the sector, citing the recommendation was "underpinned by higher near-term CPO prices, easing environmental, social and governance (ESG) concerns, and descent valuations".
"YTD, CPO price averaged at around RM6,300 per tonne, and we expect palm oil prices will remain at elevated levels for a while, supported by supply disruption of major vegetable oil arising from less favourable weather conditions, geopolitical tension, and protracted fertiliser supply. We maintain our 2022-24 CPO price assumptions of RM5,500/4,500/4,500 per tonne," Chye added.
For the latest corporate earnings for plantation companies, Chye expects them to report flattish quarterly earnings on a quarterly basis while a strong set of results can be anticipated on the yearly basis.
Plantation companies will start reporting their quarterly financial results starting on Friday.
"Based on our estimates, most planters will likely report flattish/weaker performance on a quarter-on-quarter (q-o-q) basis, as higher realised palm product prices will be weighed down by seasonally lower fresh fruit bunch (FFB) output and higher fertiliser costs," he noted.
Meanwhile, he expects planters will likely register higher year-on-year (y-o-y) upstream earnings in their upcoming results, on the back of significantly higher CPO price (more than 50%), which more than mitigated higher production cost (arising mainly from higher fertiliser prices), and mixed FFB output (with four out of seven planters under our coverage clocked in y-o-y growth in their FFB outputs).
As for the integrated players, he believes volatile feedstock prices, coupled with elevated freight costs, will likely hinder profitability at downstream segment.
Chye's top picks remain FGV Holdings Bhd (buy; TP: RM2.43); IOI Corp Bhd (buy; TP: RM5.09), Kuala Lumpur Kepong (buy; TP: RM32.43) and Sime Darby Plantation Bhd (buy; TP: RM5.95).
Looking back, Malaysian CPO prices topped RM8,000 a tonne for the first time on March 1, 2022 on higher demand for CPO due to the Russia-Ukraine war-driven drop in rival sunflower oil's global supply.  
At the time of writing, CPO price for June 2022 fell RM100 to RM6,594 a tonne, while the price for July 2022 CPO dropped RM110 to RM6,254 a tonne and August 2022 CPO shrank RM98 to RM6,036 a tonne.