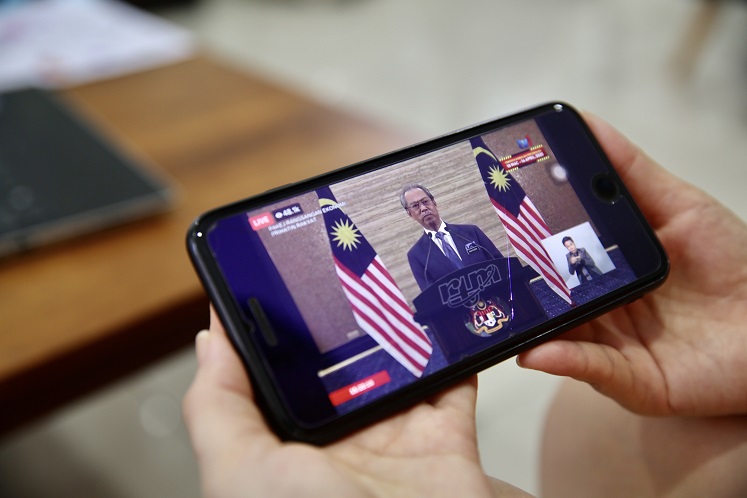 KUALA LUMPUR (March 27): Prime Minister Tan Sri Muhyiddin Yassin has announced one-off cash payout for the M40 and B40 groups totalling RM10 billion as part of a massive RM250 billion stimulus package to address the Covid-19 outbreak's impact on the economy.
The payout, based on income level, are listed below:
RM1,600 to households earning up to RM4,000 per month.
RM1,000 to households earning from more than RM4,000 to RM8,000 per month.
RM800 to singles aged 21 and above earning up to RM2,000 per month.
RM500 to singles aged 21 and above earning from more than RM2,000 to RM4,000 per month. 
RM200 for every student studying at the institutes of higher education.
The payout will be made in stages, Muhyiddin said.
Meanwhile, Muhyiddin also said that outstanding Cost of Living Aid (BSH) payout to those eligible will be paid out in July.
The RM250 billion stimulus package is inclusive of RM20 billion package that was announced by then-interim prime minister Tun Dr Mahathir Mohamad in late February.
For the public sector, the government also introduced RM500 one off for those of Grade 56 and below including those working on a contract basis, and for pensioners as well.
For 120,000 full-time e-hailing workers, the government will pay RM500 one off, amounting to some RM60 million. This is on top of RM600 one off for taxi drivers.
For service contract workers in schools, public higher learning institutions, public training institutes and other government agencies including statutory bodies, the government has agreed to pay their salary during the Mandatory Control Order — even if they are not working. 
This will involve an allocation of RM110 million for 80,000 employees. 
"The government also agrees to extend their contracts for a month as a trade-off for the MCO period," Muhyiddin said. 
See also:
Muhyiddin's speech on Prihatin Rakyat Economic Stimulus Package
Highlights of Malaysia's Economic Stimulus Package
Stay at home. We will deliver the news to you at theedgemarkets.com.