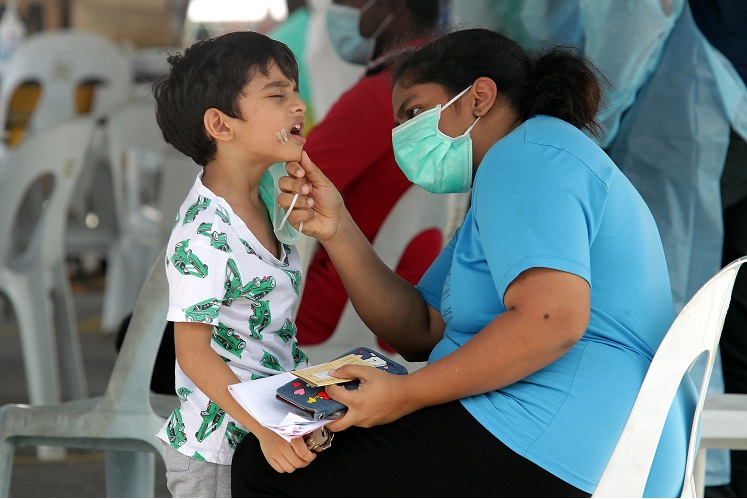 KUALA LUMPUR (May 16): Selangor has the highest number of confirmed Covid-19 infections among children aged 12 and below among all the states and federal territories, said health director-general Datuk Dr Noor Hisham Abdullah. 
The Ministry of Health (MoH) statistics show that Selangor recorded 77 cases among the age group, followed by Negeri Sembilan (48), Johor (46), Kuala Lumpur, Putrajaya (28) and Sabah (26).
In total, Malaysia has recorded 317 confirmed Covid-19 positive cases among children aged 12 and below as at noon today. Of that, 112 cases, or 35% of the positive cases in the age group, were among toddlers aged four and below, while 22 cases involved babies aged two and younger.
Fortunately, no death has been recorded among children.
Speaking at the daily media briefing this afternoon, Noor Hisham reminded parents of the need to educate young children on the importance of staying hygienic by washing hands regularly and wearing masks to protect themselves. 
He also stressed that young children are counting on parents and the elderly to take care of them. The guardians have a duty to protect the young children. 
Yesterday, Noor Hisham called for Malaysians not to bring children and the elderly to public places, as they are at high risk of being infected by the coronavirus. 
"We are now advising the public, but [in the future] we will take action under Article 342 (Prevention and Control of Infectious Diseases Act 1988) which means [the offender] can be fined or brought to court," he said. 
MoH announced 17 new Covid-19 cases as at noon today, marking the second lowest daily new infection since March 12. 
This brings the total Covid-19 cases in the country to 6,872, with active cases at 1,247 representing 18.15% of the total. 
Of the 17 new confirmed infections, six cases were among Malaysians who returned from overseas, while five cases were detected among migrant workers here. 
Meanwhile, MoH reported that 73 Covid-19 patients were discharged, bringing total recoveries to 5,512 or 80.2% of total cases.
Read also:
Covid-19: Malaysia reports 17 new infections, second lowest since March 12
Covid-19 screening conducted on MPs and Parliament staff, no positive cases so far
Stay home. Get the news from theedgemarkets.com.