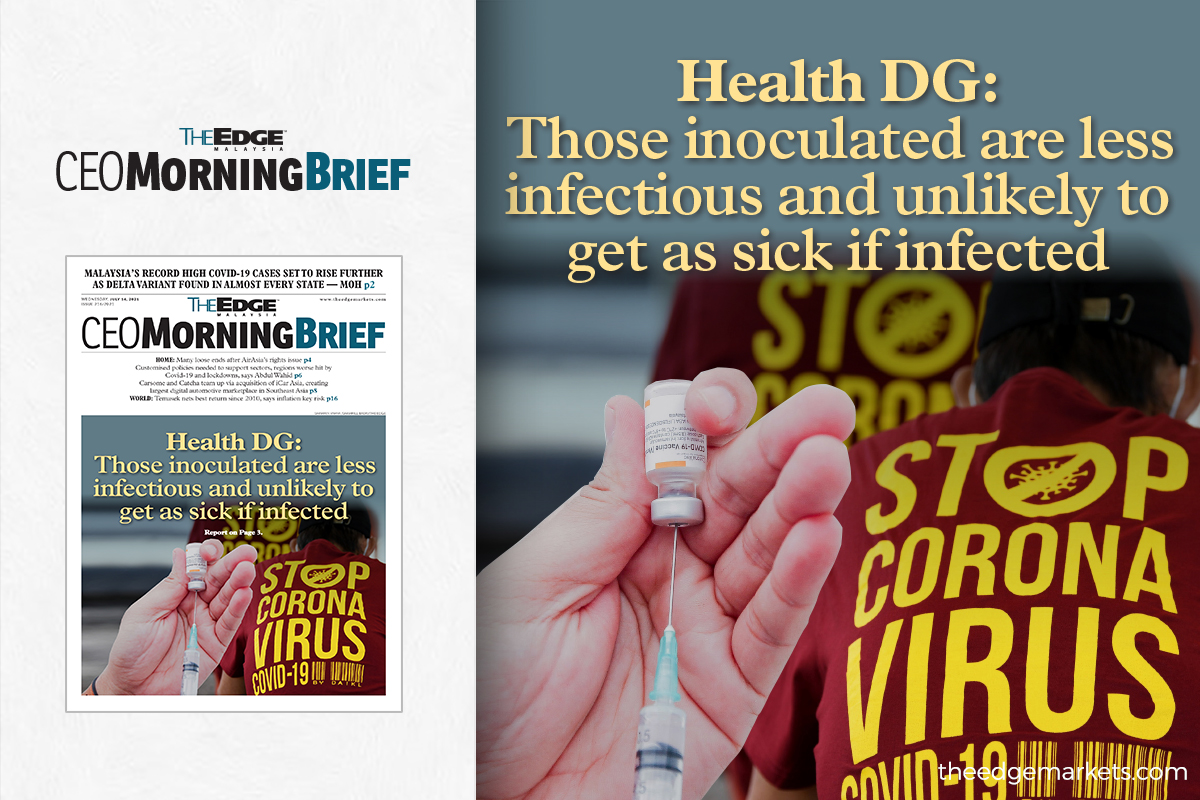 KUALA LUMPUR (July 13): Health director-general Tan Sri Dr Noor Hisham Abdullah today urged Malaysians to go for their vaccination jabs, saying that those who are inoculated are significantly less infectious and unlikely to get as sick.
He told a virtual media briefing this as he revealed that 2,779 healthcare workers in the country have been infected with Covid-19 after they received their two-dose vaccination, but most are Category One and Two patients who developed only mild or no symptoms because they have been vaccinated.
"Only three people are in Category 3 and three in Category 4. If people only have mild or no symptoms, they only need to be isolated at home and this can reduce the number of hospital admissions," said Dr Noor Hisham.
The Health Ministry defines Category 3 patients as those who are symptomatic and with lung infection, while Category 4 patients are those needing oxygen supplementation; Category 5 patients are those who are critical, with multiple organ complications.
For those who have been vaccinated, the chance of them infecting other people is only 50%, said Dr Noor Hisham, adding that vaccination is the best way to address the worsening Covid-19 situation in the country.
Malaysia's daily vaccination rate breached the 400,000-mark yesterday (July 12) with 421,479 Covid-19 vaccine doses administered. This is the highest number so far since the country started its vaccination exercise in late February.
Of the latest doses given, 264,034 were for individuals who received their first jab, while 157,445 were for second doses, according to the latest tweets by the Covid-19 Vaccine Supply Access Guarantee Special Committee (JKJAV), citing data from the Covid-19 Immunisation Task Force (CITF).
Cumulatively, the number of vaccine doses administered nationwide stood at 11.788 million. From this total, 8.104 million individuals have been given at least one dose while 3.684 million individuals are fully inoculated with two doses.
Separately, the country reported 11,079 new Covid-19 cases today — a new record high — pushing the number of active cases to 96,236.
Malaysia has detected 855,949 Covid-19 infections since the country reported its first case early last year.
To receive CEO Morning Brief please click here.