This article first appeared in City & Country, The Edge Malaysia Weekly, on March 30, 2020 - April 05, 2020.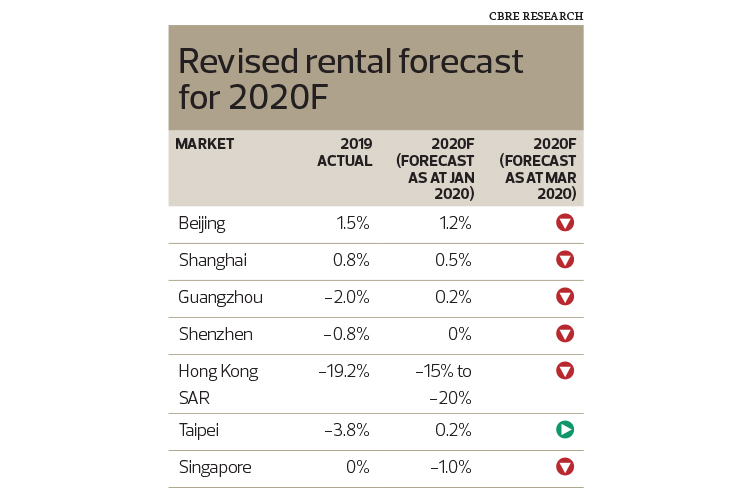 The Covid-19 outbreak has hit the real estate market and is causing concern across the industry. The retail real estate market, in particular, has been hit hard, with consumption sentiment weakening and regional tourism experiencing a slowdown.
According to a CBRE Research report published in March titled "What the Coronavirus Outbreak Means for Retail Real Estate in 2020 and Beyond", many consumers are now shopping online for daily items and, accordingly, grocery retailers and F&B platforms have experienced an increase in sales revenue. This will lead to short and potential long-term changes for this sector of the retail industry and consequently on retail real estate as a whole.
Short-term measures
In Greater China, many retailers and several shopping centres have either closed or reduced their operating hours as a result of the outbreak. "Stores and malls that do open should focus on providing a safe and healthy environment for staff and customers, by emphasising on mitigation strategies such as raising hygiene levels and installing temperature sensors at entrances to detect individuals with abnormal body temperatures," it says.
"In addition, the delivery of goods will be contactless, whereby orders are placed at designated locations for customers to collect so as to avoid human contact."
CBRE Research notes that several landlords in Greater China have introduced measures for the benefit of loyal customers. It says, "K11 Art Mall — a shopping mall in Guangzhou — has collaborated with a medical group to offer free online medical consultations on WeChat for its regular customers while Chinese Estates Holdings Ltd in Hong Kong has been giving out face masks to members of its loyalty programme."
While some traditional retailers are struggling, those with omni-channel platforms, particularly in the grocery and fresh food-related categories, are enjoying improved sales. "China's e-commerce company JD.com recorded a 400% to 500% year-on-year increase in fresh-food sales during Chinese New Year, but deliveries were affected [by] the sudden increase in demand, warehouse hygiene and sanitisation, shortage of staff and restricted movements in and out of affected areas," the report says.
Online food delivery has experienced a surge in demand as many people avoid eating out and, in any case, quite a number of restaurants are temporarily closed. "In Singapore, Deliveroo recorded a 20% increase in orders from Jan 27 to Feb 16 while, in Korea, local food delivery operator Yogiyo reported an 11% increase in deliveries from Feb 1 to 16, compared with Jan 6 to 21. This trend indicates that F&B service providers can sell, and many consumers are prepared to purchase via this channel, it says.
CBRE Research adds that rentals are coming under stress, as major retail landlords in mainland China and Hong Kong — including Wanda Group, China Resources, Seazen Holdings, Swire Properties and Sun Hung Kai Properties — have announced temporary rental cuts to reduce pressure on tenants.
It says Mapletree Commercial Trust and Jewel Changi Airport in Singapore have provided rental rebates for selected tenants at VivoCity and its F&B occupiers respectively, whereas in Seoul, over 300 landlords had offered rental assistance to tenants by end-February. This scenario is expected to continue until the outbreak is over.
CBRE Research says it is important for retailers to prioritise sales performance and productivity in the second half of 2020 (2H2020) as they aim to recover from the inevitable slowdown in 1H2020. "Many retailers are likely to hold large-scale outlet and flash sales in the second half of the year to offload the excess and out-of-season stock they were unable to sell due to store closures in the first quarter of 2020.
"As the outbreak has adversely affected the tourism industry regionally, retailers should focus on regional business planning. Kering SA, a French multinational corporation specialising in luxury goods, has plans to increase marketing spending in 2H2020 to ensure it does not miss out when sales start picking up again. Subsequently, tourist-focused retailers such as pharmacies, luxury and jewellery should constantly review its stores' productivity and network," CBRE Research says.
Long-term measures
In an ever-changing retail environment, retailers that have relied on offline channels should adopt new omni-channel capabilities. For example, Hermès has introduced its official online platform in Hong Kong. CBRE Research believes the shift to selling online is a long-term structural trend and will place greater pressure on retailers and landlords to offer enjoyable shopping experiences and maintain sales growth in the long term.
Live streaming can help retailers facilitate a "see now, buy now" culture, which enables them to instantly inform consumers about their products and create an urge to purchase. "Many global luxury brands have held fashion shows and new product launches behind closed doors or livestreamed them on official websites or social media platforms to reach the younger group," it says.
In terms of the F&B sector, CBRE Research says the improvement of online ordering and delivery services should be prioritised. Most restaurants still process online orders in-store, which can severely affect the service quality during peak hours. "F&B outlets should establish centralised or 'ghost' kitchens to handle online orders during busy periods to solve this issue. New products that are specially designed and suited for delivery purposes could also be developed in the long term."
Looking ahead, the outbreak is expected to strengthen the importance of property management in the retail sector. Thus, it is crucial to ensure that facilities are safe, clean and well ventilated.
"Permanent measures include providing hand sanitisers, regular cleaning and/or disinfection of merchandise and those parts of the premises that are frequently touched by shoppers. Shop workers will be briefed on hygiene and ways to deal with potentially dangerous situations.
"The increase in e-commerce sales since the outbreak will expedite the shift to an online economy. Most Asia-Pacific markets have implemented travel restrictions and, as such, the World Tourism Organization estimated that the fall in arrivals in Asia-Pacific at 9% to 12%. Therefore, regional retailers should develop their cross-border e-commerce capacity to reach this key demographic."
The shortage of medical supplies in Greater China during the outbreak has caused considerable concern. CBRE Research says this may be resolved by increasing e-commerce platforms on business-to-business procurement for small and medium enterprises, which will provide opportunities for retailers to sell products such as office supplies and catering services.
In addition, it says: "The surge in online orders leading to labour shortage has jammed up delivery. To address this challenge, e-commerce platform HKTVmall in Hong Kong has opened 25 parcel pick-up points at local retail stores and used delivery trucks as pick-up points in residential areas to serve as the 'last leg' of logistics delivery for the convenience of shoppers.
"There will be opportunities for the community shopping centres to provide similar solutions to serve their residential catchment, which include providing pick-up points in malls or helping retailers to promote value-added services."