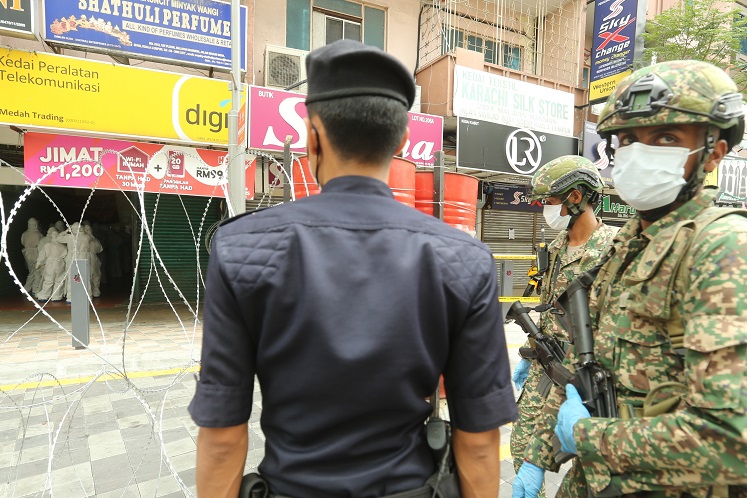 KUALA LUMPUR (April 11): The Ministry of Health (MoH) said the number of Covid-19 positive cases has been on the rise in the Enhanced Movement Control Order (EMCO) areas as more testing is being carried out.
At Malayan Mansion, 783 tests have been conducted, with the number of infections unchanged at four. At Selangor Mansion, where 898 residents were tested, there were 43 positive cases identified, up from 32 cases yesterday.
Some 6,000 residents of the two flats in Jalan Masjid India downtown Kuala Lumpur have been placed under lockdown after 15 people there were found to have contracted Covid-19.
At Menara City One condominium at Jalan Munshi Abdullah, another EMCO area in KL, 2,054 people have been tested, Noor Hisham told the media today. The number of cases there remained at 30.
In Kluang, Johor, there were seven new cases today, all of which are in Bandar Baharu Dato Ibrahim Majid in Simpang Renggam, bringing the total for that locality to 145 cases.
He added that the other areas in Kluang did not see any new cases.
"By district, the number of cases are Hulu Bernam, 160 cases; Kluang, 18 cases; Machap, four cases; and Nyior, one case," he said.
In Hulu Langat, the number of cases increased by 11 to 387, coming from other localities besides Kampung Sungai Lui.
The total number of infections by district in Hulu Langat are Ampang  (62 cases), Beranang (11 cases), Cheras (46 cases), Hulu Langat (108 cases) and Kajang (149 cases). Noor Hisham said there was one death in Hulu Langat.
The Ministry of Health today announced 184 new Covid-19 infections, bringing the country's tally to 4,530.
Meanwhile, there were 165 recoveries today compared with 222 yesterday. The total number of cured cases climbed to 1,995, which is 44% of the total infections. 
The death toll rose to 73 with three new deaths reported.
Read also:
Covid-19: Active cases to drop to around 2,033 next week, says Noor Hisham
41 medical workers contract Covid-19 from patients
Covid-19: Malaysia's daily new cases rise to 184, total infections at 4,530
Photo Gallery: ALL LOCKED UP
Stay home. Get the news from theedgemarkets.com.