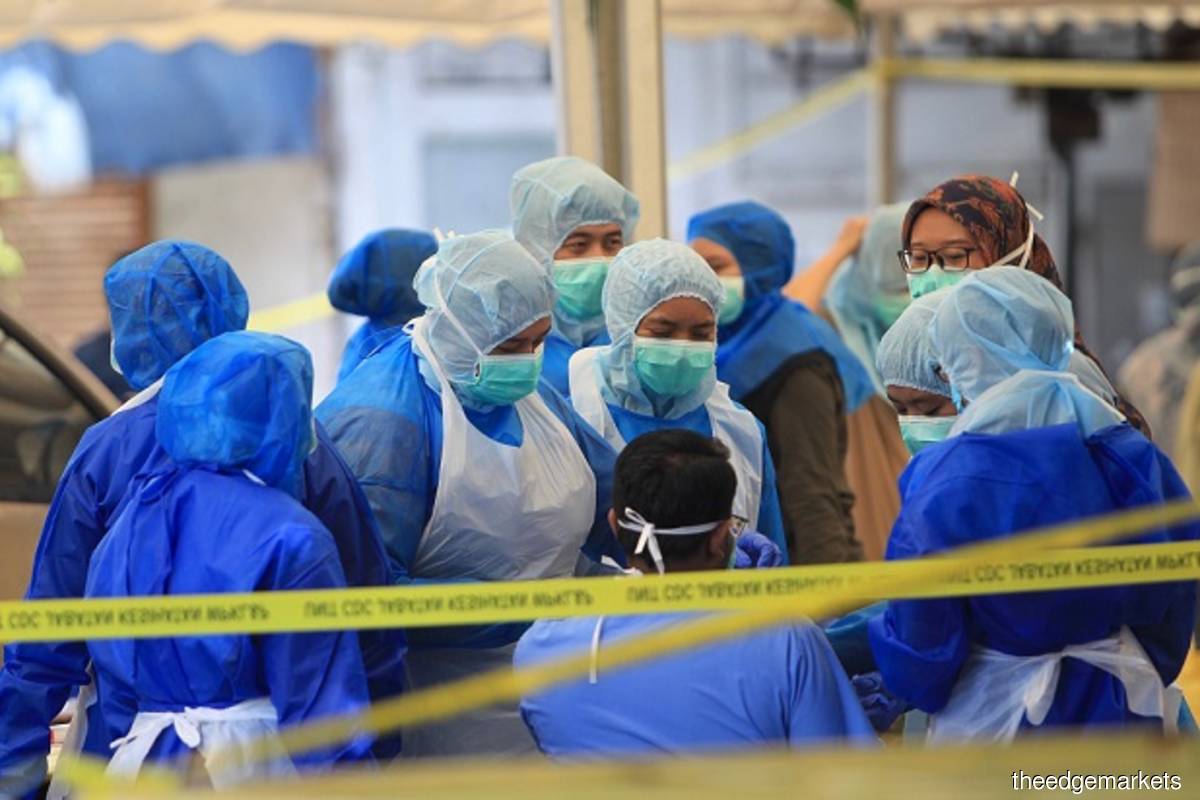 KUALA LUMPUR (May 7): Malaysia's active cases, which carry high transmission risks, surged to 34,789 cases, up 5,562 cases from 29,227 a week ago.
This is the sixth consecutive day that the number of active cases have stayed above the 30,000 mark.
The current number of active cases exceeded the nationwide bed capacity for Covid-19 patients of 28,674 as at Dec 28, 2020 (the last update on bed capacity by the Ministry of Health). 
Today's number of Covid-19 patients being treated in intensive care units (ICUs), as well as needing ventilators is the highest figure recorded in a single day. A total of 372 Covid-19 patients are now in ICUs, up 13% from 328 recorded last Friday.
Meanwhile, the number of Covid-19 patients needing respiratory assistance surged 31% to 211, from 161 previously.
The MOH did not disclose the breakdown of the number of patients in ICUs in each state, so far.
Last Sunday, Health director-general Tan Sri Dr Noor Hisham Abdullah said the usage of critical and intensive care unit beds for treating Covid-19 patients in the Klang Valley has reached 90%.
According to the National Crisis Preparedness and Response Centre (CPRC), six hospitals with the facility were found to have exceeded the alert threshold of bed utilisation rate at more than 70%.
Dr Noor Hisham said these are the Sungai Buloh Hospital, Kuala Lumpur Hospital, Ampang Hospital, Serdang Hospital, Selayang Hospital and Tengku Ampuan Rahimah Hospital in Klang, with some of them already approaching 100%.
New daily Covid-19 cases bounce back to 4,000 mark
The daily number of new confirmed cases breached 4,000 – a level not seen since three months ago – to 4,498 today.
For the week, there are 23,712 new infections detected compared with 21,178 last week and 17,007 two weeks ago.
Selangor saw the biggest increase of 7,380 for the week, while Kuala Lumpur 2,347.
Populous Selangor remains the worst-hit state due to the coronavirus. The populous state recorded more than 1,000 new daily cases for three straight days.
Total number of infections in Selangor climbed to 140,270 versus 132,890 recorded last week. Meanwhile, Kuala Lumpur's cumulative confirmed infections stood at 46,003 from 43,656.
Some 18,024 patients recovered from the coronavirus for the week.
The tally of Covid-19 recoveries came in at 396,004 to date, compared with 377,980 recorded last Friday.
Malaysia's cumulative confirmed Covid-19 cases surged further to 432,425 today, compared to 408,713 last Friday.
Meanwhile, the Covid-19 death toll rose 8% to 1,632 from 1,506 a week ago on April 30. The country has noticeably recorded double-digit deaths consecutively for the last 14 days.
R-Nought down to 1.07
The basic reproduction number (R-naught or R0) for Covid-19 infections in the country now stands at 1.07, down from 1.14 last week.
It is worth noting that the highest R-naught recorded so far this year was 1.19 on April 17.
R0 is a mathematical term that indicates how contagious the infectious disease is. It's also referred to as the reproduction number. As an infection is transmitted to new people, it reproduces itself.
It gives the average number of people who will contract a contagious disease from one person with that disease, whereby reducing the RO value to less than 1 continuously will help end the outbreak of the disease.
Terengganu posted the highest R-naught at 1.32, followed by Perak (1.21), Kedah (1.19), Selangor (1.17), Penang (1.17), Melaka (1.17), and Pahang (1.17).
Vaccinations
Some 651,072 people in Malaysia have received a second dose of Covid-19 vaccine so far.
As of yesterday, 1.028 million people have received their first dose of the vaccine under the National Covid-19 Immunisation programme.
According to MOH data, some 138,795 people in Selangor have received the first dose of vaccine, of whom 89,205 have gotten the second dose as well. In Kuala Lumpur, 101,797 have gotten the first dose, of whom 72,448 have received the second dose, and Sarawak 95,028 for the first dose, of whom 65,516 completed the second dose.
Read also:
Malaysia's new Covid-19 cases jump to 4,498, highest in three months