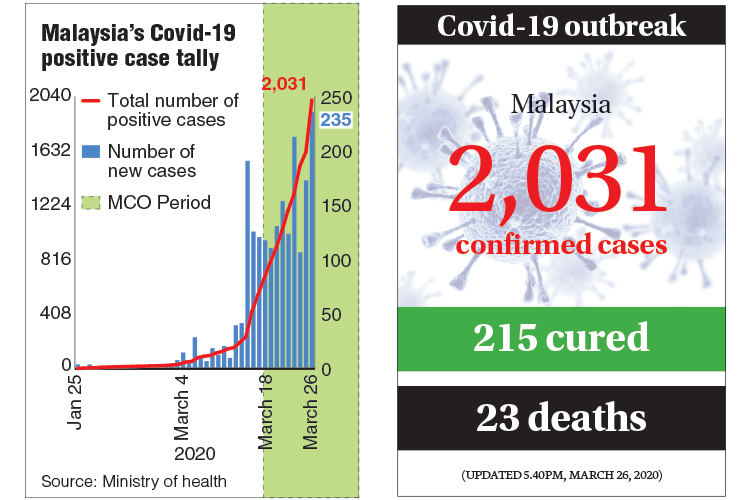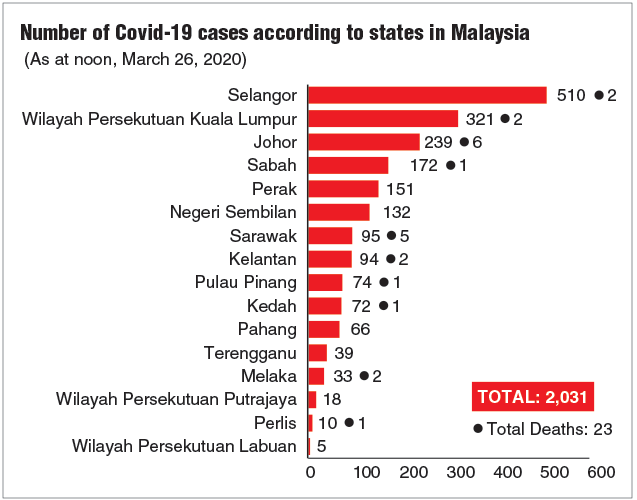 KUALA LUMPUR (March 26): Just one day after Putrajaya announced that the Movement Control Order will be extended to contain the relentless spread of the Covid-19 pandemic, Malaysia recorded a spike in new infections, with 235 cases recorded as of noon today — its highest jump in a single day since the country's first recorded case two months ago.
The total number of infections in Malaysia has now reached 2,031, according to the Ministry of Health (MoH)'s director-general Datuk Dr Noor Hisham Abdullah.
Of the new infections, 60 cases have been traced to the tabligh or religious gathering held at Masjid Jamek Sri Petaling, a three-day event that was held from Feb 28 to March 2. The source of infection for the remainder 175 new cases are still being investigated, he said.  
The country also saw four new fatalities from the illness since yesterday noon, which pushed its death toll to 23. Of the new fatalities, three were participants of the tabligh gathering, he said.
One of them, a man aged 48 who died in Johor at 8.15pm last night, had a history of chronic illness. Of the other two, one was a man aged 76 who passed away at 4.35pm at Hospital Sultan Ismail Petra in Kelantan, while the other, a 63-year-old man, died in Kedah at 4am today.
The fourth victim was a 62-year-old man from Kajang who also had a history of chronic illness. He was treated at Hospital Raja Perempuan Bainun in Ipoh, Perak, and confirmed dead around half past noon yesterday. "His case is still under investigation to see whether it is linked to any of the Covid-19 clusters," Dr Noor Hisham said.
Of the infected, 45 cases are now in intensive care, with 32 requiring respiratory aid. The recovery tally, however, has also increased, with 16 more patients being discharged today, bringing the number of people who have recovered from the illness to 215. 
Meanwhile, Dr Noor Hisham also affirmed what he shared earlier on Facebook today, that 80 government healthcare workers have contracted the coronavirus, and that 39 of them are from the Hospital Teluk Intan cluster. He previously said the infections at the hospital were linked to a wedding reception, which was also attended by some tabligh participants.
"In view of the current situation, MoH has decided that all the healthcare and support staff at Hospital Teluk Intan undergo testing for Covid-19," he said in his statement today.
He further stressed that none of these 80 infections are due to the management or treatment of Covid-19 patients.Yesterday, Prime Minister Tan Sri Muhyiddin Yassin announced via live telecast that the 14-day MCO that was originally scheduled to end on March 31 will be extended till April 14, as infections in the country continued to rise.
Read also: 80 healthcare workers confirmed infected with Covid-19, says Health DG
#dudukrumahdiamdiam. We will deliver the news to you at theedgemarkets.com.