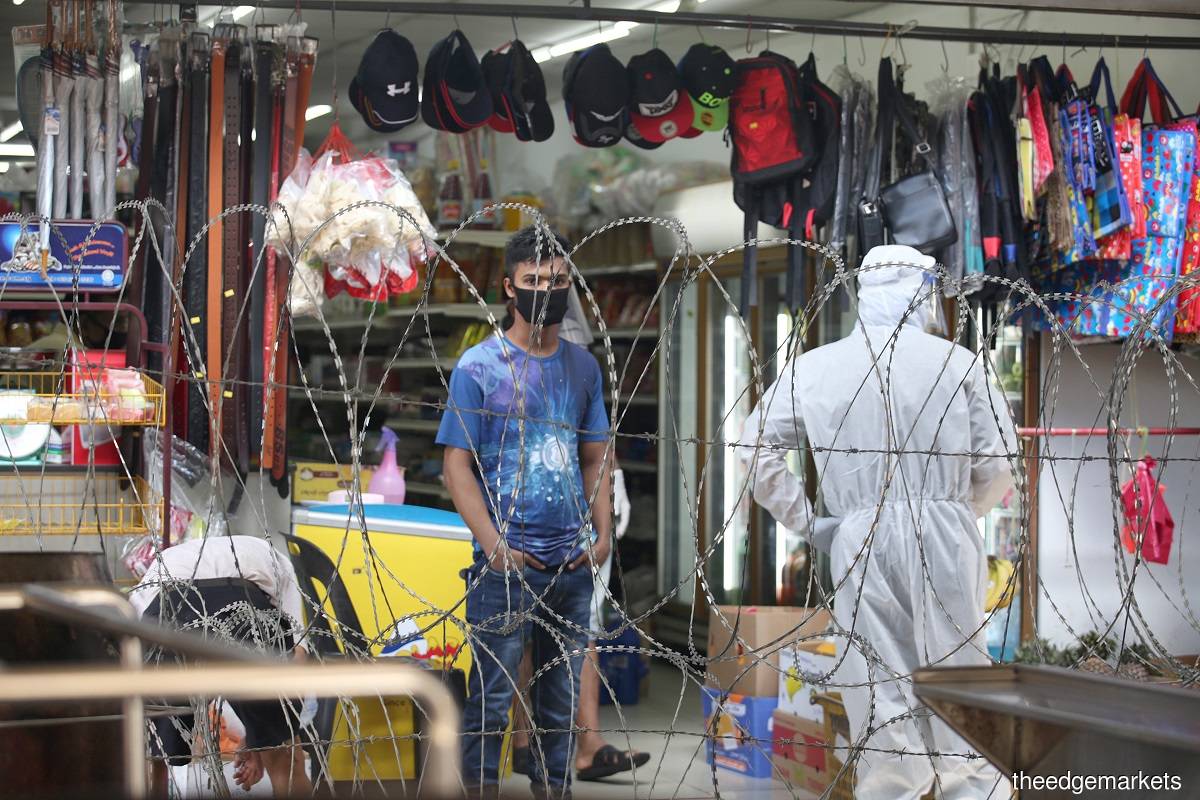 KUALA LUMPUR (Oct 17): The number of new Covid-19 cases jumped to above the 800 mark with 869 infections recorded today, marking the highest-ever daily figure recorded in the country since the Covid-19 pandemic began in January. 
The total number of confirmed infections increased to 19,627, said Ministry of Health (MoH) director-general Tan Sri Dr Noor Hisham Abdullah in a statement today.
Meanwhile, the number of active cases surged to 6,886. There has been a noticeable surge since Aug 1, with cumulative cases more than doubling from 8,985 and active cases swelling 32 times from 213.
According to Noor Hisham, 302 patients recovered in the past 24 hours. The total number of recovered cases to date stood at 12,561. 
Four Covid-19 related deaths were recorded today, bringing Malaysia's death toll to 180.
Among the states, Sabah had the highest number of new cases at 451 for the day — the 10th consecutive day the state recorded the highest tally in the country — followed by Penang with 189 infections and Selangor with 159.
Of today's new cases, Noor Hisham said 745 were local transmissions, while 124 were foreigners.
He said a total of 224 cases came from three different prison clusters and were contained to the prisons.
Noor Hisham also revealed five new clusters today, namely Menara, Keladi, Sentral, Teduh and Bah Bemban.
The Menara cluster, with 33 cases, has spread to the following areas:
i) Selangor — Gombak, Petaling, Klang, Sepang and Hulu Langat;
ii) Kuala Lumpur — Lembah Pantai, Titiwangsa and Cheras;
iii) Perak — Larut, Matang and Selama;
iv) Putrajaya
So far, 180 people had been tested, out of which 33 tested negative and 114 were still awaiting their results.
Meanwhile, the Keladi cluster, with 26 cases, emerged in Klang. So far, 107 people had been tested, of which 72 tested negative, while seven were waiting for their results.
In Kuala Lumpur, the Sentral cluster was detected in Kepong, Cheras and Titiwangsa. So far, 135 people had been screened, with five tested positive, 122 negative and eight awaiting their results.
Over in Lahad Datu, Sabah, the Teduh cluster was detected. Out of 535 people screened, 11 tested positive for Covid-19, while the results were still pending for the remaining 524.
Meanwhile, the Bah Bemban cluster was detected in Dungun, Terengganu and Kota Kinabalu, Sabah, with 12 people so far stricken with Covid-19. Meanwhile, another 210 people who were tested were waiting for their test results.
A total of 91 people were being treated in the intensive care unit (ICU), with 30 of them requiring ventilator support.
Read also:
MoH boosts capacity for Covid-19 treatment, testing with focus on Sabah