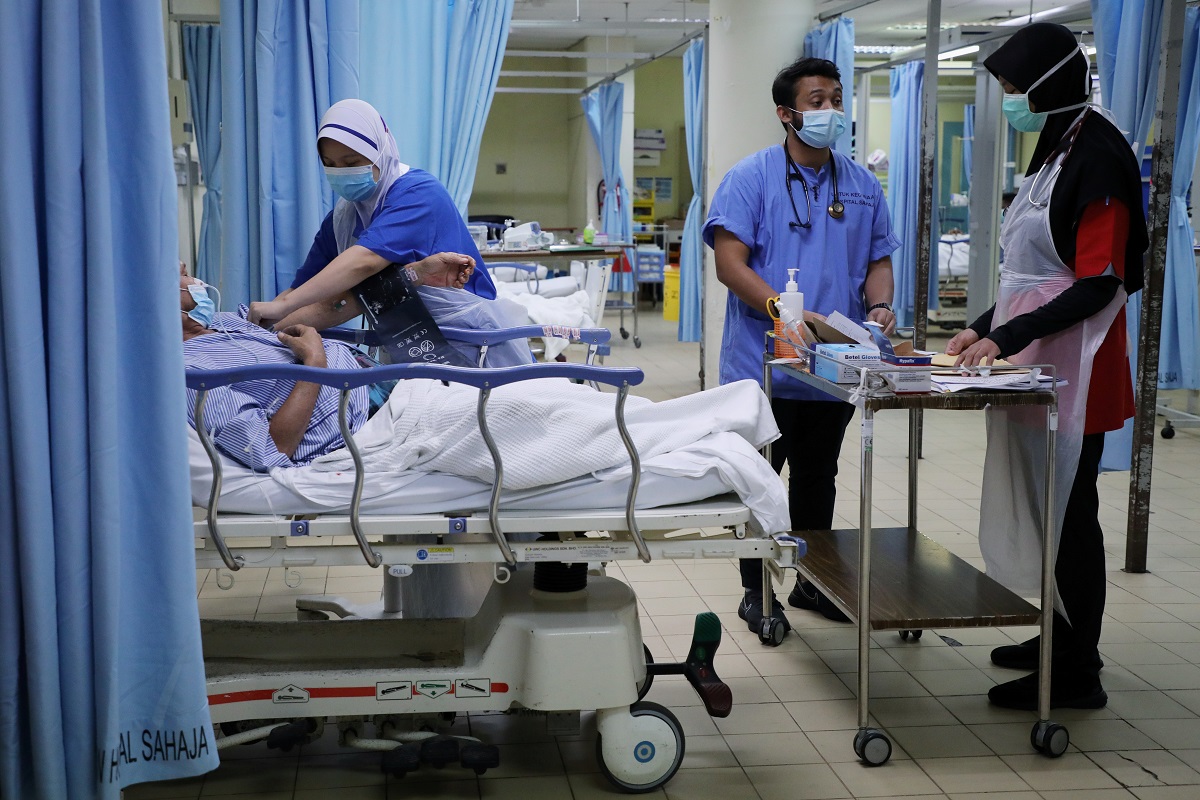 KUALA LUMPUR (Nov 26): Malaysia today logged 935 new Covid-19 cases, pushing total infections in the country to 60,752.
The country has recorded an additional 50,533 confirmed cases since the start of the third wave of Covid-19 infections on Sept 20, from 10,219 total infections then.
Three deaths were reported in Sabah today, bringing the nationwide Covid-19 death toll to 348, according to Ministry of Health (MoH) director-general Tan Sri Dr Noor Hisham Abdullah.
According to his statement, the three new fatalities — involving two women and one man — were aged between 59 and 77 years. Two of them had health complications such as high blood pressure, asthma and diabetes.
Meanwhile, daily recoveries climbed to a fresh high to record 2,555, lowering the latest tally of active cases — which carry high transmission risks — to 11,348. This is the second consecutive day the number of daily recoveries surpassed new infections.
To date, 110 patients are being treated in intensive care units, with 45 needing ventilators.
"Most of the new cases today were reported in Sabah, [which] recorded 326 cases, followed by Selangor (161) and Negeri Sembilan (158)," noted Dr Noor Hisham.
He said 103 cases were confirmed from the Covid-19 related prison clusters such as the Bakti cluster in Negeri Sembilan with 95 cases, the Tembok cluster in Kedah with five cases, the GK Tawau cluster in Sabah with two cases and the Kepayan prison cluster in Sabah with one case.
Other states reported new infections today, including Perak with 79 cases, Johor (60), Kuala Lumpur (59), Kelantan (28), Kedah (24), Penang (17), Labuan (13), Putrajaya (5), Sarawak (4), while Terengganu has one case.
Malaysia only recorded four imported cases, with two cases from Indonesia, and one each from Saudi Arabia and Nepal respectively, based on data prepared by the ministry.
Sabah remains Malaysia's worst-hit state, with 27,238 total cases followed by Selangor with 12,854 cases, Kuala Lumpur (5,249) and Negeri Sembilan (4,534).
Top Glove-linked Teratai cluster in Selangor has 4,093 total infections
The Teratai cluster, which originated from Top Glove Corp Bhd's workers dormitories in Meru, Klang recorded 30 new Covid-19 cases today, lifting the tally of infections in the cluster to 4,093.
According to the ministry's data, some 6,526 people in the cluster have been screened so far.
Active cases fell to 3,638 from 3,642 reported yesterday, while 455 patients have recovered with no deaths reported.
Yesterday, Dr Noor Hisham said during a press briefing that the Teratai cluster did not spread the Covid-19 infection to the surrounding community, as infections within the cluster have been confined to Top Glove's workers and their close contacts.
He also added about 11,215 Top Glove workers have been identified by the ministry for Covid-19 screening.
Read also:
Covid-19: Six new clusters detected, while two ended
Tan Choe Choe & Lam Jian Wyn