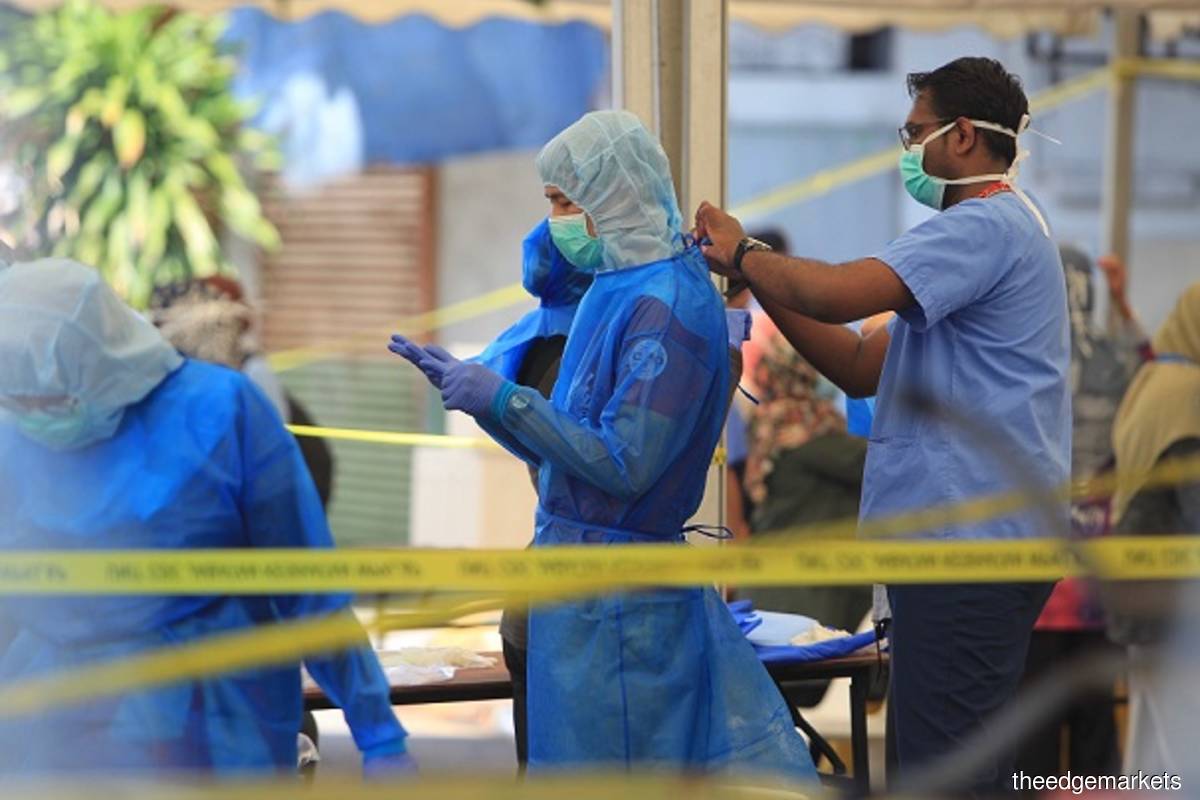 KUALA LUMPUR (Nov 11): Malaysia's new Covid-19 cases dropped to 822 today, from 869 yesterday, bringing total cases to 42,872, the Health Ministry said. 
There with two new deaths in the 24 hours as of noon, raising the country's death toll related to the pandemic to 302, representing a mortality rate of 0.7%.   
The ministry said both deaths took place in Sabah. One was a 22-year-old woman who had rheumatic heart disease and cardiac arrhythmia, while the other was a 67-year-old woman who had osteoarthritis and gastritis. 
The number of active cases stood at 11,497 as of noon, with the patients isolated and given treatment, said the ministry's director-general Tan Sri Dr Noor Hisham Abdullah. 
"Of the 822 new cases nationwide, seven were imported involving one Malaysian and six foreigners who had returned from India (one case), Canada (one case), Indonesia (one), the United Arab Emirates (one), Afghanistan (one), Russia (one), and Saudi Arabia (one)," Dr Noor Hisham told a media briefing. 
The ministry also announced three new Covid-19 clusters, all in Sabah, with a total of 41 infections. 
The Karamunting cluster in Sandakan had 21 cases, Saga cluster in Kota Kinabalu nine cases, and Haven cluster in Lahad Datu 11 cases. 
Meanwhile, the total number of recoveries stood at 31,073 as of noon after 769 more patients were discharged, representing a recovery rate of 72.5%.
A total of 86 Covid-19 patients are being treated in the intensive care unit, with 30 of them needing respiratory assistance. 
Further drop in cases in Sabah; DG concerned over rising numbers in Klang Valley, Negeri Sembilan 
Although Sabah continued to top the list with 259 new cases, this represents a declining trend for the fifth consecutive day after 1,199 cases were reported last Friday (Nov 6). 
"Sabah's cases showed a declining trend. This is a good sign. 
This means the enforcement of the Conditional Movement Control Order has successfully reduced the number of cases over there.  
"So, we hope within one or two weeks we can curb the Covid-19 transmissions in Sabah," said Dr Noor Hisham. 
The total number of cases in Sabah since the start of the pandemic in January is 21,448. 
Dr Noor Hisham was, however, concerned over the rising number of Covid-19 infections in Peninsular Malaysia, especially in the Klang Valley and Negeri Sembilan. 
The Klang Valley recorded a total of 202 cases today (178 in Selangor, 21 in Kuala Lumpur and three in Putrajaya) while Negeri Sembilan saw 225 cases. 
"If we combine the number of cases in the Klang Valley and Negeri Sembilan, there is a total of 427 cases, which is higher than Sabah. So, we need to increase our activities, identify localities, and take action before all districts in those areas turn into red zones", said Dr Noor Hisham. 
According to the ministry, red zones refer to health districts which have over 41 active cases of Covid-19. 
Selangor, the second worst-hit state after Sabah, has seen 6,701 Covid-19 infections todate, while Negeri Sembilan's total todate is 2,679.