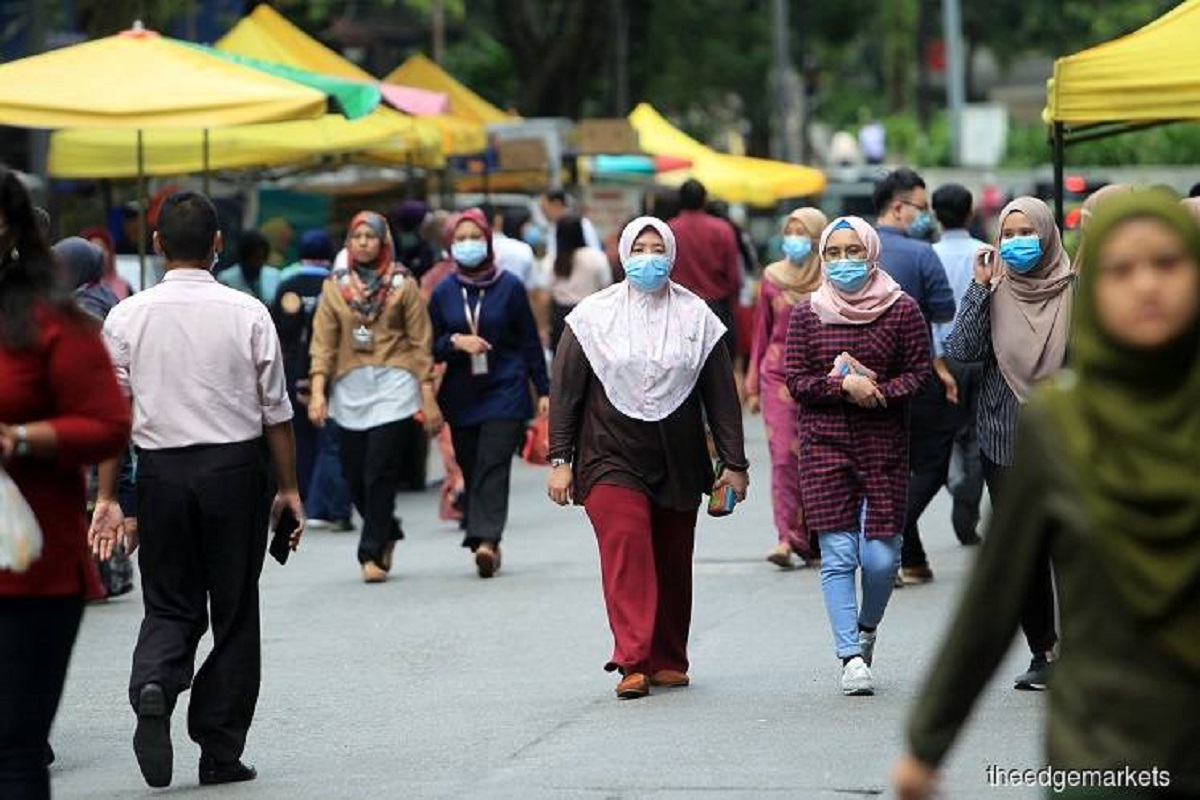 KUALA LUMPUR (Oct 31): Malaysia reported 659 new Covid-19 infections today, 80.3% or 529 of which came from the worst-hit state of Sabah, while the Klang Valley contributed 10.6% or 70 cases. This raised the country's cumulative positive cases to 31,548, according to the Ministry of Health (MoH).
The number of recoveries hit 1,000 today — the country's highest so far in a day — as recoveries exceeded new infections for the second day in the past four days; on Thursday, recoveries came in at 685 versus 649 new infections.
This means a total of 21,248 patients have recovered so far, yielding a recovery rate of 67.4% of total confirmed cases.
As for active cases, which carry transmission risk, the tally is now down to 10,051 from 10,392 yesterday.
The death toll, meanwhile, remained at 249 or 0.8% of total infections, with no new additions.
No new infection clusters were reported today, according to the MoH. This means the number of active clusters remains at 33, while 114 clusters have ended.
In Sabah, 205 cases originated from existing clusters, while 203 cases were discovered via contact tracing and 121 infections were discovered from other Covid-19 screening tests.
Selangor saw 55 new cases, 18 of which came from existing clusters, followed by 22 from contact tracing, and 15 from other Covid-19 tests.
Labuan and Kuala Lumpur saw 12 and 11 cases respectively, followed by Sarawak (nine cases), Perak (six), Putrajaya (four), Kedah (two), Pulau Pinang (two), Terengganu (two), Pahang (one) and Kelantan (one).
Meanwhile, 137 cases or 20.8% of total infections today were linked to the prison clusters and temporary detention centres, namely the Kepayan cluster (26 cases) and the Rumah Merah cluster (111 cases).
Of the 659 cases reported today, one was an imported infection involving a foreigner who travelled from Bangladesh.
Declining R0
During the question and answer (Q&A) session today, MoH director-general Tan Sri Dr Noor Hisham Abdullah said Malaysia's R0, which measures the contagiousness of the virus, was brought down to 1.5 last week — from 2.2 at the start of the third wave of infections. A higher R0 translates into a higher rate of infection in the community.
For comparison, the second wave had an R0 rate of 3.55.
"Based on the projection for R0 of 1.5, daily new cases should be 1,357. If the R0 is 1.0, it should be 950 cases per day. However, we have been seeing daily cases of below 950 — at 799 yesterday and 659 today. So our R0 is currently below 1.0.
"This means that the measures that have been enforced under the CMCO (conditional movement control order) for the past two weeks — that is, by allowing economic sectors to operate while toning down social, education and sports activities — have resulted in a lower rate of infection," he added.