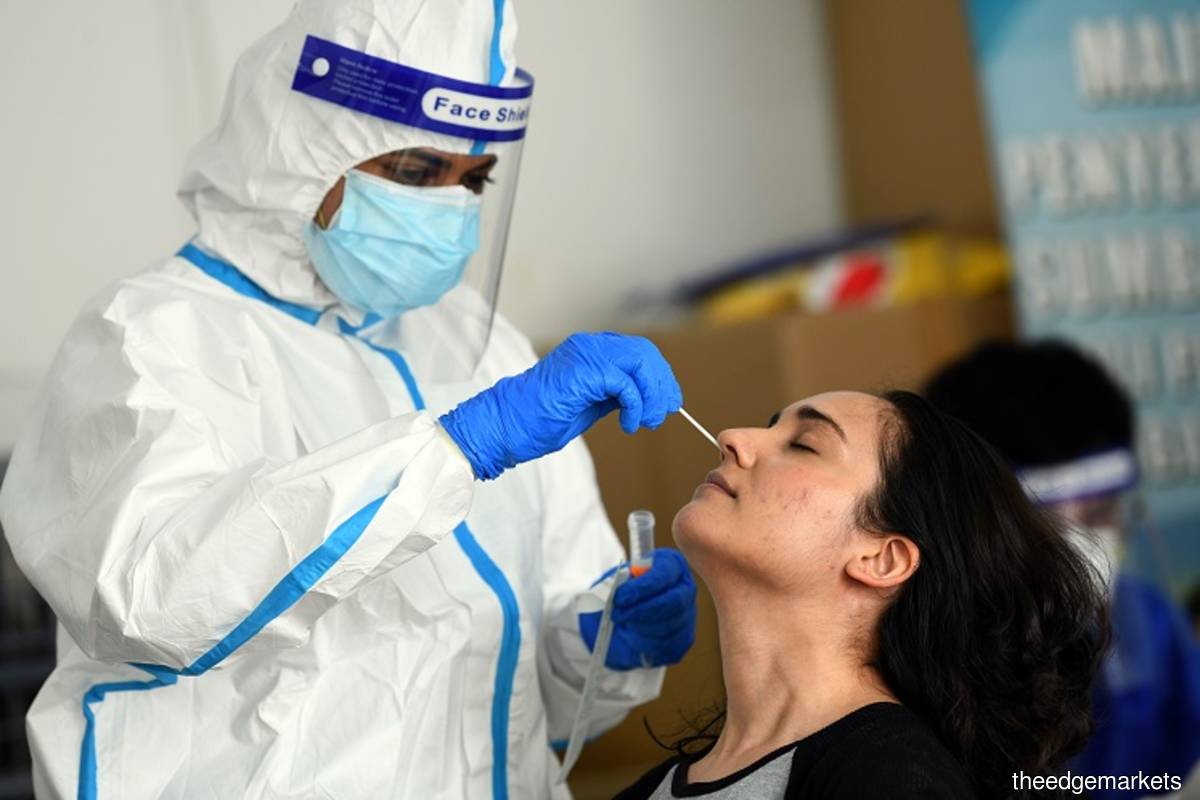 KUALA LUMPUR (Feb 28): Malaysia reported today 2,437 newly confirmed Covid-19 cases, which brought the nation's total number of infected individuals to 300,752 so far.
The Ministry of Health (MOH) said via Twitter nine Covid-19-related deaths were reported today.
The nine deaths brought the country's cumulative number of fatalities due to the pandemic to 1,130 so far, according to the MOH.
According to the MOH, 202 Covid-19 patients are being treated in intensive care units and out of the 202, a total of 93 patients need breathing assistance.
The 2,437 newly confirmed Covid-19 cases reported today comprise 2,435 persons who were infected locally and two imported cases, the MOH said.
Meanwhile, the number of persons who were reported today to have recovered from Covid-19 stood at 3,251, which brought the country's total number of individuals who have recovered from the pandemic to 273,417 so far, according to the MOH.
In a separate statement today, Health director general Tan Sri Dr Noor Hisham Abdullah said that out of the 2,435 new local cases reported today, 1,226 involve Malaysians while 1,209 are foreigners.
There are 26,205 active Covid-19 cases in the country, according to Dr Noor Hisham.
"The two imported cases involve one Malaysian and one foreigner," he said.
Meanwhile, the deceased reported today comprised eight Malaysians and one foreigner, according to him.
The nine fatalities reported today comprised five men and four women aged between 57 and 102 years, Dr Noor Hisham said.
He said three of them were from Selangor, two from Sarawak and one each from Melaka, Kelantan, Perak and Johor.
Geographically, Selangor reported the highest number of new daily Covid-19 cases out of the 2,437 fresh infections reported today, according to Dr Noor Hisham.
He said Selangor registered 914 fresh infections today, followed by Johor and Kuala Lumpur with 340 and 337 respectively.
Meanwhile, Bernama reported that Dr Noor Hisham said in the statement that nine new Covid-19 clusters were identified today, all involving workplaces. Four, namely Jalan Timah Tiga, Jalan Tanjung Empat, Jalan Desa Tropika, and Batu Empat were reported Johor.
He said there were three clusters detected in Selangor, namely Perusahaan Jalan Bukit, Industri Waja and Jalan Selisik, one cluster each in Kuala Lumpur (Tapak Bina Bukit Kiara) and Penang (Jalan Sungai Baong).
Dr Noor Hisham said that so far, the country has recorded a total of 1,138 clusters, 491 of which are active, adding that three more clusters ended today.