This article first appeared in The Edge Malaysia Weekly, on June 29, 2020 - July 05, 2020.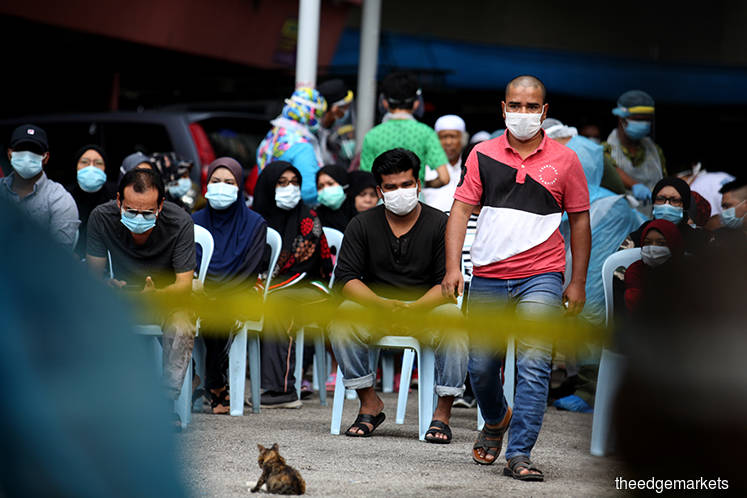 THE phrase "never waste a good crisis" will mean different things to different people. The World Bank and the International Monetary Fund (IMF) in their respective periodic economic updates last week expectedly said the Covid-19 pandemic-induced global crisis presents an opportunity for policymakers to accelerate a number of necessary structural reforms.
Both the World Bank's Malaysia Economic Monitor (MEM) and the IMF's World Economic Review on the global economy touched on the increased need for policymakers to step up measures to cushion the economic impact of the Covid-19 pandemic on the most vulnerable segment of society.
Globally, the IMF — which now expects a slower recovery in 2021 and a deeper contraction in the global economy this year compared with its projection in April (-4.9% versus -3%) — noted that the progress made in reducing extreme poverty to below 10% in recent years from over 35% in 1990 could be reversed by "[the] particularly acute negative impact of the pandemic on low-income households worldwide that could significantly raise inequality".
The disruption in learning that hit 1.2 billion schoolchildren or about 70% of the global total as schools were shut in about 150 countries is also expected to disproportionately affect the earnings prospects of children in low-income countries, the IMF said. Malaysia had its own anecdote of the digital divide when the story of the 18-year-old Universiti Malaysia Sabah student, who climbed a tall tree to get better internet connection to prepare for her exams, made the headlines in June.
Researchers have long pointed out the deficiencies in social protection among a large group of low- and even middle-income earners that were already showing as the cost of living rose, society aged and the workforce shifted from stable long-term employment towards a gig economy.
The World Bank's MEM, which chose to focus on Malaysia's social protection system and how it can be improved and leveraged to better address the needs of the population within a rapidly changing economic context, noted that the country's social assistance programmes have only a "modest impact on poverty reduction and promoting productive employment".
"While the coverage of Malaysia's non-contributory social assistance programmes is high (encompassing 76% of all individuals and 98% of those in the B20 as per the distribution of income per capita), the level of benefits is generally insufficient to achieve a reduction in the poverty gap similar to that of the average upper middle-income and high-income countries," the MEM noted, adding that Malaysia's spending on social assistance of about 1% of GDP is also low by international standards.
More importantly, Malaysia has "few policies that link the beneficiaries of social assistance programmes to efforts to build their human capital or to improve their productive inclusion in the labour market".
Not only is there a shortage of specific support measures and incentives to equip the beneficiaries of government aid with the capacity to work and upgrade their earning capabilities, there is also a lack of coordination between social assistance, education and labour market programmes, the World Bank said in its report.
Put another way, Malaysia has overlapping agencies targeting similar people and not enough resources have been put into ensuring that those who receive aid are equipped with the capacity to work and not be in need of government handouts.
"With Malaysia's economy operating in a 'new normal' context, it is vital to improve the performance of the social protection system and to ensure that it is integrated with the wider economic policy," the MEM said.
"At present, the thin provision of social assistance provides very limited support to enable the population to absorb shocks. To establish an adequate social insurance system, Malaysia needs both to improve the adequacy of financial protection for those already contributing to existing systems and to expand coverage to reach almost 40% of the labour force outside the current [social safety] net," it said, referring to those in informal sectors not covered by the Employees Provident Fund (which covers about 49% of the workforce) or the public pension system for the civil service (which employs about 12% of the workforce).
Researchers are all for direct cash transfers to those in the bottom 40% income bracket throughout the recovery from the Covid-19 crisis, describing it as "vitally important to provide short-term relief mitigating acute financial strains to support medium-term recovery efforts, and to support consumption and human capital development at a time of economic downturn".
Malaysia would achieve better outcomes by having a more intelligent central database to eliminate overlaps and minimise the risk of overlooking those who need help but are not reached by either the flagship Bantuan Sara Hidup (BSH) programme or the core social assistance programmes implemented by the Department of Social Welfare (Jabatan Kebajikan Masyarakat, JKM).
The need to better target aid and ensure the effectiveness of programmes in eradicating poverty has been mentioned in previous research on public aid programmes.
The need to cut duplication is even greater now, with fiscal resources also needed to spur investments and economic growth besides ensuring that most businesses can survive the pandemic to keep as many people as possible employed.
According to the IMF, more than two-thirds of governments around the world have scaled up their fiscal support since April to mitigate the economic fallout from the pandemic with announced fiscal measures estimated at US$11 trillion (RM47 trillion) globally, up from US$8 trillion estimated in the April 2020 Fiscal Monitor.
Direct fiscal spending and foregone revenue that affects the government budget position made up half of the amount, or about US$5.4 trillion. The remainder comprised liquidity support such as loans and guarantees, which help maintain cash flows and limit bankruptcies "but could add to government debt and deficits down the road if these public interventions incur losses". Yet, World Bank projections suggest that the global recession in 2020 will be the deepest in eight decades, despite the unprecedented policy response.
Malaysia has thus far announced stimulus packages totalling RM295 billion, or 20% of GDP, under what it calls the short-term National Economic Recovery Plan (Penjana) and the Prihatin Rakyat Economic Stimulus Package (Prihatin). Of this, RM45 billion, or about 3% of GDP, requires direct fiscal spending, our back-of-the-envelope calculations show.
Finance Minister Tengku Zafrul Abdul Aziz told The Edge on June 18 that Malaysia aims to reduce its fiscal deficit to below 4% of GDP within four years but the figure is projected to rise to between 5.8% and 6% this year due to the stimulus packages that have been rolled out so far. He added that the government is prepared to spend more to help the people and businesses if deemed necessary to prevent permanent damage to the economy. The World Bank expects Malaysia's fiscal deficit to be 7% for 2020 "if measures to reduce non-core spending or to secure additional non-tax revenue are not adopted".
On June 26, S&P Global Ratings affirmed its rating for Malaysia but revised its outlook to "negative" from "stable" "to reflect additional downward risk to the government's fiscal metrics, owing to the weak global economic climate and heightened policy uncertainty". "Our ratings on Malaysia balance the country's strong external position, monetary policy flexibility and track record of supporting sustainable economic growth against its ­elevated government debt stock and evolving fiscal policy setting," it noted. In April, Fitch Ratings affirmed its rating for Malaysia but revised its outlook to "negative".
Credit analysts have already said the additional fiscal stimulus spending as a result of the economic impact of the Covid-19 pandemic — at a time when oil revenue and oil-related income are depressed — will weaken the Malaysian government's debt position for the next few years. Malaysia is not alone. The IMF's latest fiscal balance assessment sees global public debt reaching an all-time high of 101% of GDP in 2020-2021 — a 19 percentage point surge from a year ago. The average overall fiscal deficit is also expected to soar to 14% of GDP in 2020, 10 percentage points higher than last year, according to the IMF, which expects elevated debt levels to pose a challenge for many countries in the medium term.
"To ensure that economies are well prepared to counter further shocks, policymakers should consider strengthening mechanisms for automatic, timely and temporary support in downturns," the IMF recommended.
For Malaysia, these challenges and foreseen economic hardship are taking place in a year that the country missed the Vision 2020 aspirational target to be a high-income developed nation.
In its country risk and industry research note last week, Fitch Solutions (not Fitch Ratings) said Malaysia "has to upgrade its economy in order to escape the middle income trap". It projected growth in the coming decade to fall from an average of 6.4% the past decade to average only 3.4% in the coming decade, dragged lower by the likely contraction in 2020 due to Covid-19.
The World Bank — which now projects Malaysia's GDP to contract 3.1% this year compared with a 0.1% decline in April — also said it is important that Malaysia enhances its investment competitiveness to seize new opportunities from shifting global trade and investment trends in the wake of Covid-19: "To strengthen Malaysia's competitiveness in attracting new quality investments, the government should look to establish clear and measurable investment policy goals to anchor investment strategies and monitoring of outcomes, build more targeted, automated and transparent incentives systems to stimulate desirable activities and create a more cohesive national investment promotion framework to facilitate proactive investor services across the investment life cycle."
Just as it is important to reskill those who receive government cash handouts to be able to graduate from the aid programmes, the government also needs to increase its efforts in upskilling and retraining its workforce to cater to behavioural changes and increased demand for digitisation and automation in a post-Covid-19 world. One way to do this is by expediting digital adoption, especially by small and medium enterprises and micro-entrepreneurs, seizing the opportunity from the increased appeal of e-commerce following the various degrees of lockdown and movement restrictions imposed to control Covid-19.
Malaysia will stand to reap future economic dividend from this crisis if the economic hardship from tighter public finances forces it to eliminate long-standing inefficiencies and institute necessary structural changes.