This article first appeared in The Edge Malaysia Weekly, on July 27, 2020 - August 02, 2020.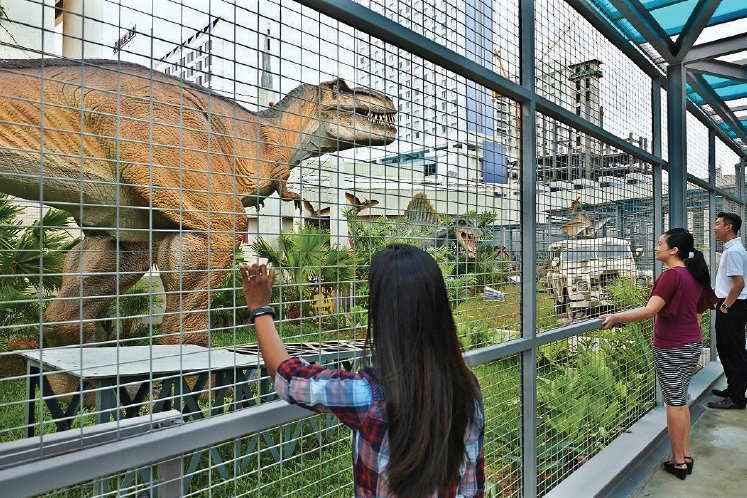 JUST five years ago, Malaysia was on the path of being transformed into the theme park capital of Southeast Asia, following the entry of new players and renowned international brands keen to be incorporated into both new and existing offerings.
With the planned addition of 20 theme parks nationwide, the country had hoped to have some of these parks up and running by 2020. Unfortunately, over the past couple of years, several theme parks/attractions have failed and been shut down.
They include those of sovereign wealth fund Khazanah Nasional Bhd, whose theme park unit, Themed Attractions Resorts & Hotels Sdn Bhd, has pulled the plug on three of its attractions — Lat's Place, Sanrio Hello Kitty Town and Thomas Town.
Dreamworks Animation LLC at the Movie Animation Park Studios in Ipoh remains a dream, as the entire park was shut down in January, although many would point out it was always a pipe dream, given that it was ill-conceived.
Perhaps more unfortunate, given Genting Malaysia Bhd's vast experience in the industry, is that its upcoming theme park, Genting SkyWorlds, is no longer as exciting now, as its original plans with Disney have been revised.
Will the Covid-19 pandemic be the final nail in the coffin of the RM1.6 billion theme parks and attractions industry's ambition to be the theme park capital of the region?
The going will certainly not be easy, as the industry expects a decline of up to 80% in visitorship and revenue this year.
So, what's next for the industry? For a start, it needs to recover from the impact of Covid-19. Malaysian Association of Amusement Theme Parks & Family Attractions (MAATFA) president Tan Sri Richard Koh estimates it will take a year or two.
Koh reckons the industry has suffered an estimated RM280 million in monthly losses since the Movement Control Order (MCO), which came into effect on March 18. Thus, the three-month closure has potentially cost the industry RM840 million in revenue.
Most parks have been allowed to reopen only since mid-June, and in stages, depending on the type of park. Although they are allowed to operate, they can do so only at a reduced capacity.
"All parks and attractions are allowed to open based on a 50% capacity. But the 50% capacity depends on the size of the parks or attractions," Koh tells The Edge. He says dry parks were allowed to open in early June as in the case of Berjaya Times Square Theme Park, which opened on June 13, whereas aquariums were also allowed to reopen from early to mid-June.
The country has about 80 theme parks and attractions that range from Aquaria KLCC to Ripley's Believe It or Not! Adventureland in Genting Highlands.
"Industry players are expected to end 2020 with a 70%-to-80% decline against budget, both in attendance and top-line revenue," Koh says. He adds that the estimated value of the industry over the past couple of years was between RM1.2 billion and RM1.6 billion.
Despite the depressed revenue, he does not expect any of the association members to pull the shutters down permanently.
Can Malaysia still become a theme park capital?
"To further achieve our goal of becoming the Orlando of Asia or theme park capital of Asia, the government needs to be fully committed in terms of incentives and tax exemption, and the government of the day must also honour the incentives given by previous governments and not flip flop and revoke the incentives already given. This is necessary to build confidence in investors," Koh says.
He adds that the industry had to pay a 25% entertainment tax on May 10, 2001, but on Dec 22, 2005, it was exempted. About eight years later, the entertainment tax was reintroduced on Jan 2, 2014.
Apart from the 25% entertainment tax, Koh says theme park operators who want to attract big IP (intellectual property) brands would have to pay a royalty of at least 5%. And this does not include the 6% sales and services tax and 24% income tax. "This is more like casino tax," he laments.
Because of these taxes, theme parks and attractions tickets are on the high side.
Koh says MAATFA has appealed to Prime Minister Tan Sri Muhyiddin Yassin, Minister of Tourism, Arts and Culture Datuk Seri Nancy Shukri and Minister of Finance Senator Tengku Datuk Seri Zafrul Aziz for a reexamination of the Entertainments Duty Act 1953.
"This outdated entertainment tax was implemented during [British rule]. Amusement park tax was based on gaming tax such as boxing, betting and cabaret entertainment but, now, the modern concept theme parks are purely for family and children's recreation with educational value entertainment."
He observes that "theme park facilities should be enjoyed by all and not just the rich" and that the poor and middle class should not be burdened by the 25% tax. "The high 25% entertainment tax discriminates against poor families [and prevents them] from enjoying good wholesome family fun in the theme parks, as they can't afford to go overseas."
As this sector was one of the very last to be given the greenlight to reopen after the MCO, the impact of the lockdown on the business has been devastating. Koh believes the removal of the tax will have a spin-off effect on domestic tourism and give the industry a boost. He points out that the theme parks and attractions industry is also a revenue earner for the tourism industry, providing jobs and benefiting all related industries such as hotels, taxis and shopping, to name a few.
Apart the abolishment of the entertainment tax, Koh suggests that the federal government make provision for income tax exemptions, low land costs and low interest loan financing, and build infrastructure to encourage the development of theme parks and attractions. This will help take the tourism industry to the next level.
Other initiatives that will help the industry, he says, are the provision of import duty exemptions on all ride equipment and spare parts for the industry, and an annual personal RM5,000 holiday tax incentive rebate for spending in theme parks and attractions.
Koh also urges tax incentives or grants for new rides with hi-tech advanced technology, corporate tax incentives, human resources incentives for job seekers to work in the theme parks/attractions industry and a bigger allocation in the tourism marketing fund for theme parks and attractions to promote Malaysia.
Sunway Theme Park executive director Calvin Ho is confident that Malaysia's aspiration to be the theme park capital has merely been delayed. "The timeline has definitely shifted, in the light of this pandemic. For Malaysia to achieve this goal that is rightfully ours, the economic policies and prospects have to be reviewed for all industry players — no matter their size — to encourage a continuous inflow of investments," he tells The Edge.
He adds that the entertainment tax, specifically, has to be reassessed so that all industry players have an international competitive edge. "Investors will first have to see an economic benefit and the industry's potential as a growth engine before we can be crowned the theme park capital of this region."
Both of the group's theme parks — Sunway Lagoon and Sunway Lost World of Tambun — reopened on July 4 and are enjoying an upswing in patronage. While Ho says Covid-19 has had a significant impact on business and the bottom line, as there was no revenue during the MCO, he remains positive and hopeful that working together to be Covid-19-free will help Malaysia's economy rebound.
Meanwhile, Chris Eng Poh Yoon, chief strategy officer of Etiqa Takaful Bhd, believes the country can still achieve its goal but stresses that "connectivity is key".
Eng says, "The theme parks need to be near a well-connected international airport. At the moment, this means KLIA (Kuala Lumpur International Airport) and, possibly, Penang, although the latter lacks space.
"While Khazanah made a go of it in Iskandar Malaysia, the lack of a mass transit system from Changi [Airport, Singapore] to the theme parks has been a bottleneck, leading to any theme parks in Iskandar likely to be frequented more by Johoreans and Singaporeans, and a few visitors from the rest of Malaysia.
"If and when the RTS (the Johor Baru-Singapore Rapid Transit System) is completed, then Iskandar could bloom as a theme park hub. Otherwise, efforts should be concentrated in the Klang Valley and possibly the environs of KLIA."