This article first appeared in The Edge Malaysia Weekly, on February 17, 2020 - February 23, 2020.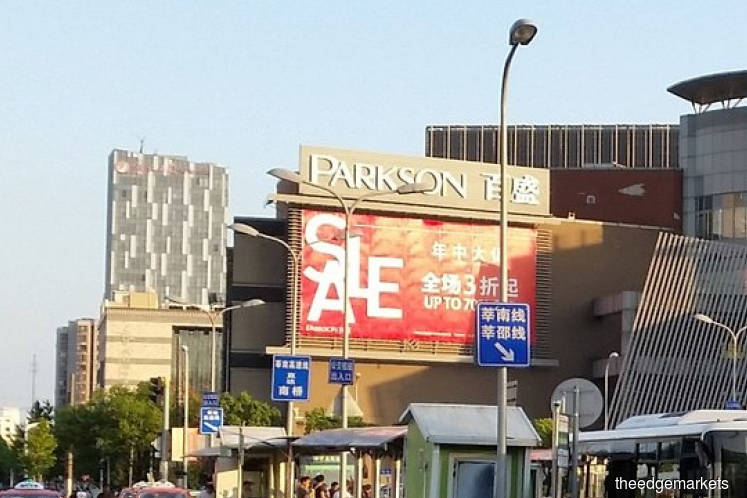 THE COVID-19 outbreak in China has proven to be both a boon and a bane for The Stock Exchange of Hong Kong-listed Parkson Retail Group Ltd (PRG), the 54.6%-owned subsidiary of department store operator Parkson Holdings Bhd.
The bane here is obvious — the virus has put a dent in China's retail scene, with the government ordering a lockdown of certain cities in an effort to contain the virus. Understandably, this does not have a positive impact on retail players there, including PRG.
The boon, or rather silver lining, for PRG is that although there has been a decline in footfall at its China department stores, its supermarket business has seen a pickup in activity.
As at Sept 30, 2019, PRG had 42 stores in 28 cities across China. This includes stores in Tier-1 cities Beijing and Shanghai, Tier-2 cities Hefei and Xi'an, and even smaller cities Zun­yi and Mianyang.
The group does not have a presence in the city of Wuhan, where the COVID-19 outbreak originated and which has been the most affected by the outbreak. A Parkson spokesman confirmed this when contacted by The Edge.
"[PRG] does not have any department store in Wuhan or Hubei province," the spokesman says, adding that PRG, along with other department store operators in China, has closed its stores only in certain cities, according to the Chinese government's directive.
Inevitably, footfall in all department stores in China has declined, the spokesman says, but 15 of its stores that have supermarkets have seen a substantial increase in footfall.
Online sales have also been affected, owing to the limited number of delivery personnel available, but the group is interacting with its customers via digital platforms.
"Online sales depend on transport [and] delivery logistics, which during this time are affected, as not many delivery personnel are available and not many customers are buying online," the spokesman says.
"(But) we are interacting with our millions of loyal Parkson customers across China through different digital methods such as SMS [and our] official WeChat account during this period.
"At the same time, we have opened different online channels for customers to continue to select the products and services they are interested in.  We are also maximising ways to communicate with our VIP customers."
PRG is the most successful unit of the Parkson group. For its first financial quarter ended Sept 30, 2019 (1QFY2020), its China stores, which are parked under PRG, contributed an operating profit of RM55.75 million to Parkson.
However, stores in Malaysia, Vietnam and Indonesia, which are parked under its 67.96%-owned subsidiary Parkson Retail Asia Ltd (PRA), have not performed as well.
In the first quarter, Parkson's 42 stores in Malaysia reported an operating profit of RM260,000 against a loss of RM18.43 million a year ago, while its four stores in Vietnam posted a slightly lower operating loss of RM6.44 million against a loss of RM6.56 million a year earlier.
Its 15 stores in Indonesia also recorded a lower operating loss of RM4.3 million, from a loss of RM5.97 million in 1QFY2019.
PRA is listed on the Singapore Exchange. On Dec 4, 2019, PRA was placed on the SGX watch-list after it posted three consecutive years of losses. For its financial year ended June 30, 2019, PRA incurred a net loss of S$34.6 million and, as at that date, the group's current liabilities exceeded its current assets by S$61.34 million.
PRA must now take active steps to restore its financial health and meet listing requirements within 36 months from Dec 4, 2019, failing which it would face delisting from the SGX.
Besides its investment holdings in PRG and PRA, Bursa Malaysia-listed Parkson ope­rates the group's food and beverage business and consumer financing business. The group reported a net loss of RM44.62 million in 1QFY2020 from a net loss of RM43.01 million in 1QFY2019.
Shortly after the release of its results, Kenanga Research, the sole brokerage covering Parkson, downgraded its call on the stock from "outperform" to "market perform", with a target price of 27 sen. "Many of the positives could have been priced in at this juncture," Kenanga Research said in a Nov 28 note.
Parkson's shares, which were trading at 26 sen on Nov 20 last year, have since fallen 31%. They closed at 18.5 sen last Thursday for a market capitalisation of RM197.4 million.
Tan Sri William Cheng Heng Jem remains the largest shareholder, with a 59% stake held directly and indirectly. Cheng, who is executive chairman of the Parkson group, is CEO of both PRG and PRA while the group scouts for a suitable candidate to helm both companies.
Shaun Chong Sui Hiong resigned as CEO of PRG in February last year and Larry Michael Remsen vacated the CEO post in PRA in December 2018.