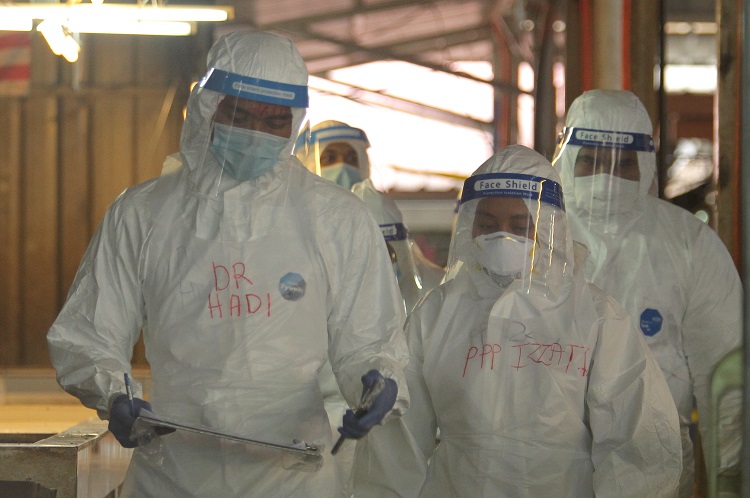 KUALA LUMPUR (May 1): The Ministry of Health (MoH) reported 69 new Covid-19 cases today, of which 57 were local infections while 12 were imported, said Health Director-General Datuk Dr Noor Hisham Abdullah.
The daily new local transmission cases exceeded 39 new daily recoveries today.
The new cases bring the country's total confirmed cases to 6,071. Active cases have risen to 1,758 cases from 1,729 yesterday, while total recoveries have risen to 4,210 or 69.3% of total confirmed cases.
Meanwhile, Malaysia also recorded one new death, bringing the death toll from the Covid-19 virus to 103 or 1.69% of the total.
The latest death involved a 66-year-old male with a history of cancer, who had close contact with patient number 4,818.
Meanwhile, Dr Noor Hisham, at the daily Covid-19 press conference, also provided updates on the latest infection cases in the different clusters here.
Three new cases were recorded from the Pusat Bandar Utara and Pasar Borong cluster, bringing the total to 86 confirmed cases.
Meanwhile, 17 new cases were recorded in the Selayang Baru cluster, bringing the total to 28 cases.
On the Sri Petaling cluster, the MoH has taken samples from 33,803 individuals. There are four new confirmed cases today, bringing the total confirmed cases to 2,179.
In the Pesantren cluster, five new cases were reported, bringing the total to 169.
Additionally, one new case was recorded among the Chow Kit cluster, bringing the total confirmed cases there to 12.
On the tabligh group, Noor Hisham said that out of 322 identified schools and madrasah, 15,423 students, teachers and staff have been screened. "Among them, 7,611 have been tested, representing 49% of the total. There are 373 positive cases, or 4.9%," he added.
Read also: 
Health DG: MoH role is to eradicate Covid-19, even among undocumented immigrants
As MCO relaxation looms, EMCO the approach to contain any outbreak
Covid-19: Infection number among M'sians returning from abroad rises to 263
#dudukrumahdiamdiam and get the news at theedgemarkets.com.