Click / Tap image to enlarge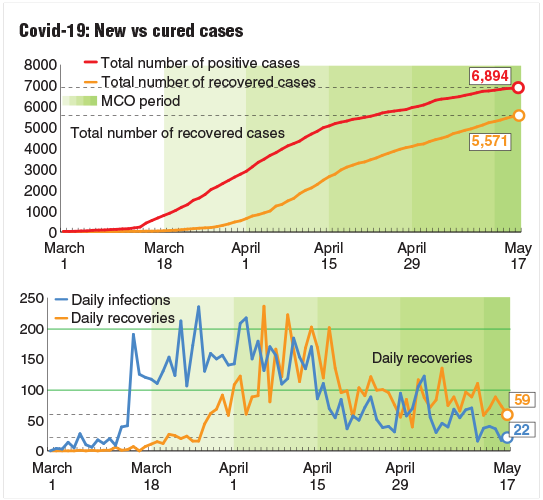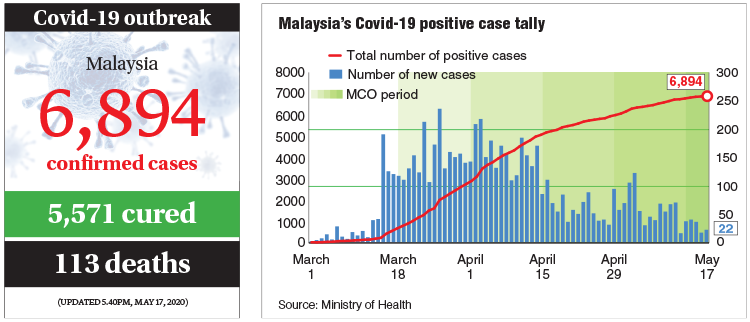 Click / Tap image to enlarge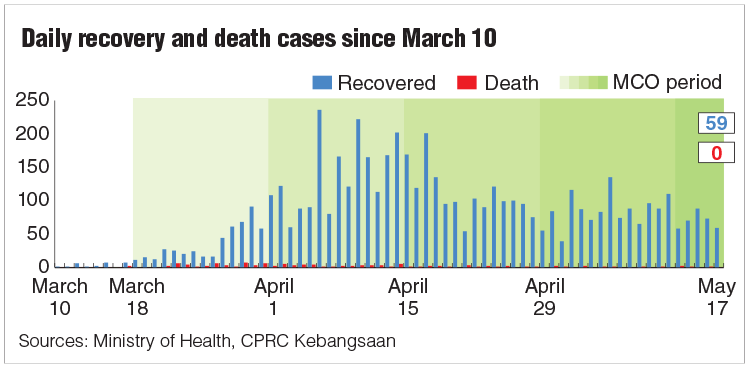 Click / Tap image to enlarge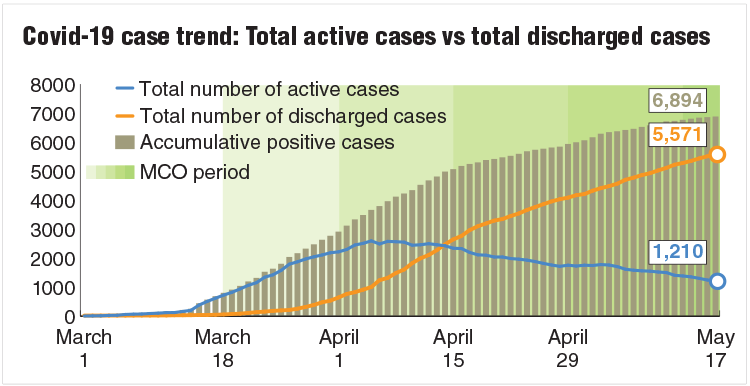 Click / Tap image to enlarge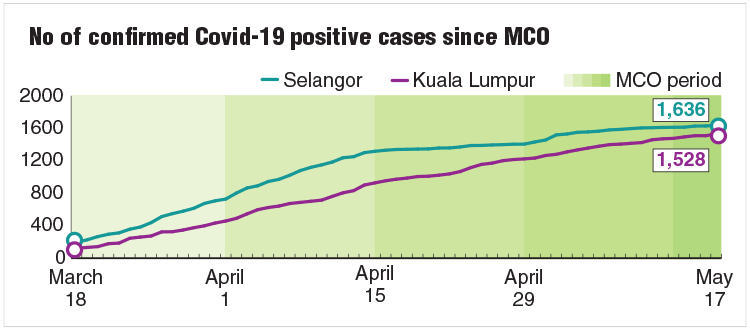 KUALA LUMPUR (May 17): Malaysia recorded 22 new Covid-19 cases today, marking its third lowest daily new cases in two months. 
This brings the total confirmed Covid-19 cases here to 6,894, with active cases at 1,210 or 17.55% of the total, said health director-general Datuk Dr Noor Hisham Abdullah at his daily Covid-19 press conference.
The country's active Covid-19 cases has declined for two consecutive weeks, from 1,780 on May 3.
Meanwhile, daily new recoveries stood at 59, bringing the total number of cured cases to 5,571 or 80.8% of total confirmed cases, said Dr Noor Hisham. 
Of the 22 new infections recorded today, five cases were imported, while nine involved non-Malaysians, said Noor Hisham.
No new death was recorded, leaving the tally at 113 cases or 1.64% of the total confirmed cases.
As at noon today, there were 13 Covid-19 patients being treated in intensive care unit, of whom seven require ventilators, he added. 
Half of today's cases from Sri Petaling cluster
Updating the figures for Covid-19 clusters, Dr Noor Hisham said no new cases were recorded at the Jalan Othman Market in Petaling Jaya, which is currently under enhanced movement control order (EMCO) and saw 28 individuals tested positive. 
Eleven cases, or half of today's total, were recorded in the Sri Petaling cluster, bringing the total confirmed cases there to 2,375. 
Another 203 individuals there were screened, raising the total number to 38,911, said Dr Noor Hisham. 
As for the Tahfiz cluster, another three individuals tested positive, bringing the total confirmed cases to 658, of which 562 or 85.4% were asymptomatic. 
The number of new screenings in this cluster is 168, raising to 13,636 the number of individuals tested from among the 19,771 people identified across 370 schools. 
Dr Noor Hisham said that from the 350 markets under observation, 37,133 individuals have been traced, of which 29,594 were screened and 259 tested positive — up by one from yesterday. 
Meanwhile, new cases were also recorded under the Kampung Sungai Lui, Chow Kit and Pudu clusters. 
Among non-Malaysians, screenings have been conducted on 26,425 individuals, from which 1,037 tested positive and 450 are still undergoing treatment. 
Read also: 18 Covid-19 clusters linked to inter-state travel
#dudukrumahdiamdiam. We will deliver the news to you at theedgemarkets.com.