This article first appeared in The Edge Malaysia Weekly, on March 26, 2018 - April 01, 2018.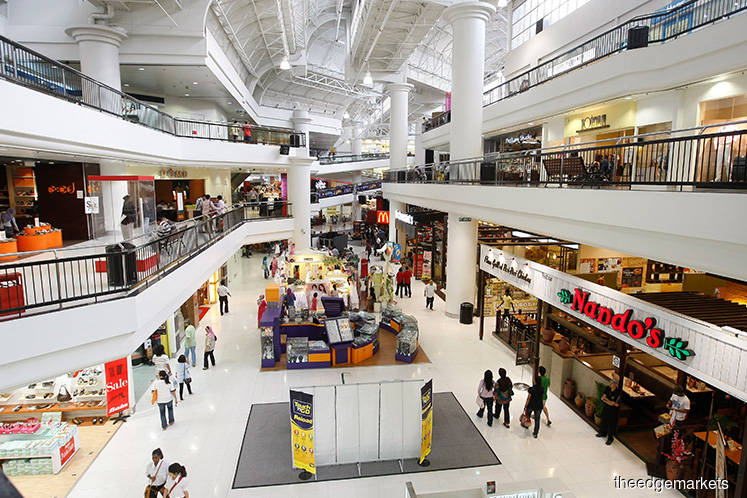 CONSUMER shopping trends are changing and malls are reinventing themselves to stay relevant and increase footfall.
As more consumers seem to be frequenting speciality retail stores and food and beverage (F&B) outlets, malls are beginning to allocate more space for this group of retailers.
Sunway Malls, which owns and operates five malls with a total net lettable area (NLA) of 4.7 million sq ft, says speciality retailers in the sports and beauty segments are taking up more space.
Sunway Mall & Theme Parks CEO H C Chan cites JD Sports, Innisfree and Etude House as examples of brands taking up additional space despite weak consumer sentiment and a rise in online shopping. This, he adds, attests to the fact that these brands still have appeal in a bricks-and-mortar setting.
Data from Retail Group Malaysia, which tracks the performance of Malaysia Retailers Association (MRA) members, shows that the speciality store subsector, which includes sporting goods and F&B, expanded more than any other subsector, gaining 5.6% last year. It is estimated to grow 6.6% in the January to March quarter.
"F&B has, over the years, made substantial gains in terms of overall NLA in our malls. Today, between 25% and 30% of our malls' NLA is taken up by F&B compared with previously when the percentage was a single digit," Chan says.
"This growth has been largely driven by more Malaysians, especially from the T20 and M40 groups, dining and entertaining out of home. Urbanisation, affluence and convenience are the catalysts for the growth."
AEON Co (M) Bhd too has been catering for F&B. "There has been an inclination in the industry towards more F&B. People still need to eat and they enjoy dining out. Generally, the F&B industry is still doing well," says the company's executive director, Poh Ying Loo, but qualifies his statement by saying that the industry's survival hinges on the quality of these outlets.
"When we renovated our supermarket at Mid Valley (Megamall), we carved a big space for Delica. You will see the eatery before you reach the supermarket," Poh says, adding that Delica is one of AEON's attractions. "We have done the same at our outlets in Queenbay Mall (in Penang) and Bandar Dato Onn (Johor). We not only have a big Delica section and cafés but we also have a food court."
Some 15% to 20% of AEON's supermarkets has been allocated for F&B, a format that will be adopted at the existing and new stores going forward. "It is a very competitive industry and you have to differentiate the mall and make it exciting to increase footfall," says Poh.
At Sunway Malls, the mid-term plan to draw consumers is more tactical in nature, such as delivering more value, marketing to entice spending and addressing weak consumer sentiment. It also holds promotional, marketing and branding campaigns to attract visitors.
As sustainable long-term growth is of key importance, Sunway Malls looks at the relevance of the mall and its tenant mix. "This includes looking at future winning brands that consumers seek internationally and regionally," says Chan, adding that Sunway Malls is also closely watching the growth of China retail brands. "We see this coming onstream in a big way in the years to come.
"The retail industry in China is gaining momentum and it is anticipated that some of the brands will venture abroad for expansion after gaining a foothold on home turf. We saw that with the Korean brands and anticipate the next stage will be China."
Chan considers the mall industry as the barometer of the nation's economic health.
Sunway Malls is also working with retailers in customer service upskilling, and with Google and Waze to facilitate connections with business partners in digital marketing.
In the meantime, AEON is sprucing up its malls to be thematic and to create experiential shopping to draw visitors. "We try to make our malls thematic. AEON Tebrau City features Japanese doll character Kokeshi while Shah Alam has a snowflake house. We are trying to make the malls more interactive — rather than hard sell — by providing more services, entertainment, fitness, banking, cinema and education, so that it is not just about tenants selling things," Poh says.
Save by subscribing to us for your print and/or digital copy.
P/S: The Edge is also available on Apple's AppStore and Androids' Google Play.