This article first appeared in City & Country, The Edge Malaysia Weekly, on January 6, 2020 - January 12, 2020.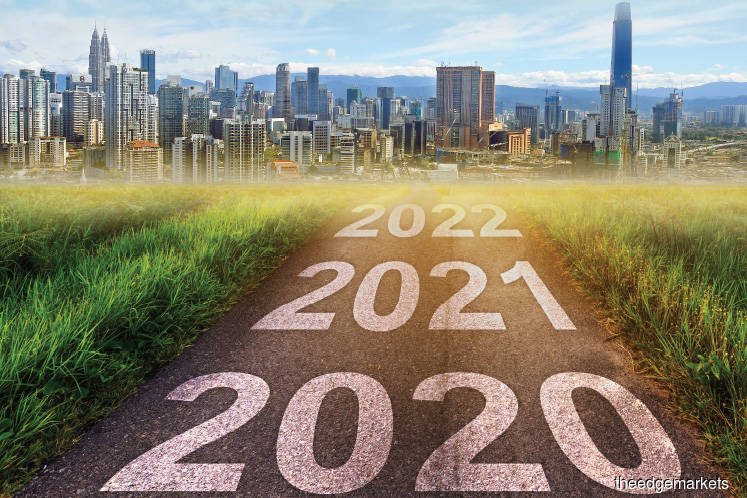 The Petronas Twin Towers, Kuala Lumpur Tower, Kuala Lumpur International Airport, the rollout of the first national car Proton, and becoming the first Asian country to host the Commonwealth Games — these are some of the developments and events that Malaysians can be proud of.
In City & Country's bumper issue last week, we reflected on the  property sector from 2009 to 2019. In this issue, we take a look at some of the significant events, trends and developments that will take place in the next decade. Property experts CBRE|WTW Malaysia managing director Foo Gee Jen, Rahim & Co International Sdn Bhd CEO of Real Estate Agency Siva Shanker, Knight Frank Malaysia managing director Sarkunan Subramaniam, Reapfield Properties Sdn Bhd group chief operating officer Jonathan Lee, Nawawi Tie Leung Sdn Bhd managing director Eddy Wong and PPC International Sdn Bhd managing director Datuk Siders Sittampalam share their views.
Addressing issues of affordability, homeownership
Knight Frank's Sarkunan says the government has introduced new housing policies and measures to address issues that impact the real estate industry. In the decade to come, there will be two more general elections and the people will be voting for the government that can deliver results.
In terms of housing policies, Reapfield's Lee says they should be clearer as the existing ones are unclear and there is still no solution to the issue of property overhang and unsold units. These policies are crucial and should take into consideration the longer-term effect. The overhang and unsold units issue must be resolved and the private sector has to look into it together with the government.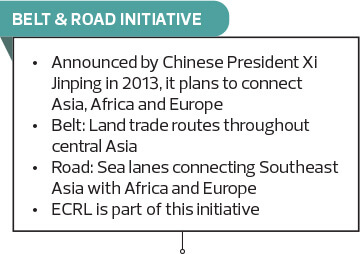 Belt & Road Initiative (BRI)
Sarkunan says in the past decade, Malaysia had been a major beneficiary of Chinese capital, with investments totalling US$43.8 billion, the highest amount recorded among its Asean peers.
According to the Knight Frank Belt and Road Index, Malaysia ranked ninth and was one of two Southeast Asian countries to make the top 10 list. The BRI will continue to gather momentum in the next decade but the government needs to be cautious and not over-borrow and should encourage local participation.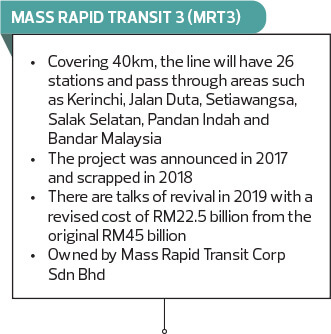 Continue to pursue the 'rail' drivers of growth
The High Speed Rail (HSR) and the mass rapid transit 3 (MRT3) will be the game changer if they are built, Foo of CBRE|WTW says. MRT3 may facilitate overall integration of the various rail systems, which were not planned and developed by a single authority. Without integration, the existing connectivity in Kuala Lumpur is less than 50% effective.
According to Sarkunan, the HSR and rapid transit system (RTS) projects will continue to be catalysts for the Johor property market. The demand for Johor properties (in those towns with HSR terminals) is likely to increase if these two projects are resumed.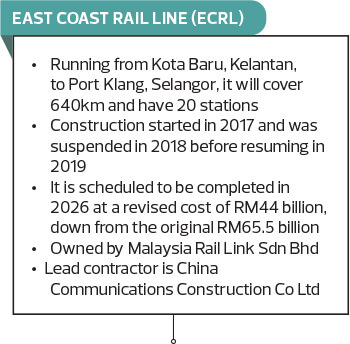 East Coast Rail Line (ECRL)
The ECRL, which originally had a price tag of RM65.5 billion, was cancelled when there was a change of government. It was resumed in April 2019 at a lower cost of RM44 billion. Sarkunan says with the new agreements for the revival of the ECRL and Bandar Malaysia, Chinese firms will be looking at Malaysia again and the industrial segment will benefit the most.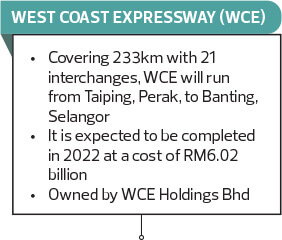 West Coast Expressway (WCE)
The 233km WCE will act as a parallel access to the North-South Expressway and connect perpendicularly to all the east-west bound highways running from port to city. This will help boost economic development and be a boon for the industrial sector. Sarkunan says the WCE will alleviate congestion and reduce travelling time to the coastal areas and this augurs well for the logistics segment and supply chain management.
Digital Free Trade Zone (DFTZ) and proliferation of logistics, e-commerce and warehouse activities
The logistics and industrial subsector has continued to outperform in 2019 despite growing global and domestic headwinds, fuelled by strong foreign direct investments in the manufacturing sector and continued strong growth in retail e-commerce, according to Sarkunan. The logistics and industrial subsector is expected to remain the industry's sweet spot in the Klang Valley and Johor.
Foo notes that the DFTZ is a pioneer concept in Malaysia and Southeast Asia that will elevate the country's potential in the logistics and distribution industry. It may attract more mainland China e-commerce players to Malaysia.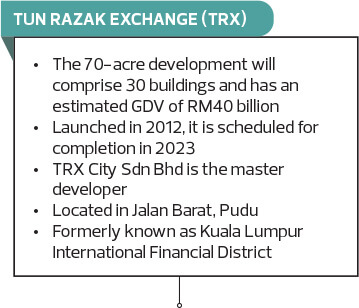 Tun Razak Exchange (TRX)
TRX was intended to give a further boost to the local economy and financial sector. Sarkunan says The Exchange 106 @ TRX, which is reported to have achieved 20% pre-committed occupancy, offers good-quality and high-specifications space and hence, commands higher rents. In the next decade, TRX will be a significant addition to the Kuala Lumpur landscape and add to the supply of commercial space.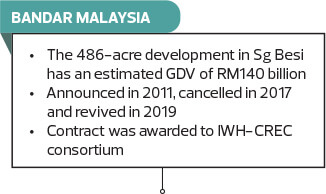 Bandar Malaysia
Bandar Malaysia, located at the old Sungai Besi Air Force base, is seen to have great potential if careful planning is given to its development. The resumption of this mega project and the ECRL was announced in April 2019. Sarkunan says Bandar Malaysia is expected to draw more Chinese foreign direct investment to Malaysia and this will give a boost to the country's slowing economy and property market.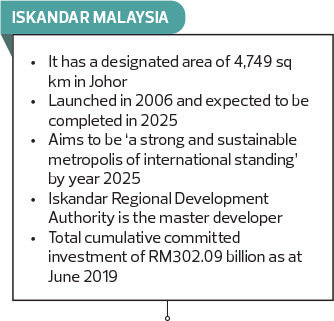 Iskandar Malaysia
From its inception in 2006 to the first half of 2019, Iskandar Malaysia recorded a cumulative committed investment of RM302.09 billion. At its current pace, Sarkunan opines that investment in the southern economic corridor is expected to exceed the targeted sum of RM383 billion by 2025.
Property technology (proptech)
Proptech is the use of technology in the property sector, from construction to management of a building.
The way property is being marketed now is completely different from in the past five years, Siva observes. Digitalisation is quickly changing the way people buy or invest in a property. Sellers do not need to engage a real estate agent anymore. Foo says buyers can consult a professional online before committing to any investments.
Smart homes and cities
A smart city is one that integrates its services, facilities and people, Siva says. As major cities become smart cities, the way people live, work, commute and socialise will be different. It will definitely have an effect on properties and how they will be sold and priced. If a smart city has good public transport, interstate highways, infrastructure and trains, people will start living farther away.
Developers will no longer need to provide the infrastructure for a smart home with the advent of 5G as everything will be wirelessly connected, says Wong of Nawawi Tie Leung.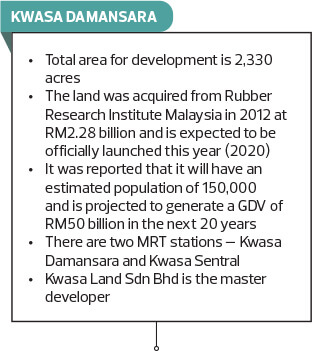 Kwasa Damansara, Sungai Buloh
Sungai Buloh has undergone tremendous change after the Employees Provident Fund (EPF) announced plans to develop a 2,330-acre parcel (Kwasa Damansara) there through its unit Kwasa Land Sdn Bhd more than five years ago. Sarkunan says Sungai Buloh has emerged as one of the fastest-growing areas in Greater KL with a wide choice of housing and amenities. Property values in Sungai Buloh have the potential to appreciate further when it is served by two MRT lines by 2021.
High value-add services sector
Foo opines that Malaysia will continue to move up the value chain in the services sector by providing a service that anticipates what the customer wants, at the right time, place and in the right quantity. In such a situation, the benefits usually outweigh the costs even if the latter is higher. In education, there needs to be continuous investment in R&D to complement the economic transformation and future-proof the labour force.
Higher influx of foreign investors
In the next decade, foreign investors will be a major market mover for Malaysian properties, says Reapfield Properties' Lee. In the tabling of Budget 2020, the reduction of the pricing threshold from RM1 million to RM600,000 in urban areas for foreign purchasers is a good starting point but Lee opines that it is not aggressive enough to bring in foreign investors.
Trend of minimalist properties
We will see developers trying to create more value, notes Lee. The trend will be providing affordable housing that also has a certain value proposition, such as better-quality facilities. Properties will be kept simple and minimalistic but of a certain standard or value — unnecessary facilities such as a forest garden and koi pond will be dropped. There will be fewer facilities but they will be of good quality and relevant, such as electric vehicle charging stations.
More alternative homeownership mechanisms
Alternative homeownership mechanisms provide innovative financing packages that may assist people to own a house. But, according to Foo, the risk is that the disparity between satisfying a need and actual financial capability is neglected until a loan default occurs. Currently, the alternatives include rent-to-own, build-to-own, co-ownership and peer-to-peer financing schemes. Collectively, these mechanisms could create a more dynamic housing market by providing buyers with new ways to accumulate savings.
Trend of renting by millennials
Millennials no longer see the need to own a property, PPC International's Siders says. They tend to shy away from looking at the hidden cost when acquiring a property and subsequently disposing of it. In terms of mobility, they want the freedom to move around. They are not in the game of buying and selling. As a result, the rental market is bound to pick up with an appreciation of values.
Co-living
Co-living, says Rahim & Co International's Siva, is a group of people sharing and buying a house together because they cannot afford to own a property by themselves. As properties become more unaffordable, co-living may become more common. However, Siva thinks it will not catch on. He does not see Malaysians accepting this kind of lifestyle as it is inconvenient to share and own a property together with other people.
Wong expects co-living to grow in popularity. The sharing economy has spilled over to accommodation and this concept of live-work-play appeals especially to millennials. They can get chores done for a fee, take part in social events, prepare meals together in a communal kitchen and foster a sense of community living.
This is a trend that is being seen in the property market overseas and it might be something that will take off in a bigger way, Siders notes. The viability of co-living in Malaysia in the near future is hard to predict as it is not very well accepted except among students, owing to the Asian mentality and culture.
Co-working
Other than offering workspace, co-working has evolved to become more community based, Siva observes. Events, talks and activities are organised to do cross-business with other people in a co-working space. He opines that there are too many co-working centres in the market and sees some consolidation soon. This trend is viable as the concept is flexible and can accommodate change quickly.
Transit-oriented developments/integrated developments
Siva sees growth for these types of developments as they seem to be in favour in the current market. Developments that are close to an MRT or LRT station will be able to command a higher selling price and sales will be better. As the city becomes more crowded and more people rely on public transport, these developments will be more in demand.